This is the Hangover. This is where I get drunk on the NBA as I recap last night's action as well as a few things going on around the league. Here's your word vomit.
03/02/2017
THE GAMES
GS 87 (50-11) @ CHI 94 (31-30)
CHA 103 (26-35) @ PHX 120 (19-42)
OKC 109 (35-26) @ POR 114 (25-35)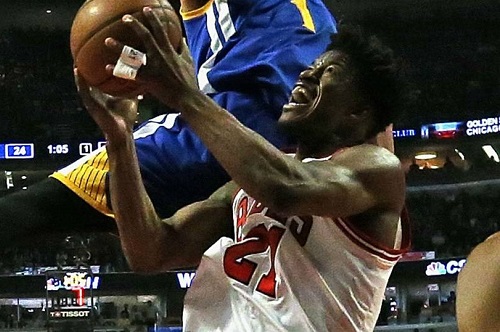 (PHOTO CREDIT: Getty Images.)
I DON'T GET THE CHICAGO BULLS
The Bulls had lost four out of five going into their Valentine's Day date against the Raptors. They've won five of six since, including Thursday night's win against the Warriors, who are playing for the first time since the dreadful Kevin Durant injury.
I don't understand this team. They probably shouldn't be winning these games as they basically gave away talent during the trade deadline for a case of beer and made a huge logjam at point guard. Nevertheless, it seemed like it opened up things for guys like Bobby Portis (17 points, 13 boards), the just-returning Paul Zipser, and Jerian Grant (who did a pretty good crossover on Stephen Curry). Rajon Rondo has taken to his bench spot nicely, Dwyane Wade continues to stay healthy and play better than expected, and we know how Jimmy Butler is. They may have stumbled onto something.
Or maybe not. After all, they were losing before this stretch. And the team, even if they have Butler and Wade, isn't that talented. But when the bright lights are on, they seem to be a different team. The Bulls have won 18 straight home games when they're televised on TNT. So basically, national TV Bulls are invincible.
And they've beaten some good teams, too. They did beat a LeBron-less Cavs team in addition to the KD-less Dubs team but they also beat Toronto and Boston. They have games coming up against the Clippers (home), Pistons (away), Magic (away), Rockets (home), Celtics (away), and the Hornets (away). The Clips and Celts games will be both on ABC, if you're wondering. Other than the Rockets, this might be a good time for them to gain ground on the Raptors (sort of slumping) and the Hawks (3.5 behind).
If the Bulls stay in the playoffs, the first round opponent might want to watch out. This team is tough to figure out.
THE REST OF THE LEAGUE
What's been outstanding about the Warriors in the regular season is that they hadn't lost back-to-back games in nearly two seasons (they were the first one to not lose back-to-back in an entire regular season in league history). The Bulls, the streakbusters that they are, did that to them on Thursday.
So Russell Westbrook is one away from tying the second most triple-doubles in a season (Wilt Chamberlain with 31). That's still really amazing.
Finally, celebrating prematurely on a three-pointer is now becoming a thing. The latest to do it wasn't even the shooter. Leandro Barbosa raised his arms while Jared Dudley shot a three. And… well…
(VIDEO CREDIT: Ximo Pierto.)
At least, the Suns won.
LINE CROSSER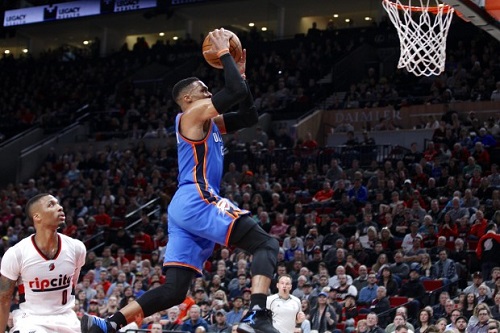 (PHOTO CREDIT: Sean Meagher/The Oregonian.)
Russell Westbrook didn't get a triple-double but let's not forget the dude leads the league in scoring.
45 points, 8 rebounds.
That's the third straight game Westbrook has scored 40 or more.
WATCH THIS PLAY
(VIDEO CREDIT: NBA.)
Taj Gibson intercepts the Blazers inbounds and flings the ball from beyond halfcourt. Look at the arc. Look at the height. And look at the ball shockingly go into the hoop.
---
Follow Rey-Rey on Twitter at @TheNoLookPass for all tweets about the NBA. Also, check out his podcast, Rey-Rey Is Fundamental.

us on FaceBook where we have additional NBA highlights! Thank you!
#SagerStrongForever