This is the Hangover. This is where I get drunk on the NBA as I recap last night's action as well as a few things going on around the league. Here's your word vomit.
02/28/2017
THE GAMES 02/27
TOR 92 (36-24) @ NY 91 (24-36)
GS 119 (50-9) @ PHI 108 (22-37)
MIL 95 (26-32) @ CLE 102 (41-17)
ATL 114 (33-26) @ BOS 98 (38-22)
MIA 89 (27-33) @ DAL 96 (24-35)
IND 117 (31-29) @ HOU 108 (42-19)
MIN 102 (24-36) @ SAC 88 (25-35)
THE GAMES 02/28
GS 108 (50-10) @ WAS 112 (35-23)
POR 113 (24-35) @ DET 120 (29-31) [OT]
DEN 125 (27-33) @ CHI 107 (30-30)
PHX 112 (18-42) @ MEM 130 (36-25)
UTA 106 (37-23) @ OKC 109 (35-25)
CHA 109 (26-34) @ LAL 104 (19-42)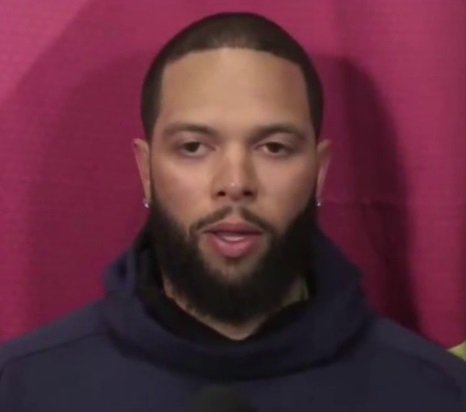 THE FREE AGENT POOL WAS REALLY GOOD
So as you noticed, there are quite a few big names that were released by their teams. Let's see…
Deron Williams was released by the Mavericks.
Andrew Bogut was traded to the Sixers. And then the Sixers released him outright.
Brandon Jennings was released by the Knicks.
Luis Scola was let go by the Nets.
Jared Sullinger was traded to the Suns. So was Mike Scott. Both were released right after.
Jose Calderon was let loose by the Lakers.
Matt Barnes was dismissed by the Kings.
There are more but those were the names looking for a team right after the trade deadline. The former Mavs Williams and Bogut signed with the Cavs, Jennings joined the Wiz, while Barnes rejoined the Warriors after Calderon was picked up THEN waived to make room for Barnes (more on that later).
Why are so many good players out there? Most of these players were let go by bad teams because the bad teams feel like they're wasting their time toiling away when they should be in better positions for a chance at a title. The players picked up have gone to contenders since. Remember that players have to be waived today (March 1st) to get a chance to get signed by a playoff team (even at the last day of the regular season).
THE REST OF THE LEAGUE
It's actually quite depressing. First off, Zaza Pachulia was pushed by Marcin Gortat. Pachulia ended up knocking down Kevin Durant as he was shoved (accidentally) into his knee.
The result? Durant will be reevaluated in four weeks after he sprained his MCL. He could be back in the regular season. Or he could be back NEXT season. We'll see where he is by early April. Big blow to the Dubs. Sure, the Warriors have won without Durant but they were also a deeper team the last two seasons.
And now Joel Embiid is out for the rest of the season. Embiid was having a banner year to the point people were upset he wasn't voted in as an all-star. Now he may not even have a chance to win Rookie of the Year. This is not cool. Ban injuries.
Finally, old man Vince Carter got into a fight with a dude half his age.
(VIDEO CREDIT: Ximo Pierto.)
That's like me getting into a fight with a 19-year-old. Man, that is so depressing. Ew.
LINE CROSSER 02/27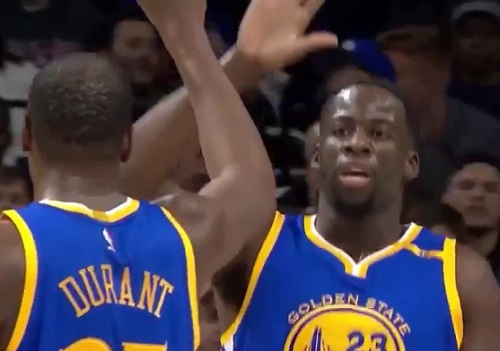 Draymond Green did nearly everything for the Warriors.
14 points, 6 rebounds, 11 assists, 5 steals.
He's really coming for that Defensive Player of the Year award.
LINE CROSSER 02/28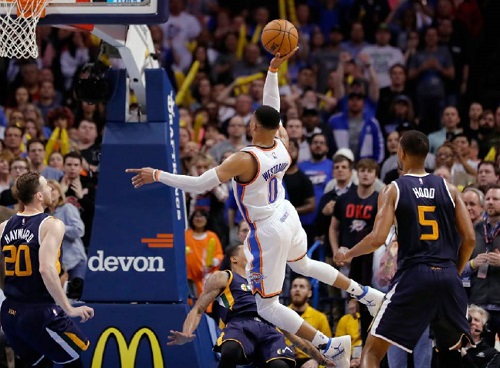 (PHOTO CREDIT: Alonzo Adams/AP.)
I mean, duh. Russell Westbrook:
43 points, 10 rebounds, 11 assists.
That's 30 triple-doubles out of 60 games. He's on pace to tie Oscar Robertson again.
WATCH THIS PLAY 02/27
(VIDEO CREDIT: Ximo Pierto.)
DeMar DeRozan beat DeKnicks with DeFadeaway jumper.
WATCH THIS PLAY 02/28
(VIDEO CREDIT: Ximo Pierto.)
On the way to that outstanding game by Westbrook, he makes a clutch fastbreak bank shot with 15.5 seconds that eventually led to a Thunder win.
---
Follow Rey-Rey on Twitter at @TheNoLookPass for all tweets about the NBA. Also, check out his podcast, Rey-Rey Is Fundamental.

us on FaceBook where we have additional NBA highlights! Thank you!
#SagerStrongForever