This is the Hangover. This is where I get drunk on the NBA as I recap last night's action as well as a few things going on around the league. Here's your word vomit.
02/25/2017
THE GAMES
CHA 99 (25-33) @ SAC 85 (25-34)
ATL 86 (32-26) @ ORL 105 (22-38)
PHI 109 (22-36) @ NY 110 (24-35)
IND 95 (30-29) @ MIA 113 (27-32)
NO 83 (23-36) @ DAL 96 (23-35)
CHI 117 (30-29) @ CLE 99 (40-17)
MIN 130 (23-36) @ HOU 142 (42-18)
BRK 95 (9-49) @ GS 112 (49-9)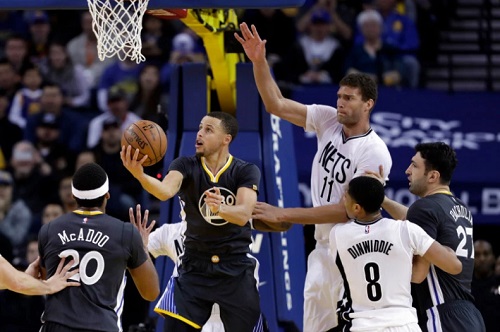 (PHOTO CREDIT: Marcio Jose Sanchez/AP.)
WARRIORS CLINCH A PLAYOFF SPOT
Truth be told, they clinched it in the fourth of July, when they got Kevin Durant.
But I've said this before; this three-year stretch that the Warriors are having is amazing. Since the start of the 2014-15 season, they've only lost a total of 33 regular season games. Meanwhile, their opponents have lost 49 regular season games THIS season.
And we all know that every team has to go through the Warriors to win the title. The Cavaliers miraculously did it last season (we all know the stale jokes). But trying to beat four all-stars in their prime (two of them being former MVPs) four games in a series AND having to do it on a home court disadvantage? It's always going to be a tough task. Good luck trying to stop that incredible offense. Good luck trying to get through that swarming defense.
The Warriors are a perfect example of a team that has preserved a bright future while not compromising the present. Them clinching a postseason berth on February is just crazy and frightening.
THE REST OF THE LEAGUE
New Orleans is off to an 0-2 start with DeMarcus Cousins in the line-up. But, hey, the Kings also lost, making them 1-1 since the deal.
There's apparently some sort of mandate by Mike D'Antoni to shoot 50 threes at the minimum. They put up 58 against Minnesota and made 22. That team is already nuts from behind the arc to begin with but then they add Lou Williams? Maaaaan…
The Heat continue to win. They've won 16 of their last 18 games. And they're stil five games under .500.
You know what people have brought up? How much Kyrie Irving DOESN'T win when LeBron James is not in the line-up. The Cavs in general are 4-19 since Bron returned to Cleveland. He really makes that train go.
Meanwhile, while Toronto had to make deals to strengthen their team, the Cavs didn't really do anything and former Mavs Deron Williams and Andrew Bogut are expected to drop into their laps. As if the Cavs needed to get stronger.
Jimmy Butler got a triple-double. But Dwyane Wade missed it by a rebound because his teammate Cristiano Felicio literally took his board.
Cristiano Felicio takes away Dwyane Wade's triple double On Court interview with Wade included. pic.twitter.com/XaBZ5jtXnS

— ⓂarcusD2.0 (@_MarcusD2_) February 26, 2017
What a teammate Felicio is!
Finally, in the D-League (will be named the G-League soon!), Nate Robinson goes through the legs in this play. No, not just the basketball. It's LITERALLY NATE HIMSELF that went through a guy's legs.
(VIDEO CREDIT: NBA.)
How often do you see that?!
LINE CROSSER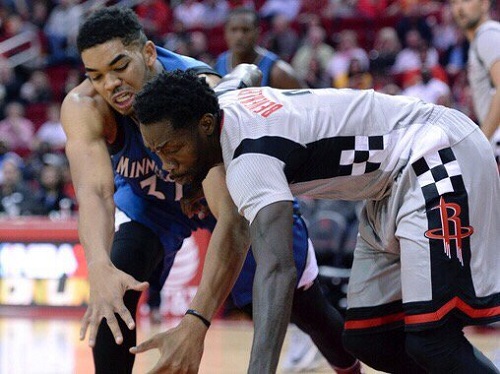 (PHOTO CREDIT: George Bridges/AP.)
The Rockets made all the threes. But the Wolves had a monster of their own:
37 points, 22 rebounds.
That's a strong statline by KAT.
WATCH THIS PLAY
(VIDEO CREDIT: Ximo Pierto.)
Carmelo Anthony got the job done and hit the game-winner against the Sixers.
---
Follow Rey-Rey on Twitter at @TheNoLookPass for all tweets about the NBA. Also, check out his podcast, Rey-Rey Is Fundamental.

us on FaceBook where we have additional NBA highlights! Thank you!
#SagerStrongForever