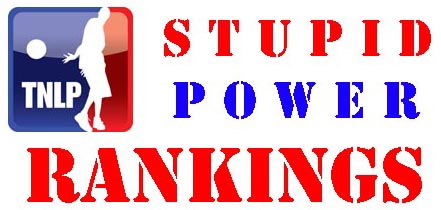 Power Rankings can be really stupid. So stupid that The No-Look Pass just had to have "Stupid Power Rankings." I take 10 things that happened in the league (well, not really; you'll see why) and rank them all however I see fit.
This feature is usually on every Monday and this one is special because it was all about All-Star Weekend. Disagree with the rankings? Well, we already prefaced that these are stupid. Just have fun with these as I rank these however I feel where they stupidly belong.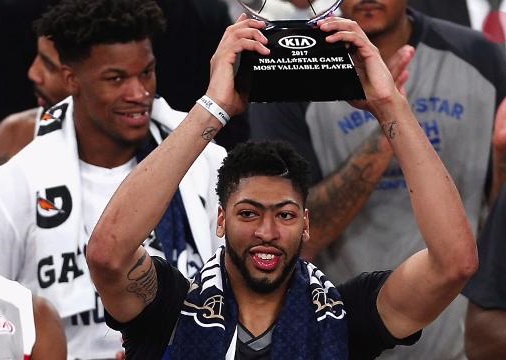 (PHOTO CREDIT: USA Today.)
1) Basketball In New Orleans
They've had quite the weekend.
Remember that All-Star Weekend wasn't supposed to be in New Orleans this year. It was slated to happen in Charlotte before the NBA decided that North Carolina's "anti-LGBT" law was unjust. The league pulled the event out of Charlotte and gave it to New Orleans last summer.
Obviously, all-star weekend will always boost a city's morale. The joy was added when hometown Pelican Anthony Davis won the All-Star Game MVP. The Brow also broke the record for most points in an all-star game as he put in 52 points. It seemed like a perfect weekend for shootyhoops in New Orleans.
But there's more! The Sacramento Kings decided they had enough of DeMarcus Cousins. The Pelicans pulled off what could be described as a heist. They traded Tyreke Evans, Buddy Hield, Langston Galloway, a first round pick, and a second round pick. The Kings not only traded Cousins but also traded Omri Casspi. The Kings could've gotten more out of this deal but I guess they really liked Buddy Hield THAT much.
So the Pelicans got an all-star weekend they weren't even supposed to have and they got Boogie Cousins out of nowhere, too. I'd like to get unexpectedly great things. Can I win the lottery?
(VIDEO CREDIT: Ximo Pierto.)
2) Giannis Posterizes the Two-Time MVP
Giannis Antetokounmpo put on a show during the All-Star game but everyone will remember this putback jam on Stephen Curry. And this was after Curry laid down to avoid a potential Giannis poster. He got caught later on, anyway.
(VIDEO CREDIT: Tiene Mieo.)
3) All-Star Musical Introductions
It's 17 minutes of excellence that's led by The Roots. I promise you that it's worth watching over and over.
(VIDEO CREDIT: Ximo Pierto.)
4) West Bench Celebrates Westbrook/Durant Alley-Oop
For the entire weekend, ex-teammates Russell Westbrook and Kevin Durant avoided each other. People wondered continuously on how they will interact on the court during the game.
They didn't play together much but Westbrook and Durant executed a nice give-and-go that culminated in a Westbrook alley-oop dunk. It was just like old times.
But the West bench loved it so much that they celebrated the oop. Westbrook and Durant didn't make a huge deal out of it other than a little bit of a sheepish reaction. Still, the bench celebrating it was hilarious as they, too, were wondering how this was going to go.
I guess we can move on now, right?
(VIDEO CREDIT: Ximo Pierto.)
5) Eric Gordon Wins Three-Point Shootout in Overtime
It wasn't a spectacular show but it was a solid event. Eric Gordon and Kyrie Irving (more on him later!) tied in the championship round so they both had to do another 60-second shootout. Gordon saved his best shooting for last as he made 11 out of 12 shots in one stretch to beat Kyrie.
I'm also amazed that this is Gordon's first shootout. He's always been an excellent shooter.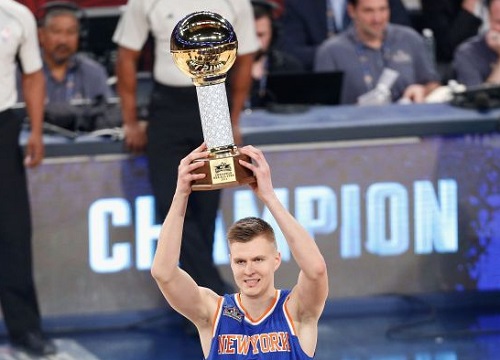 (PHOTO CREDIT: Jonathan Bachman/Getty Images.)
6) Kristaps Porzingis Wins Skills Challenge
New York hasn't had anything great related to the NBA in the last month or so. But, hey, here's a small win for them. Kristaps Porzingis won an otherwise so-so Skills Challenge event and it showed off his ridiculous skill set.
Too bad, their season is resuming this week, right?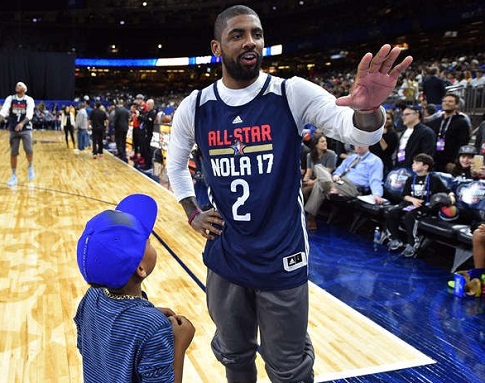 (PHOTO CREDIT: WKYC in Cleveland.)
7) Kyrie Irving Is Telling All Of Us That The World Is Flat
In a podcast with teammates, Kyrie mentioned that the world is flat. He even reiterated it a few more times during media appearances in the weekend. Then he went on to say that we shouldn't believe everything that is told and that "we should do our research."
Uh, we did. The Earth is round. We're NOT going to fall off the planet. In any case, this could be an extreme troll job by Kyrie. Or maybe this is a prelude to a future commercial. I really don't know if Kyrie REALLY subscribes to the thinking that the world is flat. But he was also glad that it got everybody talking about it.
That was probably his intent all along.
(VIDEO CREDIT: Ximo Pierto.)
8) The Dunk Contest Disappointed
Well, usually it does and it's no different this season. I've honestly seen worse (2010, anyone?) but this was not good.
We expected something good because the contest became a legitimate show when Zach LaVine participated. Aaron Gordon was widely expected to win but we could tell he wasn't 100 percent and his timing and hops were just off on Saturday night. His dunk that involved a drone would've been a great tech/basketball marriage but Gordon couldn't come through at the altar.
DeAndre Jordan had a decent first dunk jumping over DJ Khaled and a turntable but his second dunk wasn't clean. Derrick Jones, Jr. honestly brought out the best dunks but 1) the stage seemed too big for him which was why he kept missing and 2) they were stuff we've seen before.
Glenn Robinson III did the same dunk three times where he jumped over people. We saw a bunch of that in 2012 when EVERYBODY jumped over people. It was pretty underwhelming, honestly, even if the athleticism is impressive.
The LaVine/Gordon dunk duel seemed like forever ago.
(VIDEO CREDIT: Ximo Pierto.)
9) Master P at the Celebrity Game
Oh, my gosh.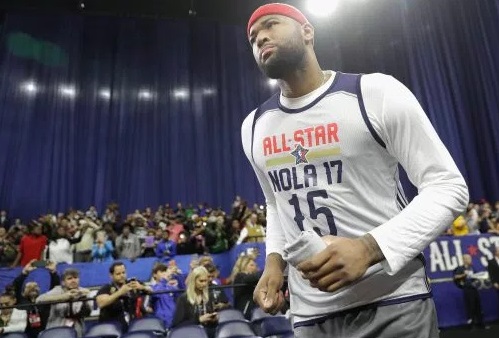 (PHOTO CREDIT: Getty Images.)
10) Sacramento Kings
So Boogie is gone. Now what?
I love love LOVE Vlade Divac but how does it look when you keep insisting Boogie Cousins won't be traded… and then trade him out of nowhere? If they knew they were going to trade DeMarcus, they should've done it last summer. Or two summers ago. They could've gotten better deals then. But hey, they got the man they wanted in Buddy Hield, right? The same Hield who hasn't exactly lit the NBA on fire in the first half of the season? Also, they get Tyreke Evans back, who they didn't want a few years ago. The Kings didn't give him an offer sheet when he was a restricted free agent. But they were willing to take him back just to get rid of Cousins.
We know Cousins wasn't easy to get along with. His environment didn't help, either. They shuffled coaches in and out and the front office made horrible moves (including trading Nik Stauskas AND their own first round pick for a water bottle). Yeah, they could call this rebuilding and starting over but they've been rebuilding the entire time Cousins was there. Hell, they can't even rebuild through the draft because they gave their picks away in that Stauskas trade!
Anyway, they finally broke the 30-win threshold last season. And they're actually fighting for a playoff spot this season (well, they won't anymore) so this is really weird timing in a way.
Both parties can move on even though this trade was really puzzling. The Kings could've done so much better but now the Pelicans might become a legitimate threat with this frontcourt of Brow and the Boogie. But I mean, we've been saying the Kings could do so much better in the last decade or so. They haven't made the playoffs since Rick Adelman was coach and that was in 2006.
The Kings lost and they didn't even play a game this weekend.
---
Follow Rey-Rey on Twitter at @TheNoLookPass for all tweets about the NBA. Also, check out his podcast, Rey-Rey Is Fundamental.

us on FaceBook! Thank you!
#SagerStrongForever