This is the Hangover. This is where I get drunk on the NBA as I recap last night's action as well as a few things going on around the league. Here's your word vomit.
02/12/2017
THE GAMES 02/11
LAC 107 (33-21) @ CHA 102 (24-30)
MIL 116 (23-30) @ IND 100 (29-25)
MIA 109 (24-31) @ PHI 117 (20-34)
DEN 109 (24-30) @ CLE 125 (37-16)
GS 130 (46-8) @ OKC 114 (31-24)
PHX 102 (17-38) @ HOU 133 (40-17)
ORL 80 (20-36) @ DAL 112 (22-32)
BOS 112 (35-19) @ UTA 104 (34-21)
THE GAMES 02/12
CHI 89 (26-29) @ MIN 117 (21-34)
SA 90 (41-13) @ NY 94 (23-33)
DET 102 (26-29) @ TOR 101 (32-23)
NO 99 (21-34) @ SAC 105 (23-32)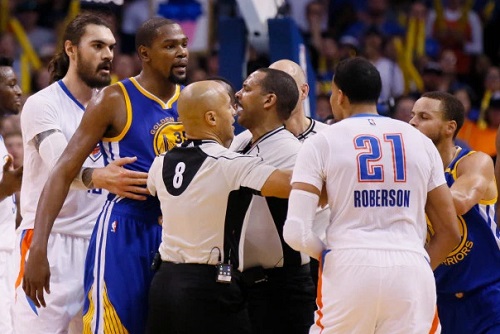 (PHOTO CREDIT: Sue Ogrocki/AP.)
DURANT RETURNS TO OKLAHOMA CITY
First off, I don't really blame ESPN for hyping this up. Sports is entertainment. Drama is entertainment. So the network tried to get the most drama out of it.
With that said, we knew this was a mismatch. The Warriors have four all-stars. It could be the greatest offensive team in history. The Thunder have Russell Westbrook and while Victor Oladipo and Steven Adams are good players, there's no way they can match the star power of the Warriors.
Yeah, it was tense. There were a few exchanges done by Durant and his former team. But for the most part, it was white noise.
Still, Durant returning to the city that he called his home for eight seasons gave him a mix of emotions. Of course, a lot of the fans would feel betrayed. And some fans will stick with him because he's such a good guy. Sports is funny that way. So what if Durant decided he wanted to live in Northern California instead of OKC?
Durant has moved on. And after this game, so can Oklahoma City.
THE REST OF THE LEAGUE
The strangest winning streak has come to an end as the Joel Embiid-less Sixers beat the Miami Heat. The Heat had won 13 straight.
Somehow, the Knicks beat the Spurs after such a contentious couple of weeks. There was the treatment of Carmelo Anthony. Later on, there was the treatment and defamation of Charles Oakley's character. And yet the Knicks beat the second-best team in the league behind Melo's shooting. The NBA is weird.
And here's something freakish. Giannis Antetokounmpo is taking off from near the foul line in game dunks.
(VIDEO CREDIT: NBA.)
The Mavericks continue to surge. They're two games behind the 8th seed Denver Nuggets in the West. The Nuggets did make a deal and traded Jusuf Nurkic and a 2017 first-rounder (from Memphis) to Portland for Mason Plumlee and a 2018 second-rounder. For Denver, they can find minutes for Plumlee in the second unit. As for Portland, they can add to their defense as long as Nurkic is focused.
No blockbuster trades but we're seeing little ones being made, per se. I feel we'll see a lot more of that before the deadline in about a week or so.
LINE CROSSER 02/11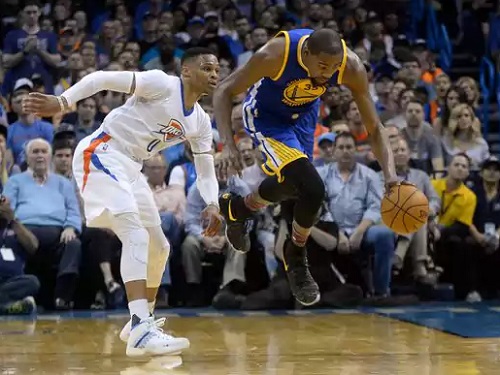 (PHOTO CREDIT: Mark D. Smith/USA Today.)
Westbrook and his Thunder may have lost the game. But once again, we cannot ignore what he did out there:
47 points, 11 rebounds, 8 assists.
He also got 11 turnovers, too. Woof.
LINE CROSSER 02/12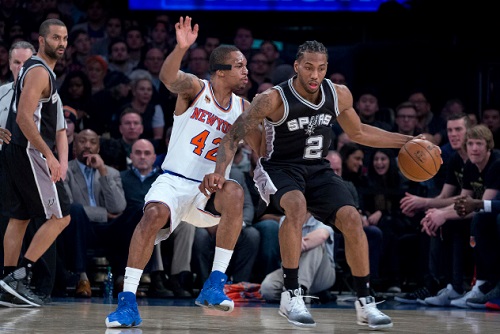 (PHOTO CREDIT: Craig Ruttle/AP.)
Kawhi Leonard and his team also lost but his line stood out the most.
36 points, 9 rebounds, 4 steals.
Somehow, the Spurs got upset by the Knicks, though.
WATCH THIS PLAY 02/11
(VIDEO CREDIT: NBA.)
Blake Griffin can still do one of these powerful slams once in a while. Hello, Miles Plumlee.
WATCH THIS PLAY 02/12
(VIDEO CREDIT: NBA.)
Kentavious Caldwell-Pope makes clutch shots to win it for the Pistons.
---
Follow Rey-Rey on Twitter at @TheNoLookPass for all tweets about the NBA. Also, check out his podcast, Rey-Rey Is Fundamental.

us on FaceBook where we have additional NBA highlights! Thank you!
#SagerStrongForever