This is the Hangover. This is where I get drunk on the NBA as I recap last night's action as well as a few things going on around the league. Here's your word vomit.
02/09/2017
THE GAMES
HOU 107 (39-17) @ CHA 95 (24-29)
PHI 112 (19-34) @ ORL 111 (20-35)
CLE 109 (36-16) @ OKC 118 (31-23)
UTA 105 (34-20) @ DAL 112 (21-32) [OT]
BOS 120 (34-19) @ POR 111 (23-31)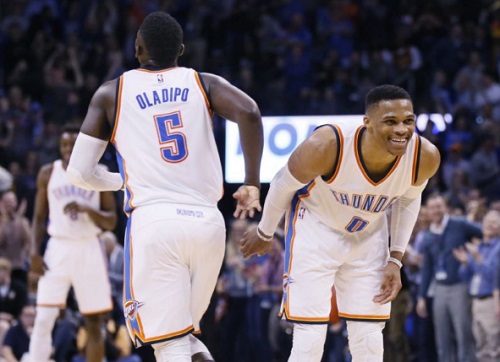 (PHOTO CREDIT: AP.)
THE TRIPLE-DOUBLE ASSAULT CONTINUES
So Russell Westbrook just picked up another triple-double. If you're a fan of the NBA (I assume you are if you're reading this!), I'll assume you've been keeping up with this craziness.
Check how many triple-doubles this season compared to the past few years. I've also included the individuals with the most such statlines.
2016-17: 65.* (Russell Westbrook: 26, James Harden: 14, LeBron James: 5.)
2015-16: 75. (Russell Westbrook: 18, Draymond Green: 13, Rajon Rondo: 6.)
2014-15: 46. (Russell Westbrook: 11, James Harden: 4, Evan Turner: 3, Michael Carter-Williams: 3, Rajon Rondo: 3.)
2013-14: 46. (Lance Stephenson: 5, Stephen Curry: 4, Joakim Noah: 4.)
2012-13: 42. (Rajon Rondo: 5, LeBron James: 4, Kevin Durant: 3, Paul Pierce: 3.)
2011-12: 18.** (Rajon Rondo: 6.)
2010-11: 37. (LeBron James: 4, Russell Westbrook: 3, Rajon Rondo: 3, Andre Iguodala: 3.)
2009-10: 23. (LeBron James: 4, Rajon Rondo: 2, Jason Kidd: 2.)
*Season still has two more months left.
**2011-12 had a 66-game season due to the lockout.
This season will certainly pass last season's number in triple-doubles. Last year actually nearly broke the record for most triple-doubles in a season.
1988-89: 78. (Magic Johnson: 17, Michael Jordan: 15, Fat Lever: 9.)
I'll go out on a limb and say this season will break that record. Especially with the blistering pace Westbrook and Harden have been going.
Westbrook's 26 triple-doubles is tied for third of all-time for most triple-doubles in a season by a player. Oscar Robertson got 26 in 1959-60 and 1960-61, the seasons before he got 41 in 1961-62. Wilt Chamberlain got 31 triple-doubles in 1967-68.
As far as career triple-doubles? Westbrook already passed Larry Bird and is currently #5 on the list.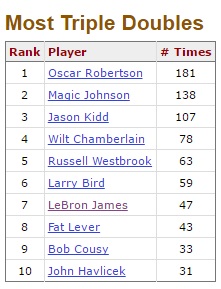 (PHOTO CREDIT: Basketball Reference.)
Up next is Wilt. If Russell ties Oscar's record for most triple-doubles in a season, he will also tie Wilt for fourth on the list. So Westbrook can actually achieve two milestones if he gets 42 triple-doubles this season. Russ will have to get 16 triple-doubles in 28 games to break the Big O's record.
Let's enjoy the rest of this wave, guys.
THE REST OF THE LEAGUE
James Harden fell two assists short of a trip-dub. But just because one of those stats was in single digits doesn't mean he had a better game than one that did. Although, yes, I gave the line of the night to the triple-double monster, let's not lose sight on that sort of thing. Harden did go for 30-11-8 on Thursday night.
On more amazing things this season, short man Isaiah Thomas did it again in the fourth quarter. He scored 15 points in that period to help fend off the Blazers. This is the 12th time he's scored 15 or more in the fourth. Isaiah would have 34 overall in the game.
Also, I LOVE Isaiah Thomas but there was a silly article in the worldwide leader (I will not link to it but if you wanna find it, go ahead) that asked who was better: Isaiah or Isiah Thomas. Come on, man. Isiah was the lynchpin of the Bad Boys that won two championships. We already know the answer to this.
Dirk Nowitzki has been hitting clutch jumpers as of late. Also, with his presence (as well as Yogi Ferrell's!), the Mavericks are 2.5 games behind #8 Denver. Can they get that miracle playoff berth after that horrendous start?
Man. It would've been the end of you if you blew this breakaway, Victor Oladipo.
LeBron, you can't draw a foul every single time. I don't blame you for trying. But just accept that you bricked a slam.
(VIDEO CREDIT: Ximo Pierto.)
Lastly, speedy recovery, Jabari Parker. He tore his ACL (in the same knee) against the Heat on Wednesday night. And he was having a very good season, too. Now he won't be playing this season AND he'll be missing a large chunk of next season. That is brutal. All positive vibes, Jabari.
LINE CROSSER
Back to Westbrook for this. He got his triple-double to the tune of:
29 points, 12 rebounds, 11 assists, 4 steals.
And more importantly, they got the win over the Cavaliers.
WATCH THIS PLAY
(VIDEO CREDIT: NBA.)
T.J. McConnell hits the go-ahead jumper against the Magic and then intercepts the wild pass to seal the game.
Joel Embiid is hilarious.
Is Tj Mcconnell is the clutchest player in the history of the NBA? I guess so #TrustTheProcess pic.twitter.com/JD6IoQ2J5v

— Joel Embiid (@JoelEmbiid) February 10, 2017
---
Follow Rey-Rey on Twitter at @TheNoLookPass for all tweets about the NBA. Also, check out his podcast, Rey-Rey Is Fundamental.

us on FaceBook where we have additional NBA highlights! Thank you!
#SagerStrongForever