This is the Hangover. This is where I get drunk on the NBA as I recap last night's action as well as a few things going on around the league. Here's your word vomit.
02/06/2017
THE GAMES
LAL 121 (18-36) @ NY 107 (22-31)
CLE 140 (35-15) @ WAS 135 (30-21) [OT]
OKC 90 (30-23) @ IND 93 (29-22)
LAC 109 (31-21) @ TOR 118 (32-21)
UTA 120 (33-19) @ ATL 95 (30-22)
PHI 96 (18-33) @ DET 113 (24-28)
PHX 106 (16-36) @ NO 111 (20-32)
MIA 115 (22-30) @ MIN 113 (19-33)
DAL 87 (20-31) @ DEN 110 (23-28)
SA 74 (39-12) @ MEM 89 (32-22)
CHI 112 (26-26) @ SAC 107 (20-32)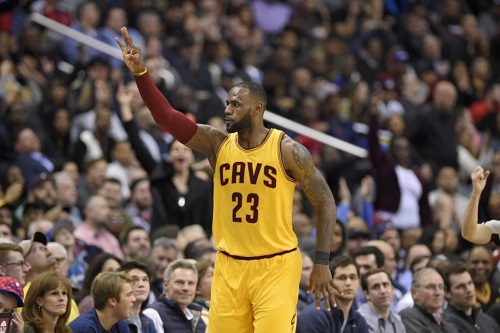 (PHOTO CREDIT: Nick Wass/AP.)
THE CAVS ARE IN A GOOD PLACE
That's what LeBron James said after a win over the hot Wizards. We'll get to Washington in a bit.
After LeBron went public with his complaints about the team, the Cavs have certainly stepped it up. They've won five of their last six. While they probably don't look at this as a "statement" game, it certainly feels like one. The Wizards are the latest team that is hot on their trail and putting them away even when they played their A+ game says something.
We know LeBron wants his GM to go on a quest for playmaking. But at least, the players that are there have done something. Tristan Thompson has been big on the boards. Kyle Korver is making those threes. They hope Kay Felder can get more experience running a team. But Kyrie Irving's dishing has improved. And Kevin Love looks more comfortable than ever as a Cavalier.
There were conflicting reports about LeBron wanting Carmelo Anthony on the team even if it means losing Love. Yeah, sure. LeBron quickly dismissed the report calling the story AND the reporter trash. Do you think LeBron would want to lose Kevin Love after he went for 39 points and 12 rebounds? Plus Love is four years younger. Let's not forget the outlet passes Love does (more on that later!).
One thing's for sure: you still have to go through LeBron James to win the East. That has been the case for the last decade or so.
THE REST OF THE LEAGUE
John Wall wanted respect for himself and for his team. They should get more after that Game of the Year candidate against the Cavs. The Wizards still need a deeper and more dependable bench to truly contend but what they have in the starting line-up is fantastic. Otto Porter has become a deadeye shooter. Bradley Beal continues to be an improving scorer (41 points against Cleveland). Marcin Gortat has been great in the pick-and-roll. Markieff Morris does the dirty work. And Wall has been putting up MVP numbers. Their 17-game home win streak has been snapped but we should probably take the Wiz a little more seriously after that game.
Blake Griffin got a triple-double but the Raptors got a much-needed win. They also got DeMar DeRozan back. Toronto has won two straight after that big swoon.
The Heat eeked out another win. They've won 11 straight and the 8th seed is suddenly within sight. They're only two games behind the Pistons, who also won. Detroit is helping cool down the Sixers, who had a nice January but are 0-4 in February.
Russell Westbrook fell short by one assist on another triple-double. But it's amazing how he's averaging 10.5 boards a game (had 18 against Indy). Remember that he's a point guard.
Great to see Yogi Ferrell with a new deal. Too bad that the Mavericks got smashed by the Nuggets. I still can't figure out Denver, though. I thought I did early this season. In fact, I can't figure out both 8th seeds (Detroit).
By the way, besides Boston, Indiana has the SECOND longest current win streak. That's seven straight victories for both squads.
Lakers dominated the Knicks on Monday. At least, they're not trotting out these line-ups anymore…
Your starters for Knicks/Lakers! pic.twitter.com/fj9cSPbpc9

— Rey-Rey (@TheNoLookPass) March 13, 2015
LINE CROSSER
James had a hell of a game, even when he fouled out early in overtime.
32 points, 7 rebounds, 17 assists.
That's a career-best in dimes for the four-time MVP.
WATCH THIS PLAY
(VIDEO CREDIT: NBA.)
This is the Hall of Fame version of the Grant Hill to Christian Laettner Duke play. Kevin Love threw an amazing pass to LeBron James. Then James makes the difficult three to send the game to overtime.
---
Follow Rey-Rey on Twitter at @TheNoLookPass for all tweets about the NBA. Also, check out his podcast, Rey-Rey Is Fundamental.

us on FaceBook where we have additional NBA highlights! Thank you!
#SagerStrongForever