This is the Hangover. This is where I get drunk on the NBA as I recap last night's action as well as a few things going on around the league. Here's your word vomit.
02/04/2017
THE GAMES
NO 91 (19-32) @ WAS 105 (30-20)
ORL 86 (20-33) @ ATL 113 (30-21)
DET 84 (23-28) @ IND 105 (28-22)
PHI 102 (18-32) @ MIA 125 (21-30)
CLE 111 (34-15) @ NY 104 (22-30)
CHA 98 (23-28) @ UTA 105 (32-19)
MIL 137 (22-28) @ PHX 112 (16-35)
DEN 97 (22-28) @ SA 121 (39-11)
MEM 107 (31-22) @ MIN 99 (19-32)
GS 106 (43-8) @ SAC 109 (20-31) [OT]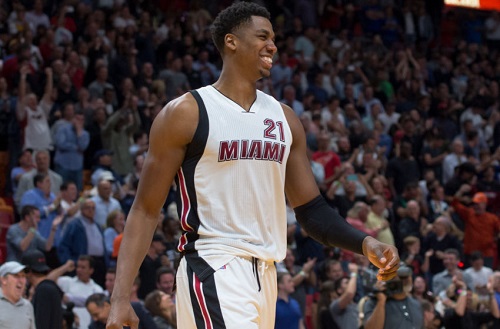 (PHOTO CREDIT: Steve Mitchell/USA Today.)
THE HEAT CONTINUE TO WIN
So the current longest winning streak STILL belongs to the Miami Heat. In fact, they've won 10 in a row. The hilarious thing is that their overall record is 21-30. They were left for dead before they burst through in the last 10 games. What the heck happened here?
Defense. Especially in the fourth quarter. Obviously, Hassan Whiteside has led them in that department but they've only allowed an astounding 88.4 points per 100 possessions in the fourth during the winning streak. Their defense has always been there but it's just that their offense needed to catch up.
Dion Waiters has been a boon for this team. Not only has he been shooting the lights out (.512 in the last 10) but he's also doing other things. The last 10 games for him? 21.5 points, 4.2 boards, and 4.8 dimes per game. He's become a legitimate player for this team.
But is this what they really want? A 10-game win streak when they're supposed to be rebuilding?
How about this? I'd hate to get stuck in a losing culture like the Sixers did for a while and where the Wolves and the Kings have been forever. The Heat are 21-30 and can make a play for the 8th seed. Yeah, it gives you less of a chance for a higher pick in the draft but would you rather be stuck in a team where you go to the lottery every year or where you go to the playoffs every year?
I get it. There is no right road to success, per se. You can try to tank (which I'm not a super fan of) and hope you score a superstar in the draft. Or you can just float around the playoffs and try to improve within or get a big free agent (which might be harder to do now with the new CBA rules) to get to the next level.
This is what the Heat might do. I'm not going to fault them for it and neither should you. Like I said, there is no "right road to success."
THE REST OF THE LEAGUE
It's always so weird whenever mild-mannered Steve Kerr goes nuclear on the refs.
Steve Kerr EXPLODES at an official! And when you're done laughing, check out Andre Iguodala… pic.twitter.com/76XRVgL6ML

— The Crossover (@TheCrossover) February 5, 2017
Also, Andre Iguodala, you're hilarious.
The Knicks and Carmelo Anthony should probably move on from each other. The MSG crowd booed him during their game against the Cavaliers. It's funny how some people value a player's loyalty yet here's Melo being extremely loyal to the Knicks and he's being jeered.
Zach LaVine is out for the season due to a torn ACL. It always sucks when an injury happens. Speedy recovery for the two-time dunk champion. I understood why he sat out the dunk contest because he seemed more nicked than usual. It's too bad this happened to him.
The Kings upset the Warriors, by the way. Stephen Curry missed what looked like a gimme lay-up with six seconds left. And with the Kings up three with 2.5 seconds left, there were two funny things about the potential game-tying play.
1) Why the heck did Sacramento leave a three-point shooter open even if it is Draymond Green? Even if he shoots under 32 percent from deep?
2) They couldn't wait for the other guys like Kevin Durant, Klay Thompson, and Curry to get open? They inbounded the play within the first second.
Also, I'm sure people will question Durant disappearing in this game (10 points, 2/10 FG). Whatever. People just want to talk. Players sometimes disappear in games. If it becomes a regular occurrence, I'd worry. This is just one game and one loss.
Congrats to LeBron James for being the youngest to score 28,000 points. No, not in a game; they're not playing a Tony Hawk Pro Skater game.
LINE CROSSER
Not even a question here. Hassan Whiteside did all of this in 26 minutes:
30 points, 20 rebounds, 3 blocks.
Imagine if he played in the fourth quarter!
WATCH THIS PLAY
(VIDEO CREDIT: NBA.)
Green didn't make the wide open game-tying three but he did get a powerslam in OT.
Enjoy the Super Bowl! I think it's Patriots 27, Falcons 21. But rooting for the ATL, Shawty.
---
Follow Rey-Rey on Twitter at @TheNoLookPass for all tweets about the NBA. Also, check out his podcast, Rey-Rey Is Fundamental.

us on FaceBook where we have additional NBA highlights! Thank you!
#SagerStrongForever