This is the Hangover. This is where I get drunk on the NBA as I recap last night's action as well as a few things going on around the league. Here's your word vomit.
02/02/2017
THE GAMES 02/01
IND 98 (26-22) @ ORL 88 (19-32)
MIN 97 (19-30) @ CLE 125 (33-15)
TOR 104 (30-20) @ BOS 109 (31-18)
NY 95 (22-29) @ BRK 90 (9-40)
ATL 93 (28-21) @ MIA 116 (20-30)
NO 98 (19-31) @ DET 118 (22-27)
PHI 95 (18-30) @ DAL 113 (19-30)
MEM 119 (30-21) @ DEN 99 (21-27)
MIL 88 (21-27) @ UTA 104 (31-19)
LAC 124 (31-18) @ PHX 114 (15-34)
CHI 128 (25-25) @ OKC 100 (28-21)
CHA 111 (23-27) @ GS 126 (42-7)
THE GAMES 02/02
LAL 108 (17-35) @ WAS 116 (29-20)
ATL 113 (29-21) @ HOU 108 (36-17)
PHI 86 (18-31) @ SA 102 (38-11)
GS 133 (43-7) @ LAC 120 (31-19)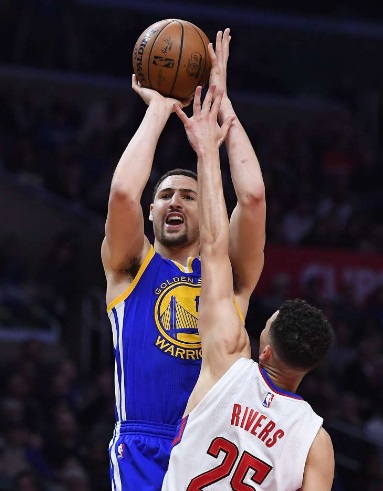 (PHOTO CREDIT: Mark J. Terrill/AP.)
ALL-STAR SATURDAY IS SET
We always looked forward to All-Star Saturday night. The three-point shootout is always exciting, the slam dunk contest had a renaissance the last couple of years, and the Skills challenge became intriguing because of the big man/little man battle.
Here are the participants of the Skills Challenge. Karl-Anthony Towns won't be returning to defend his crown but we're back to bigs versus smalls again. It's basically a bit of an obstacle course that involves dribbling, passing, and shooting as two guys go head-to-head in a race. I hope they bring back some passing stations they have taken away. Oh, yeah. Skills challenge competitors!
DeMarcus Cousins (C, Kings)
Anthony Davis (C, Pelicans)
Joel Embiid (C, 76ers)
Kristaps Porzingis (F, Knicks)
Gordon Hayward (F, Jazz)
John Wall (G, Wizards)
Isaiah Thomas (G, Celtics)
Devin Booker (G, Suns)
Let's check out the three-point shootout contestants. Stephen Curry is not competing but his teammate is coming back to defend his crown.
Klay Thompson (G, Warriors)
Wesley Matthews (G/F, Mavericks)
Nick Young (G, Lakers)
Eric Gordon (G, Rockets)
Kyle Lowry (G, Raptors)
Kemba Walker (G, Hornets)
C.J. McCollum (G, Blazers)
Kyrie Irving (G, Cavaliers)
The rules are five balls in five stations. Four orange balls for a point and then one multi-colored ball for two points. They can choose a station where they'll have an entirety of multi-colored balls. Maximum score of 34 points is possible.
And of course, the slam dunk contest. Zach LaVine decided to pull out and not defend his crown. But crowd-pleaser Aaron Gordon is coming back to try to get the title.
Aaron Gordon (F, Magic)
DeAndre Jordan (C, Clippers)
Glenn Robinson III (F, Pacers)
Derrick Jones, Jr. (F, Suns)
I'll have more of a slam dunk contest preview down the line. Yes, Robinson is the son of Big Dog Glenn Robinson. And Jones has only played 11 total minutes for Phoenix. But he's got bounce. Looking forward to it.
THE REST OF THE LEAGUE
The Wizards have won 16 games in a row at home. They are now only a half-game behind #3 Raptors, who have struggled as of late.
I'm still amazed by what Isaiah Thomas. Shouldn't the game plan in the fourth quarter against the Celtics be… stop Isaiah at all costs?
The Knicks really, really want Kevin Love but the Cavaliers ain't budging. Also, the Knicks are in such haste to get rid of Carmelo Anthony. I think Carmelo is a gain for a team that A) needs a scorer badly or B) can get him to adjust to a third scorer if their squad is elite. If you're going to shoehorn him into the Raptors and Melo takes away from Kyle Lowry or DeMar DeRozan, I don't think that's conducive for them.
The Cavs have won three of four. Despite all of LeBron James' talking, I don't think they're in danger of anything. LeBron probably plays better under duress and it helps them get together by the playoffs. It certainly worked for them last year.
So funny thing happened in the Hawks/Rockets game last night. The Rockets were looking for a three to tie. Then Trevor Ariza put up a corner three:
(VIDEO CREDIT: Hall of Fame Highlights.)
From one angle, it looked like it went in. The crowd cheered while the TNT announcers paused a bit. But, really, the ball hit the backboard and the net but it didn't go through the rim. The Hawks got a breakaway basket as everybody stopped and ATL took the duke.
Surprisingly, this was NOT the first time that this has happened to Trevor Ariza.
(VIDEO CREDIT: Sean Leith.)
Even Wizards announcer Steve Buckhantz was fooled. It was one of the all-time great follies.
Lastly, the Bucks and Hornets made a trade. Milwaukee traded Miles Plumlee to Charlotte for Republican Spencer Hawes and Roy Hibbert. Bucks feel they can use those two guys more than Plumlee, who's barely played this season. The Hornets will move faster with Plumlee on the team but they do add more salary. I like this for the Bucks and it's wait-and-see for the Hornets.
LINE CROSSER 02/01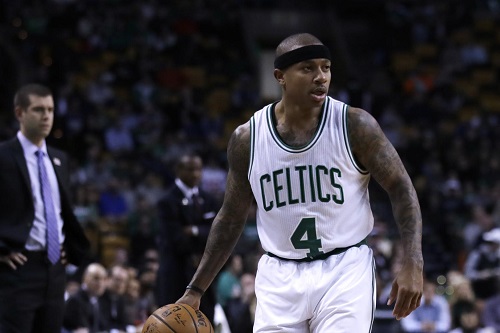 (PHOTO CREDIT: Charles Krupa/AP.)
Who can stop Isaiah Thomas in the fourth quarter?
44 points, 7 assists.
The dude scored 19 points in the fourth. He's been unbelievable this season.
LINE CROSSER 02/02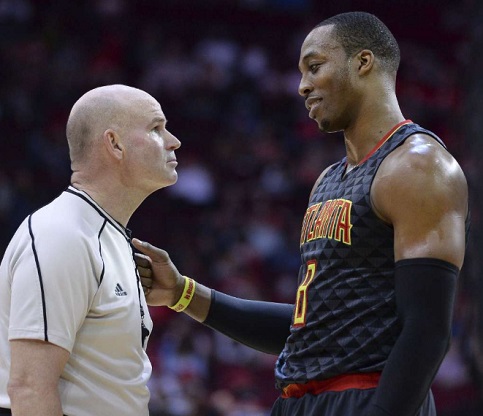 (PHOTO CREDIT: George Bridges/AP.)
While Tim Hardaway, Jr. had that huge 4th quarter when he scored 23 out of his 33 points there, Dwight Howard had a monster game against his old team.
24 points, 23 rebounds.
Once in a while, Howard can get it done with those numbers.
WATCH THIS PLAY 02/01
(VIDEO CREDIT: Ximo Pierto.)
Russell Westbrook leaves Jimmy Butler and does a little air show.
WATCH THIS PLAY 02/02
(VIDEO CREDIT: Ximo Pierto.)
Blake Griffin destroys Kevon Looney with this monstrosity.
---
Follow Rey-Rey on Twitter at @TheNoLookPass for all tweets about the NBA. Also, check out his podcast, Rey-Rey Is Fundamental.