This is the Hangover. This is where I get drunk on the NBA as I recap last night's action as well as a few things going on around the league. Here's your word vomit.
01/31/2017
THE GAMES
NY 101 (21-29) @ WAS 117 (28-20)
NO 106 (19-30) @ TOR 108 (30-19) [OT]
SAC 83 (19-30) @ HOU 105 (36-16)
OKC 94 (28-21) @ SA 108 (37-11)
CHA 98 (23-26) @ POR 115 (22-28)
DEN 116 (21-26) @ LAL 120 (17-34)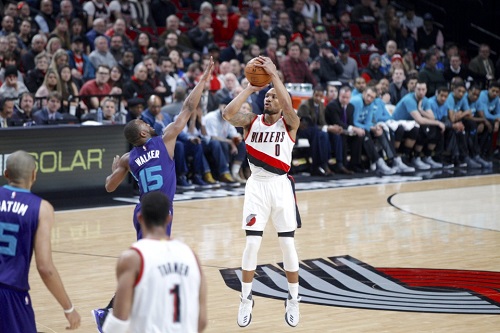 (PHOTO CREDIT: Sean Meagham/The Oregonian.)
IS THIS ABOUT THE TIME THE BLAZERS PICK IT UP?
The Portland TrailBlazers haven't been exactly the model of consistency this year at 22-28. But let's not forget that the team that went to the second round of the playoffs last season didn't exactly have a sparkling record at this time last year.
The Blazers were 23-26 last season going into February. But we did expect Portland to struggle mainly because they had lost 4/5 of their starting line-up was lost the season before that. Rip City started their run on January 10th and went 8-2 the rest of the month. They carried that momentum into February, when they went 9-2. Portland eventually settled into a 44-38 record, which was good enough to be a surprising 5th seed.
Now the Blazers are 22-28 but they have won four of their last five games, including impressive wins over Boston and Memphis. The upcoming schedule isn't the toughest but they aren't exactly lay-ups, either.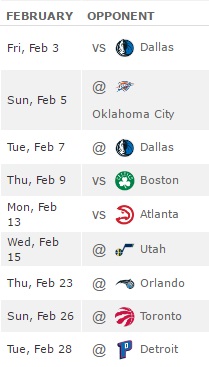 They'll be on the road for the most part but I believe some of those road games are very winnable. They really won't have a super tough stretch the rest of the year so it's time to take advantage of what they have left. Technically, they're only half a game behind Denver for the 8th seed.
The good news is that Portland's defense has stabilized over the past month. In January, they were in the Top 10 in defensive rating (points per possession). In fact, opponents were only shooting at 47.4 percent in two-point range, which was tops for the month of January. If you wanna get more specific, they're best at protecting the rim as opponents were shooting only 53.4 percent from five feet or closer. That's also tops in the month of January.
What they need to do better is prevent three-point shooting and it's tough when your main perimeter defenders are Damian Lillard and C.J. McCollum. And we know their pick-and-roll defense isn't exactly the greatest. They'll probably take their chances funneling their opponents into the inside in the coming games because their perimeter D has been atrocious.
Then the Blazers might repeat their late-season magic from last year.
THE REST OF THE LEAGUE
Sometimes, I feel Kyle Lowry doesn't get enough credit. That clutch shot against the Pelicans was balls.
Suddenly, the Wizards can't lose at home. They started out 5-6 in the Verizon Center and they've won 15 straight. Washington is now 4th in the East and I kind of wonder if we should start taking them seriously. Yes, we know it's Cleveland and everybody else in the East. The Raptors haven't been able to challenge the Cavs and we're not sure if the Celtics can do it, either. Maybe the Wizards can? Bring back the Jay Z and Soulja Boy feud? Where's DeShawn Stevenson when you need him?
James Harden didn't have to have a big game to crush the Sacramento Kings. Not that it's easy for the Kings to win but maaaaan, they need every one of those games to keep pace for the 8th seed.
Hey, look at what D'Angelo Russell is capable of. Good for him.
LINE CROSSER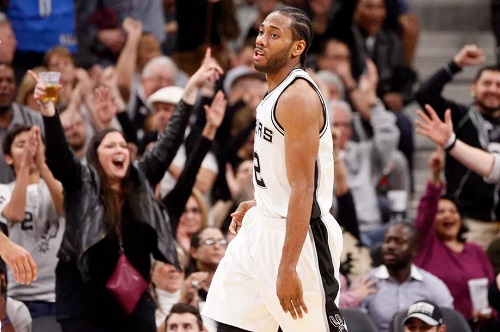 (PHOTO CREDIT: Soobum Im/USA Today.)
It's a weird day when neither Russell Westbrook nor James Harden gets a triple-double. Kawhi Leonard did come up big, though:
36 points, 8 rebounds
Leonard had 20 of those points in the fourth quarter. Silent but violent.
WATCH THIS PLAY
(VIDEO CREDIT: Ximo Pierto.)
Like I said, Lowry got it done against the birds.
---
Follow Rey-Rey on Twitter at @TheNoLookPass for all tweets about the NBA. Also, check out his podcast, Rey-Rey Is Fundamental.

us on FaceBook where we have additional NBA highlights! Thank you!
#SagerStrongForever