This is the Hangover. This is where I get drunk on the NBA as I recap last night's action as well as a few things going on around the league. Here's your word vomit.
01/30/2017
THE GAMES
SAC 119 (19-29) @ PHI 122 (18-29)
BRK 96 (9-39) @ MIA 104 (19-30)
ORL 105 (19-31) @ MIN 111 (19-29) [OT]
DET 109 (21-27) @ BOS 113 (30-18)
CLE 97 (32-15) @ =DAL 104 (18-30)
MEM 115 (29-21) @ PHX 96 (15-33)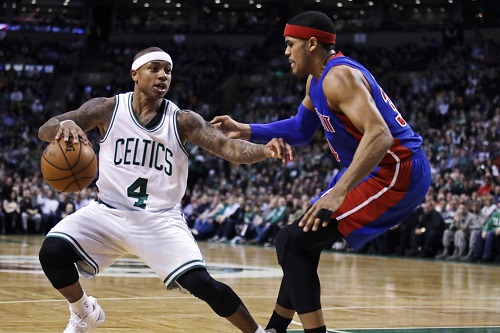 (PHOTO CREDIT: Charles Krupa/AP.)
THE LITTLE MAN KEEPS COMING UP BIG
Isaiah Thomas (the technician… and that is my nickname for him from now on and I don't care if no one else uses it) just keeps doing it. In a hotly contested game against the Pistons, the 5'9″ (5'8″) dynamite guard for the Celtics scored nine points in a minute-and-a-half stretch before helping hold off Detroit for 24 points.
As in 24 points in the fourth quarter. The King of the 4th went for 41 points overall. By the way, this is the fourth time this season he has gone for 20 points or more.
He's become the ultimate closer in the game. I.T. averages 10.3 points in the fourth, which would be the most in 20 years since they started keeping track of that stat. The Celtics know this, too, as they give him screens and space so he can weave around like a running back to the basket. And it's amazing because everyone knows what he does in the fourth. Yet no one can stop him. Isaiah is so shifty and finds a way to get the open shot. And he's doing it consistently.
It's weird how people don't want to put him as one of the best players in the game today. Yeah, it's hard for him to defend because of his height but it's not like he's not putting in the effort (help defense can also mask his deficiencies on that end). But it's the impact that he does in that fourth that makes Boston a dangerous team. Also, Thomas is second overall in scoring; he's averaging 29.4 points per game. You just don't brush that aside, you know.
Sure, it would help for the Celtics to have another option. But at this point, they already have found their go-to guy in the clutch.
THE REST OF THE LEAGUE
The big talk as of this writing is LeBron James basically telling Charles Barkley to talk to the hand. It's all here in Dave McMenamin's juicy ESPN story.
Barkley has not been kind to LeBron's legacy. Here's a sample from that ESPN write-up:
"Inappropriate. Whiny. All of the above," Barkley said of James last week. "The Cleveland Cavaliers, they have given him everything he wanted. They have the highest payroll in NBA history. He wanted J.R. Smith last summer, they paid him. He wanted [Iman] Shumpert last summer. They brought in Kyle Korver. He's the best player in the world. Does he want all of the good players? He don't want to compete? He is an amazing player. They're the defending champs."
That was from Inside The NBA. Barkley has been relentless of the criticism in the past and LeBron couldn't take it anymore.
Was going to Barkley's run-ins with the law and other people necessary? Probably not. But LeBron definitely wanted to get Chuck's attention by doing that. And as far as I know, if you're being bullied (per se), you fight back. I absolutely don't blame LeBron for doing all of that. Has LeBron done many questionable things in the past? Of course, he has. We all have. We're not angels.
But you absolutely have to fight back when someone's got you in a corner. We should ALL KNOW OF THIS considering the state of this country right now. We should all be able to relate to this. I guess in a way, we are all LeBron James. (I'm going to stop short of comparing Charles to another bully, though.)
I can't wait to see Charles Barkley's response to this. But honestly, it's going to be all smoke and mirrors after that. The only thing that's being settled here is the relationship between the two. It's not like it's going to stop Chuck from talking. It's not going to stop LeBron from doing his job. Basically, it's a nice soap opera that will lead to either broken feelings or a whole lot of nothing.
But that's how you get pageviews and ratings, I guess. By the way, the Cavs lost to the Mavericks so that probably aggravated LeBron's mood.
Also, new career-high for Mike Conley at 38 points. The Heat have won eight straight games. The Sixers beat the Kings in a rescheduled game after water was all over the court in Philly. And the Wolves continue to bite back.
LINE CROSSER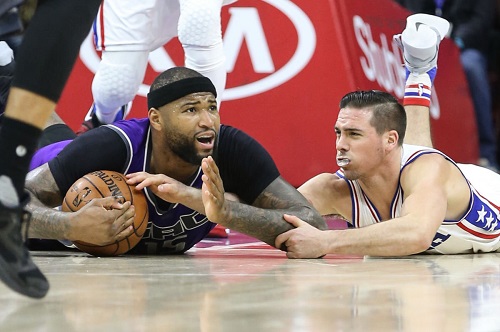 (PHOTO CREDIT: Steven M. Falk/Philly.Com.)
It's too bad he fouled out. But DeMarcus Cousins had a huge game:
46 points, 15 rebounds, 5 assists.
Boogie Wonderland. Kings lost, though.
WATCH THIS PLAY
(VIDEO CREDIT: NBA.)
Andrew Wiggins takes flight. He was hungry like the wolf.
---
Follow Rey-Rey on Twitter at @TheNoLookPass for all tweets about the NBA. Also, check out his podcast, Rey-Rey Is Fundamental.

us on FaceBook where we have additional NBA highlights! Thank you!
#SagerStrongForever