This is the Hangover. This is where I get drunk on the NBA as I recap last night's action as well as a few things going on around the league. Here's your word vomit.
01/26/2017
THE GAMES
DAL 98 (16-30) @ OKC 109 (28-19)
IND 109 (23-22) @ MIN 103 (17-29)
PHX 120 (15-31) @ DEN 127 (20-25)
LAL 88 (16-34) @ UTA 96 (30-18)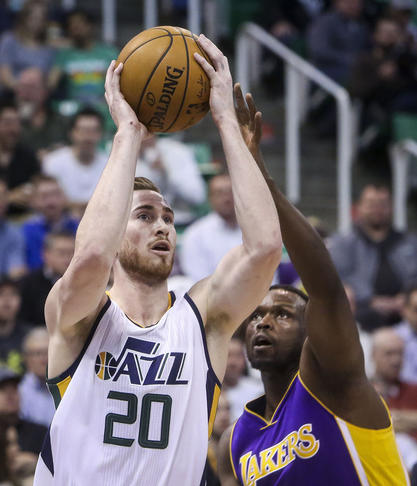 (PHOTO CREDIT: Nicole Boliaux/Deseret News.)
ALL-STAR RESERVES WERE NAMED
Let's refresh the East starters first.
LeBron James (F, Cavs)
Jimmy Butler (F, Bulls)
Giannis Antetokounmpo (F, Bucks)
Kyrie Irving (G, Cavs)
DeMar DeRozan (G, Raptors)
Now here are the East reserves:
Paul Millsap (F, Hawks)
Paul George (F, Pacers)
Kevin Love (F, Cavs)
Isaiah Thomas (G, Celtics)
John Wall (G, Wizards)
Kyle Lowry (G, Raptors)
Kemba Walker (G, Hornets)
Nothing egregious here. Yeah, Joel Embiid didn't make the team and it would've been entertaining had he made it. No Andre Drummond. No Bradley Beal. No Dwight Howard. No Dwyane Wade and no Carmelo Anthony! But it's not like I'm sore that they weren't chosen. This team is just fine. Congrats to Kemba Walker on his first selection of his career.
Now on to the West. Here were the starters chosen last week:
Kevin Durant (F, Warriors)
Kawhi Leonard (F, Spurs)
Anthony Davis (C, Pelicans)
Stephen Curry (G, Warriors)
James Harden (G, Rockets)
And here are the rest of the West:
Draymond Green (F, Warriors)
Gordon Hayward (F, Jazz)
DeMarcus Cousins (C, Kings)
Marc Gasol (C, Grizzlies)
DeAndre Jordan (C, Clippers)
Russell Westbrook (G, Thunder)
Klay Thompson (G, Warriors)
Nobody is surprised that there are four Warriors on the All-Star squad. It's also noticeable that there is only one Spur on the team. Chris Paul didn't get selected but I assumed the coaches didn't pick him because they knew he was hurt so they bypassed the entire injury selection process. Of course, Russell Westbrook made it. DeAndre Jordan made the team for the first time. Karl-Anthony Towns may be the biggest snub in the process. Damian Lillard didn't make it but I didn't think he'd make it with the year he's having. And, hey, Westbrook, Durant, and Harden are teammates again!
I've been saying for years that they should add another spot and even have "alternates" on the teams. Some people still don't know that the NBA allows teams to have 13 active players on the roster; they're allowed to carry 15 players at one time except two have to be inactive. Can the league get this done?
Nevertheless, we all know how the outrage is when it comes to all-star teams.
THE REST OF THE LEAGUE
Another snub I didn't mention? Possible Defensive Player of the Year Rudy Gobert. He took it out on the Lakers by swatting six shots.
Rajon Rondo is not happy with the way Jimmy Butler and Dwyane Wade called out the rest of the team in the media. He wrote a long diatribe on Instagram and insisted that his vets wouldn't go to the media to complain. Of course, Rondo went out and aired it out on SOCIAL media so I find that funny. Do people talk face-to-face these days? Rajon didn't talk to Jimmy and Dwyane about this? Well, then again, Rajon just didn't want to talk to them. Anyway, I see where Rondo is coming from although he's been known to be surly from time to time so some people may not take this as seriously.
We just all know the problems have escalated with the Bulls. With Butler not seemingly respecting the coach as much and Wade basically saying he'd leave if there's no progress, the team has to do something. I don't know what something would be but this can't end well if this keeps up.
We also predicted before the season that this combination of players wouldn't end well. As of this writing, they have seemingly put this thing behind them but we'll see what happens if they lose some more games.
I like how Laker fans are complaining that they should tank the season and play all the young guys. What? How old do they think Julius Randle, D'Angelo Russell, Jordan Clarkson, Larry Nance, Brandon Ingram, Ivica Zubac, and Tarik Black are? An average age of 38? They're getting plenty of time. Plus tanking is not guaranteeing them anything. What if they do that, end up with the second or third worst record and fall outside the Top 3, anyway? Yeah, it's not ideal.
The playoffs aren't impossible. Just try for that and try to improve. I have no idea who is a can't-miss prospect this year and I haven't heard ANYTHING (even if I don't watch college ball).
LINE CROSSER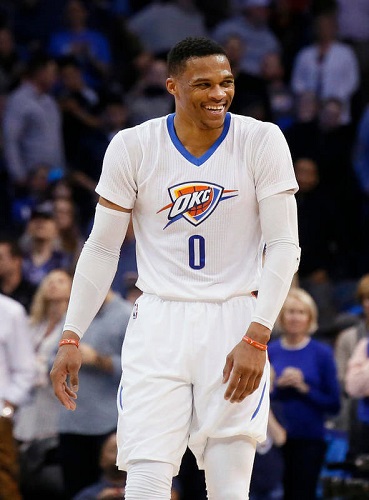 (PHOTO CREDIT: AP.)
Okay. So Russ didn't get his usual triple-double but you can't ignore:
45 points, 8 rebounds.
Let's not forget that he leads the league in scoring. Shoutout to Nikola Jokic for going 29-14-8.
WATCH THIS PLAY
(VIDEO CREDIT: NBA.)
Look at Eric Bledsoe dunk on Kenneth Faried's hair.
---
Follow Rey-Rey on Twitter at @TheNoLookPass for all tweets about the NBA. Also, check out his podcast, Rey-Rey Is Fundamental.

us on FaceBook where we have additional NBA highlights! Thank you!
#SagerStrongForever