This is the Hangover. This is where I get drunk on the NBA as I recap last night's action as well as a few things going on around the league. Here's your word vomit.
01/11/2017
THE GAMES
NY 97 (17-22) @ PHI 98 (11-25)
MEM 95 (24-17) @ OKC 103 (24-16)
HOU 105 (31-10) @ MIN 119 (13-26)
WAS 108 (19-19) @ BOS 117 (24-15)
ORL 96 (16-24) @ LAC 105 (27-14)
CLE 86 (28-10) @ POR 102 (18-23)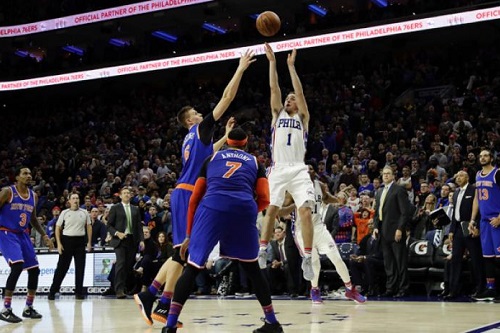 (PHOTO CREDIT: Matt Slocum/AP.)
PROCESSING THE RESULTS
So, uhhhh, guys. In case you haven't noticed but that thrilling win over the Knicks makes it four wins out of five games for the Sixers. I feel like we haven't seen that happen in a very long time.
They pulled out a close one at Denver. We got a Robert Covington game-winning alley-oop against Minnesota. They did take an L against Boston before they recovered with a win against Brooklyn.
Then they pulled off this miracle against New York.
Joel Embiid is good. He scored over 20 points in that five-game stretch. We have Covington making big plays and playing inspired defense. Nerlens Noel is contributing a ton in limited minutes (the jury is still out on what the team is going to do to him). All this winning is being noticed by Embiid; he wants the team to make the postseason this year.
Too bad that the Washington Wizards are a bit far away at 19-19. The Sixers are seven games behind that so at the moment, it sounds like a pipe dream.
Of course, winning games sounded like a pipe dream for them a couple of weeks ago, too…
THE REST OF THE LEAGUE
We've seen John Wall in a couple of episodes this season where he's lost his cool. As of late, Jae Crowder has been challenged by Boston fans on social media; Crowder was not pleased that the Garden crowd cheered for Gordon Hayward recently. Crowder opined he would have no problem leaving Boston if the fans continued to do that sort of thing.
The Wiz and the Celts played on Wednesday night. Boston won and, after the game, Wall didn't seem to be happy about something. Then it escalated:
I wouldn't be happy, either, if another person put his/her finger on my nose. And I'm actually very sensitive about my nose since I had surgery on that thing when I was 12 (NOT for cosmetic reasons).
The Rockets finally lost a game. In fact, it was their first loss on a second game of a back-to-back this season (they won their previous nine). Don't you hate schedule losses?
Portland ended up having an NBA game despite the fact that my second home city is pretty much snowed in. Both the Blazers and the Cavs had transportation problems due to this but they did eventually play the game. Rip City got a much-needed victory.
Shhhh. The Clippers have won five straight.
I didn't go over the Derrick Rose odyssey the other night. Quite frankly, I don't have the highest opinion of him after what happened before the season started. But to recap, Rose went AWOL against the Pelicans on Monday night. He didn't tell anybody where he was until the next day when he returned to NYC. Rose said he had to be with his family.
That's all well and good; family is absolutely a top priority. But a quick text or call to ANYBODY on the team would've sufficed. And everybody would definitely understand. It doesn't take 10 seconds to send a text.
But anyway, after all that, Rose got fined and played against the Sixers. There was talk that he wanted to get away from basketball and be with his family. Again, all fine and dandy.
Now there are reports he's seeking a max contract. I guess if that's what it takes for him to not walk away from the game.
And by the way, those people that laugh at anybody wanting a max contract are fools. Wouldn't YOU want a maximum contract? What are players supposed to say? "Hey, Hornets. I averaged 15 points and 10 rebounds a game last season. I only deserve four years, $40 million." OF COURSE, YOU ASK FOR A MAX DEAL. Doesn't mean they'll get it, of course, but BUSINESS, PEOPLE. BUSINESS.
LINE CROSSER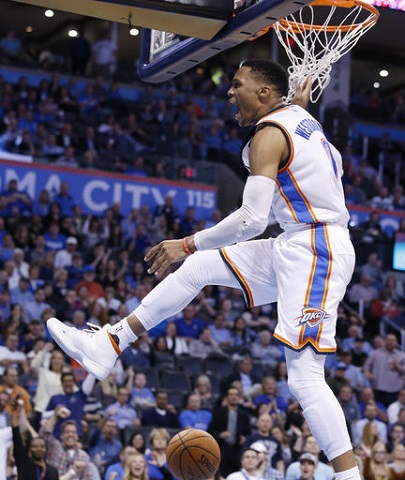 (PHOTO CREDIT: AP.)
Russell Westbrook is collecting triple-doubles like they are Pokemon.
24 points, 13 rebounds, 12 assists.
That's his 18th triple-double, which ties last season's total. The difference is that there are still three months left in the regular season.
WATCH THIS PLAY
(VIDEO CREDIT: NBA.)
It's 2017 and we got to see fringe NBA player T.J. McConnell make a game-winning shot over perennial all-star Carmelo Anthony.
---
Follow Rey-Rey on Twitter at @TheNoLookPass for all tweets about the NBA. Also, check out his podcast, Rey-Rey Is Fundamental.

us on FaceBook! Thank you!
#SagerStrongForever