This is the Hangover. This is where I get drunk on the NBA as I recap last night's action as well as a few things going on around the league. Here's your word vomit.
I apologize that this is very late as I write this while the games on Wednesday night are already going.
01/10/2017
THE GAMES 01/09
NO 110 (15-24) @ NY 96 (17-21)
OKC 109 (23-16) @ CHI 94 (19-19)
DAL 92 (11-27) @ MIN 101 (12-26)
THE GAMES 01/10
CHI 99 (19-20) @ WAS 101 (19-18)
BOS 106 (23-15) @ TOR 114 (25-13)
ATL 117 (22-16) @ BRK 97 (8-29)
CHA 114 (20-19) @ HOU 121 (31-9)
MIL 109 (19-18) @ SA 107 (30-8)
CLE 92 (28-9) @ UTA 100 (24-16)
POR 108 (17-23) @ LAL 87 (15-27)
MIA 95 (11-29) @ GS 107 (33-6)
DET 94 (18-22) @ SAC 100 (16-22)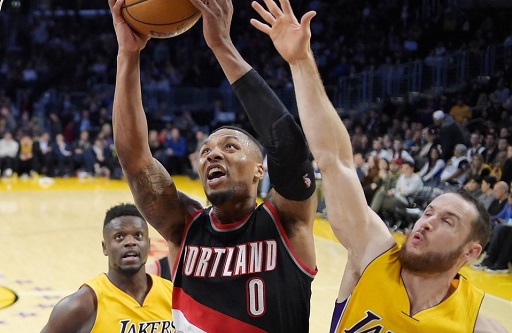 (PHOTO CREDIT: Mark J. Terrill/AP.)
POINT GUARDS GET EXTRA MOTIVATION
So John Wall led the Wizards to a victory over the Bulls on Tuesday. Damian Lillard did the same thing for the Blazers over the Lakers.
Rookie Denzel Valentine (who played very well) did a little taunt after making another one of this threes. Apparently, that "woke the monster", according to Wall. Wall went on to make the game-winner against Chicago.
Lillard got into an altercation with sophomore D'Angelo Russell in the third. The Lakers only scored 30 points in the second half as Lillard led a blowout against L.A. Dame charged that Russell plays elbows out and that he "poked a bear" in the process.
Looked like the young guys were being taught a lesson on Tuesday. I can't tell players not to fight back. I understand "respect for veterans" and whatnot but the only way to really gain THEIR respect is to have a great game against them and beat their team. Obviously, Wall and Lillard are all-world players. Russell isn't there yet and Valentine probably won't get to that level. But scoring 25 points and getting a victory would certainly be sweet revenge against them.
And don't give me that BS that players should already be motivated when they get on the court. Do people forget that players can have that fifth gear? We all sort of have that, especially if we're being challenged.
Anyway, it's okay for vets to feel that way. After all, they were the ones doing the poking once upon a time.
THE REST OF THE LEAGUE
The Rockets and Hawks continue to play well. Ever since Patrick Beverley came back, the Rockets are 25-4 (though the Rockets are 22-4 when he plays). Also, the Rockets are 1st in offensive rating since Nov. 17 (when Beverley came back). If you're having questions about their defense, they are 10th since Pat started playing. So they are sneaky good in that department. This might give Beverley a case for Defensive Player of the Year.
The Hawks have won seven straight. And Dwight Howard is having fun again. He got former teammate Jeremy Lin with a dab.
Dwight Howard dabbed on Jeremy Lin 😂 https://t.co/R5I3mGGiL6

— NBA on TNT (@NBAonTNT) January 11, 2017
I really don't know if the dab is cool or not amongst people. I don't do it myself (I have friends that do it on national TV!). Like is it so two years ago? Oh, youth.
DeMarcus Cousins, for all intents and purposes should be miserable in Sacramento, plans to extend with the Kings. With the salary cap that is way up, Cousins could get an excess of $200 million for five years. He was asked about being happy in Sactown and then he turned it around as he asked reporters if they want him to stay in Sacramento. Cousins enemy, Andy Furillo, straight out said "no." Sometimes, you wonder how some dudes still have a job after all the mudslinging but I guess that's how it is in all workplaces. You just have to work with jerks, sometimes.
Kyle Korver made his debut for the Cavs as he went against his old team, Utah. It wasn't much as he scored only two points in a Cavs loss.
Let's not forget how good DeMar DeRozan is. I do wonder if growth within the Raptors would be good enough to beat the Cavs in the postseason. Nah.
We'll have another what if as Anthony Davis had a huge game against the Knicks at Madison Square Garden. Except he did it all in three quarters because Kyle O'Quinn plastered Davis. The Brow would leave with a hip injury.
Segue!
LINE CROSSER 01/09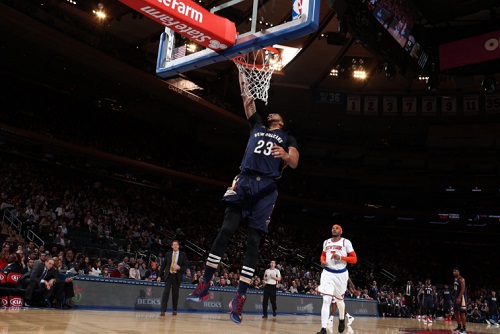 (PHOTO CREDIT: Getty Images.)
Again, Anthony Davis did this in three quarters:
40 points, 18 rebounds, 3 blocks.
More specifically, 29 minutes. He ate a lot at MSG.
LINE CROSSER 01/10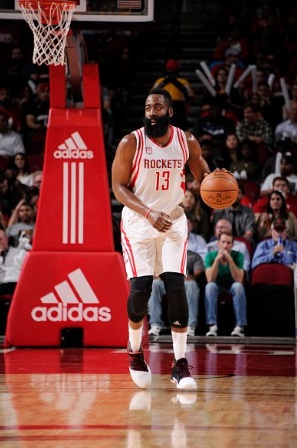 (PHOTO CREDIT: Getty Images.)
James Harden continues to rack it up.
40 points, 15 rebounds, 10 assists.
That makes it 10 triple-doubles for the bearded dude.
WATCH THIS PLAY 01/09
(VIDEO CREDIT: NBA.)
Karl-Anthony Towns soars over Seth Curry on this fastbreak jam.
WATCH THIS PLAY 01/10
(VIDEO CREDIT: NBA.)
Yeah, I know James Johnson yammed on Stephen Curry (check it out here!). But Wall winning the game for the Wizards takes priority here.
Although, yeah, it wasn't a good couple of days for the brothers Curry in terms of being on the other side of posters.
---
Follow Rey-Rey on Twitter at @TheNoLookPass for all tweets about the NBA. Also, check out his podcast, Rey-Rey Is Fundamental.

us on FaceBook! Thank you!
#SagerStrongForever