This is the Hangover. This is where I get drunk on the NBA as I recap last night's action as well as a few things going on around the league. Here's your word vomit.
01/08/2017
THE GAMES
PHI 105 (10-25) @ BRK 95 (8-28)
WAS 107 (18-18) @ MIL 101 (18-18)
MIA 86 (11-28) @ LAC 98 (26-14)
HOU 129 (30-9) @ TOR 122 (24-13)
UTA 79 (23-16) @ MEM 88 (24-16)
CLE 120 (28-8) @ PHX 116 (12-26)
GS 117 (32-6) @ SAC 106 (15-22)
DET 125 (18-21) @ POR 124 (16-23) [2OT]
ORL 95 (16-23) @ LAL 111 (15-26)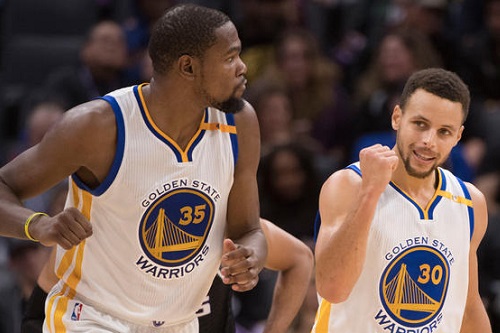 (PHOTO CREDIT: Getty Images.)
THEY'RE STILL THE WARRIORS
People wanna jump on the Warriors and say they're completely vulnerable after one loss. It does stand out when the G. State Dubs blow a lead because, well, let's face it: they rarely lose these days. In the two regular seasons before this one, they lost a total of 24 games. Include this season, and they're a ridiculous 172-30. That's an .851 winning percentage.
So everything's back to normal as they beat the Sacramento Kings, bouncing back from that gagging loss to Memphis. As in every other sports team, they're not perfect. They'll have discussions out on the court like Draymond Green and Kevin Durant did. They'll have coach/player arguments like Steve Kerr and Green did. Stephen Curry and Klay Thompson will opine about not being involved enough. This happens everywhere. But it's because it's the mighty Warriors, everything gets magnified.
And, yeah, so you beat the Warriors once. But to win the NBA championship, you have to beat a team four out of seven times. Yeah, Cleveland did it and while it did help to have someone like LeBron James, they also had the perfect storm of circumstances (Green suspension; Curry not 100 percent and, yes, that played a factor; Andre Iguodala suddenly experiencing a dropoff) that got them to a seventh game.
Not saying it's impossible to beat the Warriors in a seven-game series. But people have to realize that just because they lost once doesn't mean they're ripe for the pickings. They lost one time? Try to beat them again three more times.
THE REST OF THE LEAGUE
Joel Embiid, the man known as the Process, wants results now. He thinks the Sixers can make the postseason this year. Well, the Sixers have 47 games left to make up for that 7 1/2 game-deficit they have against the 8th seeds Wizards and Bucks!
Speaking of the Sixers, getting splashed with ice water isn't fun. Check out Dario Saric's reaction after getting that treatment from teammate T.J. McConnell.
(VIDEO CREDIT: Strictly Hoops.)
I love that sideline reporter Molly Sullivan tried to quickly diffuse the situation by saying they're "good pals" after Dario dropped a bad word on live TV.
We haven't mentioned much about DeMarcus Cousins as of late. Well, he got T'd up for fighting a chair. No, really. He punched and kicked a poor chair.
Whenever the Grizzlies and Jazz get together, you know you're in for some old-school, rough-and-tumble basketball. I love the 90s!
The Lakers have actually won three of four as they're returning to the style of play that got them to that fast 10-10 start.
As I was writing this, Mike Dunleavy, Jr. was convinced by Hawks coach Mike Budenholzer that he had a specific role for him. Dunleavy wanted a buyout after he got traded to Atlanta for Kyle Korver. We'll see how the Hawks operate from here. I still find it intriguing on how they're basically tearing the team apart when they're still doing pretty good in the East.
LINE CROSSER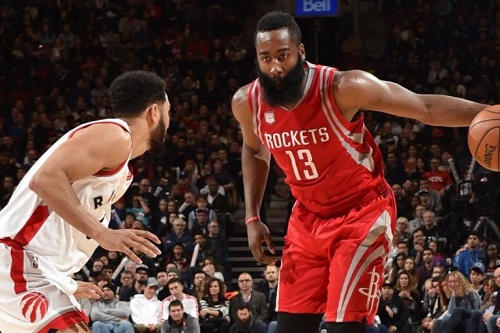 (PHOTO CREDIT: Getty Images.)
Former teammate of Russell Westbrook (isn't that insane?), James Harden, is also racking up those triple-doubles.
40 points, 10 rebounds, 11 assists.
That's triple-double number 10 for the Rockets point guard. I mean, that IS his role on the team.
WATCH THIS PLAY
(VIDEO CREDIT: NBA.)
In a double-overtime cliffhanger that saw C.J. McCollum extend the game with a three each in regulation and the first extra period, Kentavious Caldwell-Pope put it away with his own long toss in the Pacific Northwest.
---
Follow Rey-Rey on Twitter at @TheNoLookPass for all tweets about the NBA. Also, check out his podcast, Rey-Rey Is Fundamental.

us on FaceBook! Thank you!
#SagerStrongForever