This is the Hangover. This is where I get drunk on the NBA as I recap last night's action as well as a few things going on around the league. Here's your word vomit.
01/07/2017
THE GAMES
DET (17-21) @ POR (16-22) (Postponed due to snow!)
NY 109 (17-20) @ IND 123 (20-18)
NO 108 (14-24) @ BOS 117 (23-14)
TOR 118 (24-12) @ CHI 123 (19-18)
DEN 106 (14-23) @ OKC 121 (22-16)
UTA 94 (23-15) @ MIN 92 (11-26)
ATL 97 (21-16) @ DAL 82 (11-26)
CHA 85 (20-18) @ SA 102 (30-7)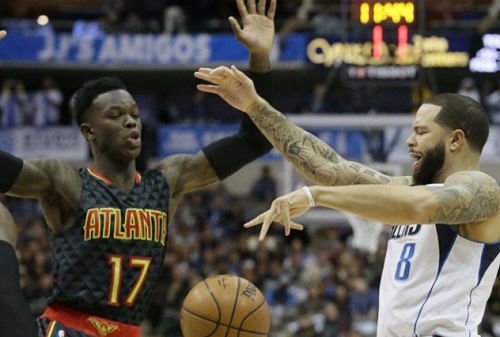 (PHOTO CREDIT: LM Otero/AP.)
GOING STREAKING
Quick. Who has the longest current winning streak right now?
Okay. Houston is not surprising at seven since their redemption story is well-documented at this point. James Harden, Eric Gordon, and Mike D'Antoni are all thriving after their previous campaigns were looked down upon.
But longest in the East? The Atlanta Hawks, who seem to be on the verge of tearing the team down. Kyle Korver is already gone. And Paul Millsap and Thabo Sefolosha are supposed to be next on the list. Anyway, the Hawks have won six straight. That streak includes home wins against the Knicks, Pistons, and Spurs. That was followed by victories away from Georgia as they beat the Magic, Pelicans, and Mavericks.
Admittedly, the road schedule isn't exactly tough. They have the Nets coming up on Tuesday before they defend home court against the tough Celtics and the intriguing Bucks. Still, I'm not too much of a fan of criticizing win streaks because of a "soft schedule."
First off, they can't help who they play. If that's what's on the schedule, then that's that. Also, they'd catch more heat if they LOSE a couple of those games. The Hawks would get criticized if they lost to the Pelicans and the Mavs. Plus, as soft as a schedule it may be, winning can only give a team more confidence. Then if that confidence leads to a big win over an excellent team, we can take them more seriously. And we'll look at the streak as the time they gained momentum. Of course, we can just say that the winning streak was a mirage if they lost. But that's why they play the games, right? I'm not going to discount win streaks like that.
Like the Pacers! They've won five straight. Of course, they had a four-game skid before that…
THE REST OF THE LEAGUE
Business as usual. Spurs won their 30th game.
Let me continue with the praising of Isaiah Thomas. He went for 38 points against the Pellies. Thomas has rose to 4th in scoring at 28.0 points per. He just passed MVP candidate James Harden. If that guy in OKC didn't have to do everything, he might have a shot at the scoring title. That's so impressive for a 5'8″ guy.
The Raptors' weakness must be a bunch of cows. The Bulls have not lost to the dinos since the last day of 2013. Speaking of scorers, Jimmy Butler has scored 40 or more in three of the last six games. He went for 42 and 10 against T-Dot. Chicago has also won three straight overall.
Rajon Rondo has sat out four straight games. I'm not as harsh about Rondo as a lot of other pundits. I DO understand that he hasn't played well. His numbers on the surface aren't bad but the team plays so much better without him on the floor. Rondo hasn't been the same defensively since his ACL tear (that's an understatement). And he's still hunting for assists instead of taking the easy shot.
With that said, I think he can do well in a limited role in the right situation. Some are dismissive about that; those pundits think Rondo is extremely useless at this point. But him playing spot minutes for an excellent team shouldn't be bad. What if he played for the Cavs? What about the Warriors? The Raptors to give Kyle Lowry some rest (yeah, Cory Joseph is on there, too, but Joseph has been playing off the ball). The Clippers would be too redundant but Doc Rivers knows how to get to him.
Bottom line, talented players that appear to be a lost cause can do well in the right environment. DeMarcus Cousins' reputation would change immensely if he played for, say, the Celtics. Look at Zach Randolph. A lot of people were ready to give up on him after stints in Portland, New York, and L.A. Now? He's a hero in Memphis.
We'll see how Chi-town handles Rondo.
LINE CROSSER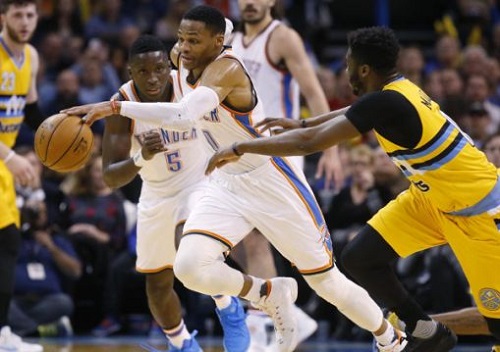 (PHOTO CREDIT: Sue Ogrocki/AP.)
17th triple-double for Russell Westbrook.
32 points, 17 rebounds, 11 assists.
Just crazy. I am never taking them for granted.
WATCH THIS PLAY
So how about Davis Bertans (pronounced DAHvis BerTAHNS) of the Spurs throwing it down?! The Spurs, no matter who they are, make everyone look good.
(VIDEO CREDIT: NBA.)
---
Follow Rey-Rey on Twitter at @TheNoLookPass for all tweets about the NBA. Also, check out his podcast, Rey-Rey Is Fundamental.

us on FaceBook! Thank you!
#SagerStrongForever