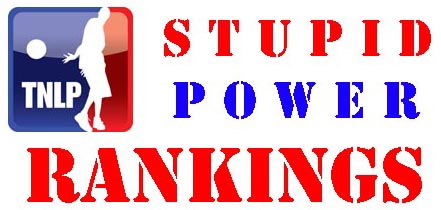 Power Rankings can be really stupid. So stupid that The No-Look Pass just had to have "Stupid Power Rankings." I take 10 things that happened in the league (well, not really; you'll see why) and rank them all however I see fit.
This feature is usually on every Monday. Disagree with the rankings? Well, we already prefaced that these are stupid. Just have fun with these as I rank these however I feel where they stupidly belong.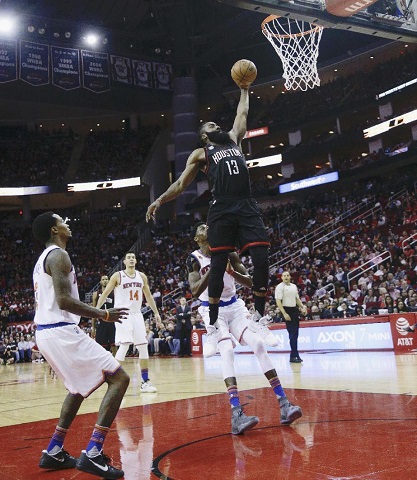 (PHOTO CREDIT: Bob Levey/AP.)
1) Harden Soul
So James Harden did a first. He got the first 50/15/15 game ever. More specifically: 53 points, 16 rebounds, 17 assists. Amazing. He also got the second 50-point triple-double this season after the NBA didn't see any of that kind in 41 years.
Can you do that without lowering the sliders in NBA2K?
TAKING MY SHIRT OFF, TAKING MY SHIRT OFF, TAKING MY SHIRT OFF, GIRL.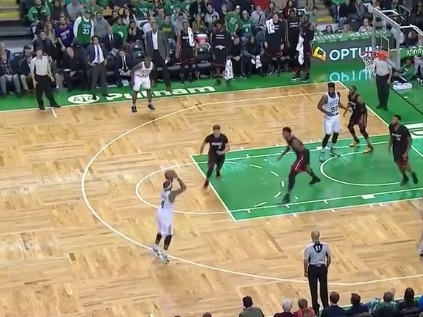 2) Isaiah Thomas Scores 52
He is 5'8″. The league lists him at 5'9″ but, nevertheless, he's barely taller than I am. I SHOULD appreciate this more. He's tearing up the nets and he tore up the Heat with 52 points. By the way, he scored 29 in the fourth.
He's also fifth in the NBA in scoring. This little dynamo is an average-sized man and he's doing it in the land of giants. Props to the technician (thanks, Fred Katz!).
(VIDEO CREDIT: NBA.)
3) Andrew Wiggins Flies By
After this, there is one less Plumlee. Vicious.
(VIDEO CREDIT: NBA.)
4) Underhanded Foul Shots
All the bad foul shooters like Shaq, Andre Drummond, and Chris Dudley should've taken note. But "it looked stupid" so they all refused. You know what looks stupid, though? Constantly missed free throws.
Chinanu Onuaku is a total man because he put his pride aside and decided he would do better shooting underhanded. He raised his free throw rate by 13 percentage points going from conventional to underhanded in between college seasons. And he's two for two thus far in the NBA.
You do whatever it takes to get better. Props to Onuaku.
(VIDEO CREDIT: NBA.)
5) Kris Dunn Handles This
Trickery by Kris Dunn got it done. Of course, it was on purpose! You can tell by his face he knew exactly what he was doing.
Kemba Walker does the Swaggy P #Shaqtin @MikeGoldFool, @NBAonTNT https://t.co/T4ZXUX6r8U

— mfr24 (@mfr234) December 30, 2016
6) Kemba Walker Pulls Off a Nick Young
Make sure the ball goes into the basket first. But hey, I love the shimmy.
(VIDEO CREDIT: NBA.)
7) Lakers' Final Play
This is just garbage. No one really bothered to get open and D'Angelo Russell took a shot reminiscent of Kobe Bryant in the 1997 Playoffs. Ouch.
Come on, guys. Basketball doesn't have to be that hard.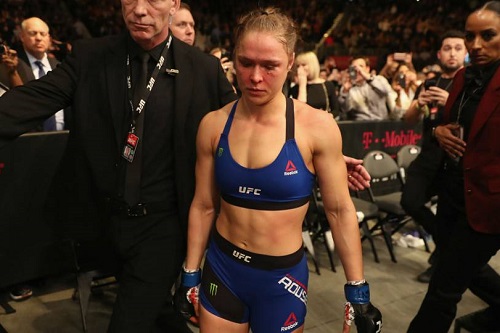 8) Ronda Rousey Gets Knocked Out
48 seconds. Against Amanda Nunes. After a much-hyped comeback, Rousey's return was a dud. But some observers noted her heart didn't seem to be in it anymore. And let's be realistic; she wasn't going to fight much more after Nunes.
Well, she's got a Hollywood career waiting. She's still a big name, no matter what you think of her.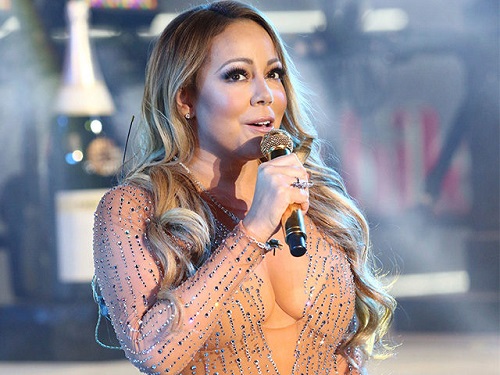 9) Mariah Carey's NYE Performance
I'm not sure if I even want to link to this embarrassing performance. Okay, fine. Here you go.
Mariah Carey played along later on because she knew it was a mess. Still, this is just a nightmare for a performer. Mariah is, at least, a seasoned veteran so this won't hurt her as much (if at all, really). But this is cringeworthy for the six minutes it went on.
Still not embarrassing as the item coming up, though.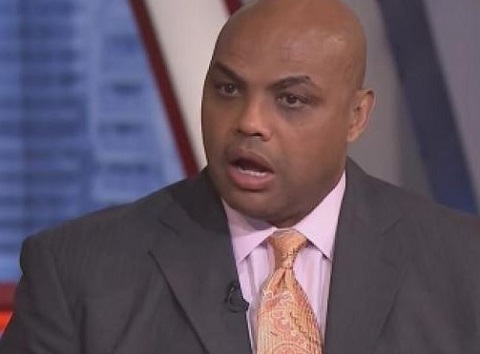 10) Charles Barkley is Turr-ible
Charles Barkley can have an opinion. Anybody can have an opinion. But you look idiotic if you have an uninformed opinion.
Barkley went on a little rant on how the NBA is at the worst it's ever been. He reasoned that everyone relies on the three too much (he's said that for years) and that there are only a few teams that can realistically win the title.
So he wants more low-post play and parity.
If I recall correctly, a lot of us complained from the mid-90s to the mid-2000s that there was too much physical play and we wanted more freeflowing ball. Remember when the Mavericks and the Kings were lauded because of their scoring and passing ways? Apparently, Barkley missed the memo about us complaining about that. At the time, NBA viewership peaked in Michael Jordan's title years but it had a sharp decline because of the awful play we saw.
Then the Phoenix Suns with Steve Nash burst into the scene. Now Mike D'Antoni's footprints are all over the place. The NBA couldn't be any hotter. The play couldn't be any prettier. Yet Barkley shits all over that. It's embarrassing for the league as he's one of the biggest ambassadors of the NBA. If he wants to watch defense then he should be championing Memphis or Utah, which still plays the throwback style.
Oh, yeah. Only a few contenders this year. But isn't that like every year?
The Lakers and Celtics dominated the 80s. The Rockets, Nuggets, Mavericks, and the Suns challenged the Lakers in different years but only the Rockets seriously threatened in the West. The Bucks, Sixers, and Pistons challenged the Celtics. The Sixers beat the Celtics in two straight years while the Pistons eventually became THE team in the East. But were the other teams mentioned seriously contending? No.
In the 90s, the Bulls dominated with the Rockets holding down the middle. We knew the Bulls were the favorites every season except for when the Magic had Shaq and Penny. The Jazz in the West weren't taken seriously until they made the Finals in 1997. The Sonics only made the Finals once. The Suns had a few years. But tell me again how many teams contended each year in the 90s? Not many.
The Spurs and Lakers owned most of the 2000s. Pistons got a title in there as well as the Heat. I'm a broken record at this point. It's the same as it's always been. We only have few true contenders each year.
The funny thing is that in the last seven seasons, six different teams won the title instead of the repeat titles that we had seen so often in the last 30 years.
The problem with this is that Barkley has a big voice on television so a lot of people will believe him. But man, does he look stupid doing it. I just think it's more embarrassing that someone is spouting out nonsensical stuff and you can tell he didn't do his homework.
---
Follow Rey-Rey on Twitter at @TheNoLookPass for all tweets about the NBA. Also, check out his podcast, Rey-Rey Is Fundamental.

us on FaceBook! Thank you!
#SagerStrongForever