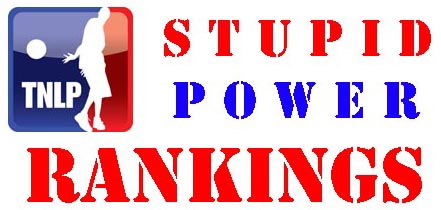 Power Rankings can be really stupid. So stupid that The No-Look Pass just had to have "Stupid Power Rankings." I take 10 things that happened in the league (well, not really; you'll see why) and rank them all however I see fit.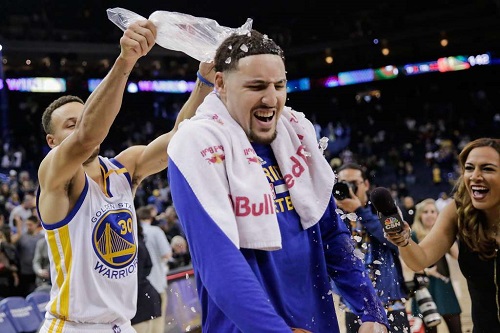 (PHOTO CREDIT: Gabrielle Lurie/The Chronicle.)
This feature is usually on every Monday. Disagree with the rankings? Well, we already prefaced that these are stupid. Just have fun with these as I rank these however I feel where they stupidly belong.
(VIDEO CREDIT: NBA.)
1) Klay Thompson Scorched the Pacers With 60 Points
In three quarters.
I'm sure some of us at some point thought that Stephen Curry and Kevin Durant would score 60 points in an NBA game. But we really should have thought that Klay Thompson was more likely to do something like that.
Klay is capable of such volcanic games like this. After all, he does own the record for most points in a quarter (37 in 2015). And when he's on fire, he spills out lava lakes. By the way, he did this in three quarters.
This will be one of the bigger what if questions; what if Steve Kerr allowed him to stay in the fourth quarter. But it's also obviously the right move. If the Pacers mounted an improbable run then, sure, put Klay back in. But at that point, they were up by 33 so there was no need for Thompson to be in the game.
Still, we wanted to see more straight fi-yah.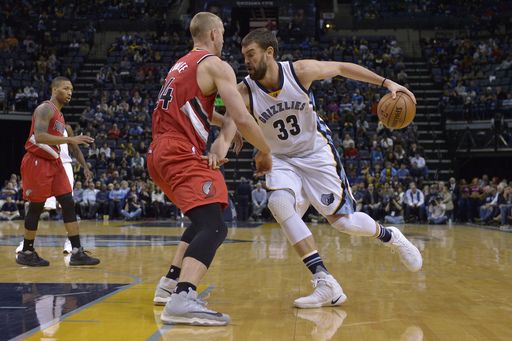 (PHOTO CREDIT: Brandon Dinn/AP.)
2) Nothing Wrong with a Little Grit-N-Grind
The Grizzlies won all four of their games this week. Overall, they've won six straight. Sure, five of them were home games but if you look at who is on the team, it's pretty damn impressive. Mike Conley has been out for the last two weeks but you have unheralded guys like Troy Daniels, Troy Williams, Andrew Harrison, and Jarell Martin making contributions. Plus Marc Gasol is playing the best ball of his career (he was rewarded with the Western Conference Player of the Week award).
Also, the first five games of that streak were extremely close games. They were margins of 1, 3, 2, 5, and 2 before blowing out the mighty Golden State Warriors.
Keep that grit and grind going.
Cavs up 30 in New York. The disrespect level at an all time high. https://t.co/jEk5nFOGnu

— Zach Bye (@byesline) December 8, 2016
3) Cavs Are Flipping Bottles and Rickrolling
So they're having a lot of fun, which makes the timing of LeBron's critical comments about his team even more curious.
On Wednesday, they were KILLING the Knicks. In the fourth quarter, they decided to play that water bottle game where they aim to make the bottle stand after they flip it in the air. In the end, Kyrie Irving stuck the landing.
And then on Friday, they had Hardwood Classics night. So in the video intro, the Cavs took us back to the 80s and brought back an old joke.
(VIDEO CREDIT: NBA Trending.)
I'm not sure if kids these days know what a "Rickroll" is but I found the video amusing. I like how the team went all out and dressed up.
(VIDEO CREDIT: NBA.)
4) Sam Dekker Dekks Enes Kanter
Sam Dekker, the Rockets' first round pick last year, was nowhere to be found in the rotation last season. This season? He's dunking on fools.
Mike D'Antoni wasn't ready 😱https://t.co/drQh7QcCiu

— NBA on TNT (@NBAonTNT) December 10, 2016
5) Patrick Beverley is the Homeslice
Pat Beverley gave Russell Westbrook a tough time in their match-up. The Rockets ended up winning the game and Beverley was so jacked he gave his coach, Mike D'Antoni, a chest bump. But we know that D'Antoni isn't exactly a spring chicken anymore and he nearly fell after that aggressive move by Pat. Beverley apologized for his enthusiasm afterwards:
My bad coach. My bad lol https://t.co/PyFk711jhW

— Patrick Beverley (@patbev21) December 10, 2016
You would want that guy on your team.
The opposite of Durant and Westbrook is … https://t.co/yWZUZf0vAo

— Chris Walder (@WalderSports) December 10, 2016
6) Raptors Bromance
Meanwhile, in Canada, we're seeing a bromance blossom between the Raptors' two all-stars, DeMar DeRozan and Kyle Lowry. Maybe it's always been there but we're just noticing because they're winning. But still, it's refreshing to see this camaraderie between your two best players.
And also, maybe it's because they're from Canada now, and I KNOW everyone in Canada is polite.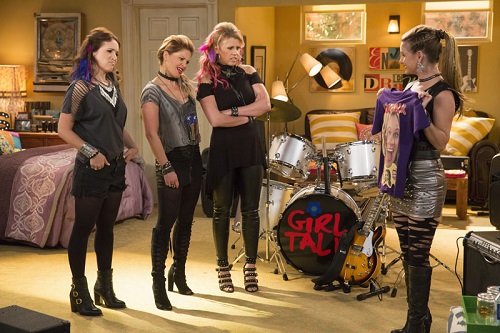 7) Second Season of Fuller House
The second season of Fuller House, the sequel to the 80s/90s comedy Full House, came out on Netflix last Friday. We know Full/Fuller House is a cheesy family sitcom so it can be really corny. But nothing wrong with a little nostalgia and a little cheese now and then.
Plus I dig those 90s dance moves.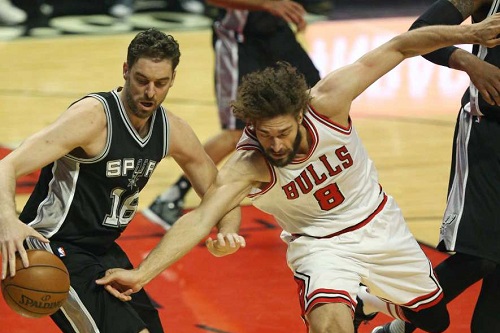 (PHOTO CREDIT: John J. Kim/TNS.)
8) Spurs Are No Longer Unbeaten on the Road
It was good while it lasted. They won their first 13 games on the road before succumbing to the Bulls in Chicago.
Another not-so-cool thing for the Spurs? They fell one short from tying the record the Warriors set last year. Oh, those Warriors these days. They're everywhere.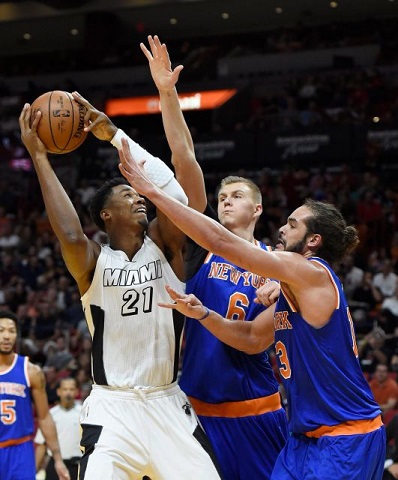 (PHOTO CREDIT: Rhona Wise/EPA.)
9) Heat Have Really Cooled Off
They are falling fast. They are now 7-17 and they have lost five straight overall. But their schedule didn't help matters; they went on a four-games-in-five-nights stretch last week. And three of them were on the road.
I didn't peg the Heat to be a good team this season but multiple injuries certainly didn't help them. That was quite a swift fall for them after being the third seed in the East last season.
Dammit, D-Wade!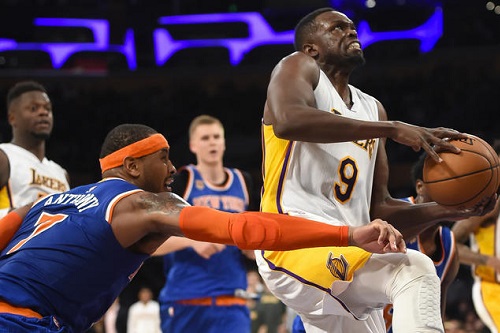 (PHOTO CREDIT: Gus Ruelas/AP.)
10) Lakers Freefall
The Lakers have lost six straight. Four of those were in the last week and three of those four were at home.
It sucks when you lose your starting point guard, your starting shooting guard, your back-up point guard, and, at times, your energy guy/power forward off the bench. For a team that relies on depth, it's not ideal. Luke Walton experimented with many starting line-ups, including a giant backcourt that had Brandon Ingram and Metta World Peace. He tried so hard not to break up the continuity of the bench but he eventually relented when none of his tweaks worked.
They did get D'Angelo Russell and Nick Young back on Sunday but Russell is on a minutes restriction as of now. There's no question that he makes the team go so I don't expect the record to jump up anytime soon. Injuries suck.
At least, Luol Deng is starting to contribute a bit more? He did have 22 points against the Knicks and 18 against the Grizzlies. He's getting there.
Just don't think the Lakers will get to the playoffs this year after this long (and still going) swoon.
---
Follow Rey-Rey on Twitter at @TheNoLookPass for all tweets about the NBA and terrible pop music. Also, check out his podcast, Rey-Rey Is Fundamental.

us on FaceBook! Thank you!