This is the Hangover. This is where I get drunk on the NBA as I recap last night's action as well as a few things going on around the league. Here's your word vomit.
12/08/2016
THE GAMES
MIN 110 (6-16) @ TOR 124 (15-7)
DEN 85 (8-15) @ WAS 92 (8-13)
POR 86 (12-12) @ MEM 88 (16-8)
PHI 99 (5-18) @ NO 88 (7-16)
GS 106 (20-3) @ UTA 99 (14-10)
SA 91 (18-5) @ CHI 95 (12-10)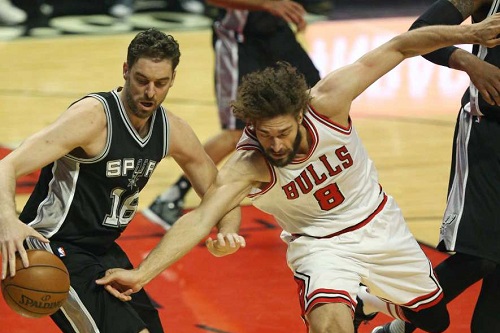 (PHOTO CREDIT: John J. Kim/TNS.)
ROADBLOCK
So the Spurs finally lost on the road. They were undefeated away from San Antonio for the first 13 games. They fell one short of tying the record of best road start set by last year's Warriors (14-0).
Again, people have to understand how tough it is to play on the road no matter what team they're going against. Especially on back-to-backs. They have to travel to another city (for rookies, they won't be familiar with that place). Then of course, they have to find something to do until gametime. That means finding something to eat or whatever. And they won't be sleeping in their own bed. When it's gametime, they're in front of a hostile crowd or, at the very least, people that won't really cheer for them. And then these players still have to get used to the rim a little bit because they only play on a certain court once or twice a year.
And if they're on an extended road trip, they'll have to do that for two weeks. It's always tough to be away from home. So think about that. That's why they are pros.
Anyway, while the Spurs lost their first game on the road, that doesn't mean they can't set a different road record. Here are the best road records in league history:
2015-16 Golden State Warriors: 34-7
1995-96 Chicago Bulls: 33-8
1974-75 Boston Celtics: 32-9
1996-97 Miami Heat: 32-9
1991-92 Chicago Bulls: 31-10
1999-2000 Los Angeles Lakers: 31-10
2004-05 Phoenix Suns: 31-10
2006-07 Dallas Mavericks: 31-10
2007-08 Boston Celtics: 31-10
Winning basketball games in a strange city while your body feels weird because of all the travel and the likely lack of sleep; I know I'm making harder than it seems. But once again, that's why they are the professionals. And I am not (and also because I'm 5'7″and I'm not a great basketball player compared to the guys in the league).
THE REST OF THE LEAGUE
Memphis has won five straight games. And Mike Conley has been out the entire time, too (remember that awful injury of his). The schedule wasn't the hardest (Magic, Lakers, at Pelicans, Sixers, Blazers) but the fact of the matter is that they got the job done. Why is that?
Marc Gasol is having quite a stretch. In all of those wins, he is averaging 26.8 points, 7.4 rebounds, 5.2 assists, 2.0 blocks, and 1.4 steals. By the way, he's shooting .500 from three and .510 overall. That is something.
We also have Troy Daniels stepping up. He hasn't had a great shooting night in the last two games but he's still averaging 18.8 points on .450 shooting from three. And then we have JaMychal Green averaging 9.6 points and 12.8 boards in the last five. It feels like the team seems to be getting better without Conley. And remember that Zach Randolph just came back.
Basically, don't count the Grizz out just yet.
The Warriors had a 29-5 lead over the Jazz before Utah made a furious rally after. They only lost by seven points. It's easy to become complacent when a team has a huge lead early in the game. And it feels like it's happened several times to the Warriors only for their opponents to fall short. They're going to be fine as long as they hold on for the win, right? It's not like they've had lead that they ended up losing later on… never mind.
A reporter asked Alvin Gentry, Pelicans coach, about his job security. I know it's sports and these kinds of things are a bit different than regular jobs but you still shouldn't ask them about job security. Obviously, their focus is going to be on the games themselves. Like what? I should ask a writer, "Oh, hey. You think you're still going to be here next week?" That's pretty rude, if anything.
LINE CROSSER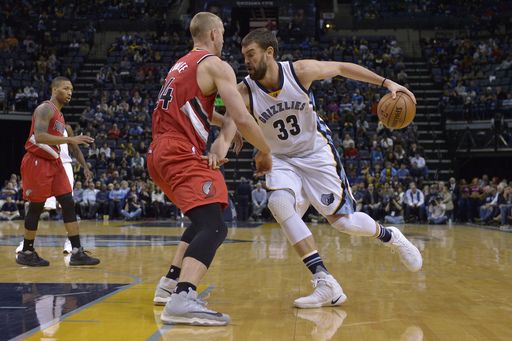 (PHOTO CREDIT: Brandon Dinn/AP.)
This was the only one that really stood out. Marc Gasol went for:
36 points, 9 rebounds.
He is just on another level.
WATCH THIS PLAY
(VIDEO CREDIT: NBA.)
Karl-Anthony Towns put Jonas Valanciunas on a poster. On Vine. On YouTube. For everyone to see.
---
Follow Rey-Rey on Twitter at @TheNoLookPass for all tweets about the NBA and terrible pop music. Also, check out his podcast, Rey-Rey Is Fundamental.

us on FaceBook! Thank you!