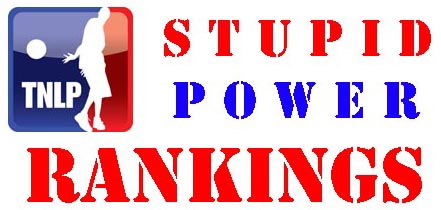 Power Rankings can be really stupid. So stupid that The No-Look Pass just had to have "Stupid Power Rankings." I take 10 things that happened in the league (well, not really; you'll see why) and rank them all however I see fit.
This feature is usually on every Monday. Disagree with the rankings? Well, we already prefaced that these are stupid. Just have fun with these as I rank these however I feel where they stupidly belong.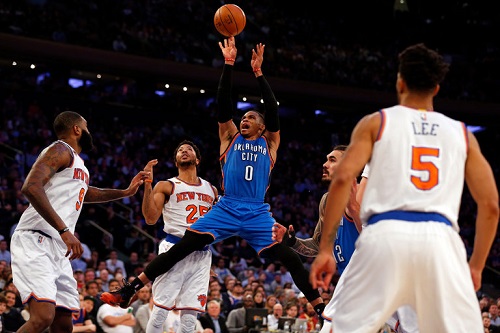 (PHOTO CREDIT: Adam Hunger/USA Today.)
1) Russell Westbrook is Thundering Through
The Thunder are 3-0 in the last week. But let's go back even further a bit. OKC has won five straight games and Russell Westbrook got triple-doubles in ALL of those games. We haven't seen anyone get five straight triple-doubles since 1989 when some dude named Michael Jordan did it.
Westbrook's averages during that five-game span?
28.6 points, 14.4 rebounds, 13.8 assists.
What do these kids say nowadays? "I can't even…"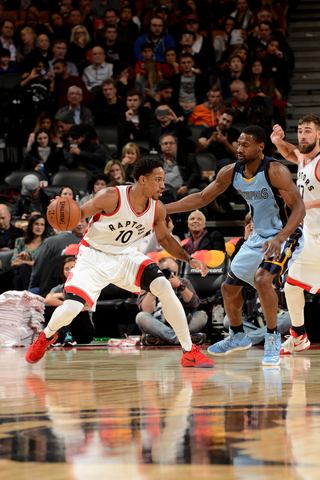 (PHOTO CREDIT: Ron Turenne/Getty Images.)
2) Team Canada
The Raptors are the only other team that have a longer win streak than the Thunder; they've won six straight. But in the last week (they went 4-0), they've absolutely been smashing their opponents. The average margin of victory? 29.8 points. That's domination.
(VIDEO CREDIT: NBA.)
3) Dario Saric Dropped a Man
There have been a few more Sixers highlights this season. But we haven't seen much of Dario Saric until in the last week. Look at him make Jonas Jerebko fall in love with the ground after he hit him with the Cupid arrow stepback.
(VIDEO CREDIT: Ximo Pierto.)
4) JaVale McGee With Another Blooper
We all know Pierre is the blooper king; he's very prominent on Shaquille O'Neal's segment on Inside the NBA, Shaqtin' A Fool. This might be his best one yet.
JaVale has a brainfart after the Warriors made a free throw. He takes the ball and prepares to inbound the ball. Of course, it should be Suns ball after that made foul shot. He quickly realized his error and ran back on defense. On the way back, he raised his hand and acknowledged the crowd that he knew he messed up.
McGee was a really good sport about it this time around. He tweeted about it as his teammates had a good laugh watching the footage.
Maybe he's finally embracing his reputation of goofing up.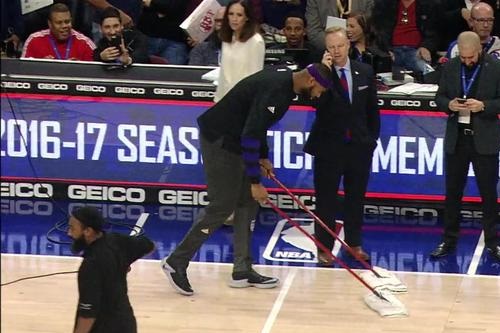 (PHOTO CREDIT: CSN Philly.)
5) Boogie Cousins Mopping
It sucks that the Kings/Sixers game got cancelled due to a wet floor.
But if anything, we got to see DeMarcus Cousins mop up a floor and that's something you don't usually see.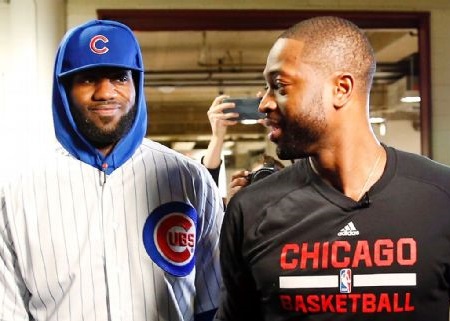 (PHOTO CREDIT: Nam Y. Huh/AP.)
6) LeBron James was a Cub for a Day
Good for LeBron to pay up his friendly bet against good friend and former teammate Dwyane Wade. The Cubs won the World Series against James' horse and the winner had to make the loser wear the World Series winners' uniform (Wade was a Cubs guy).
Nothing wrong with that bet at all.
Jason Terry daps up JR Smith, Tony Snell gets an easy bucket https://t.co/W2V72A0NpQ

— The Cauldron (ICYMI) (@CauldronICYMI) November 30, 2016
7) J.R. Smith Says Hi to a Friend DURING a Game
This is HILARIOUS.
J.R. Smith says hi to Jason Terry (now with the Bucks) on the sidelines. Only that there was a GAME GOING ON. The Cavs would go on to get beat by the Bucks. It's low on my rankings because it would've been so much better if the Cavs won DESPITE the airheaded move by J.R.
Never change, Swish.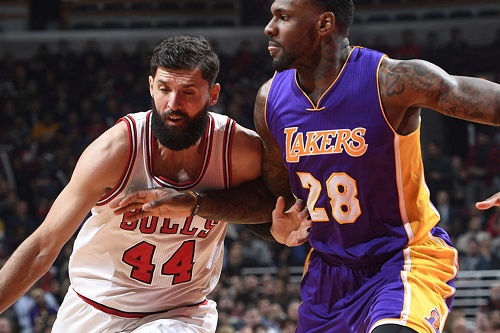 (PHOTO CREDIT: Getty Images.)
8) Bulls vs Lakers
Probably the ugliest game of the season. The Lakers came back from 14 down to beat the Bulls in Chicago. The Lakers also overcame 23 turnovers (and really, they came so close to having like five or six more in the game) and I'm kinda surprised they came back to shoot just under 41 percent. The Bulls shot just over 35 percent themselves.
I recommend you to NOT watch this game ever again if you're a basketball fan. Well, maybe if you need white noise while you're working on something.
(VIDEO CREDIT: NBA.)
9) Hawks Are Slumping
I mean, they're getting dunked on by Jakob Poeltl.
They've lost 9 of 10 games (0-4 in the last week). They got smashed by 36 against Detroit last Friday and then squashed by 44 at Toronto the following day. And this was after a 9-2 start. Their calling card is defense and since that slump started, they were 23rd in defense in that stretch (November 17 until today). And suddenly, they're having trouble scoring (last in offensive rating in that same stretch). And once again in that same stretch, they've only shot 29 percent from three, which would be 28th.
The good news is that they're STILL only one game below .500?
Another game another Draymond Green kick. pic.twitter.com/h2egPbNv1G

— ⓂarcusD2.0 (@_MarcusD2_) December 4, 2016
10) Draymond Green Keeps Hurting People
Draymond himself recently mocked the league by saying they must have taken kinesiology because they know what "unnatural movements" are in basketball. He's hurt so many people with his movements, though. He nailed James Harden with his Booker T-like scissor kick while getting a rebound. And of course, we know what he did to Steven Adams last spring.
The old pros from ESPN's NBA Countdown tried to defend the Warriors forward by saying Green is not as athletic so he kicks up when he jumps for balancing reasons (my brother told me the same thing, too, when we discussed this subject). I can sort of buy that; Dennis Rodman used to do that quite a bit. The difference is that Rodman never hit so many people like that (except for that poor cameraman). But the same pros from ESPN also acknowledged that it's a bad habit and Green CAN control his legs.
One more against Green? Look at him kick poor Marquese Chriss of the Suns in that vid above. He got his fingers dislocated because of Green. Draymond BARELY left the ground. It's a bad habit and HE HAS TO STOP THIS. He's hurting people. I played basketball and while I'm not a pro, I've played against a bunch of different people (from scrubs to even some pros) and quite a handful of them were dirty. I've never been kicked like that and I've never seen someone frequently FLAIL THEIR LEGS the way Draymond did.
I normally don't have a problem with Draymond. But this? THIS is becoming a problem.
---
Follow Rey-Rey on Twitter at @TheNoLookPass for all tweets about the NBA and terrible pop music. Also, check out his podcast, Rey-Rey Is Fundamental.

us on FaceBook! Thank you!