This is the Hangover. This is where I get drunk on the NBA as I recap last night's action as well as a few things going on around the league. Here's your word vomit.
11/21/2016
THE GAMES
MIA 94 (4-9) @ PHI 101 (4-10)
PHX 101 (4-11) @ WAS 106 (4-9)
MEM 105 (9-5) @ CHA 90 (8-5)
GS 120 (12-2) @ IND 83 (7-8)
HOU 99 (9-5) @ DET 96 (6-9)
ORL 89 (6-8) @ MIL 93 (6-7)
BOS 99 (8-6) @ MIN 93 (4-9)
DAL 91 (2-11) @ SA 96 (11-3)
TOR 115 (8-6) @ LAC 123 (13-2)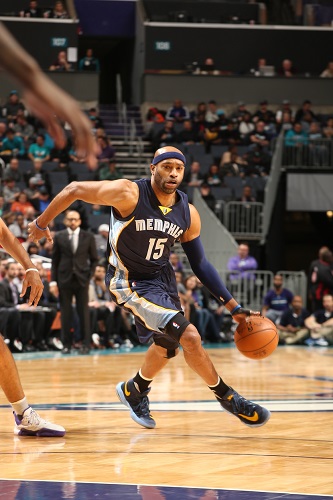 (PHOTO CREDIT: Brock Williams-Smith/Getty Images.)
THE GRIZZLIES ARE STILL HERE
You know, a lot of people expected the Grizzlies to just kind of fade away in the background. For years, they were probably the most annoying team to get rid of in the postseason. Memphis had a roster that was tailor made for the postseason; their team was all about the "grit and grind." And we all know that basketball games tend to slow down and become more physical in the postseason. That's Memphis right there. They had a banner run in 2013 when they made the Western Conference Finals. But last season, they were decimated with injuries. Coach Dave Joerger wasn't retained. Incoming coach David Fizdale had talked about becoming a faster and more offensive-focused team.
Well, the Grizzlies have won five straight games. And I'll give you a second to guess how they did it. Yup. GRIT AND GRIND. And forget about becoming faster; they're the third slowest team in the league in terms of pace.
Grizzlies are doing it with their signature defense. They had their most significant win when they beat the Clippers last Wednesday. Then they snuffed the Mavericks and Timberwolves into oblivion by only allowing a combined 135 points against them. Then they beat an excellent team in the Hornets, who only scored 90 points.
Memphis has burst into the Top 5 in defensive rating. But in the last nine days, the Grizz have been second in defensive rating (Orlando was the only team that had a better rating in that stretch) and in the Top 10 in offensive rating. They also have the second best net rating (differential in points per 100 possessions and the Grizz are +11.2) in that same stretch. The only team that was better? That juggernaut Warriors team, who have been steamrolling over the competition.
While the signing of Chandler Parsons hasn't exactly worked out, they have a lot of players that ARE working out. Mike Conley is having a career scoring year. Marc Gasol has been an excellent three-point shooter. Zach Randolph made a seamless transition to the bench and has been one of the best sixth men in the league. Vince Carter is somehow still playing really well (in pretty heavy minutes, no less) and he's 40 years old in January. Tony Allen has come back to solidify their defense even more. And they're also getting great contributions from JaMychal Green and James Ennis.
Time will tell if the Grizzlies are going to go back to their spot as most annoying or most dangerous team in the Western Conference. But they're showing so far that they are not going away.
THE REST OF THE LEAGUE
So Gregg Popovich had something to say about the Spurs/Mavs game.
As Gregg Popovich said, a Spurs win over the Mavs can still be "a very pathetic performance." For @YahooBDL: https://t.co/ccWuxDtZk2 pic.twitter.com/LGGL9quWoo

— Ben Rohrbach (@brohrbach) November 22, 2016
That's what makes Pop great. He's honest and candid (and honestly, if you think he's a total jerk to reporters, you're not in on the joke) and he's hardly satisfied until they get the big prize. And remember that the Spurs won this game.
The Sixers beat the Heat later. And the always-enjoyable Joel Embiid had somethng to say in a picture while facing up against Hassan Whiteside.
BBQ Chicken pic.twitter.com/MF5j21ddot

— Alysha Tsuji (@AlyshaTsuji) November 22, 2016
Of course. Not that Whiteside did badly (32 points, 13 boards) but hey, you get to brag a bit when you win.
The Clippers continue to have the best record in the league at 13-2. On the other side, the team that they beat recently (the Raptors) have now lost four of five games. And they got off to such a great start, too.
LINE CROSSER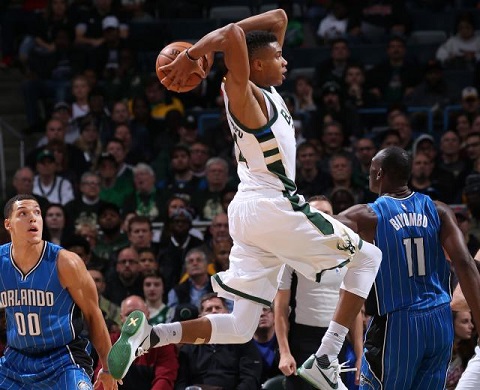 (PHOTO CREDIT: Getty Images.)
I wanna give a shoutout to Bradley Beal, who got 42 points. But it's tough to ignore Giannis Antetokounmpo's line.
21 points, 10 rebounds, 10 assists, 3 blocks, 5 steals.
And we know the Greek Freak is not at his peak. This is crazy.
WATCH THIS PLAY
(VIDEO CREDIT: NBA.)
Karl-Anthony Towns is doing this like he's a 5'11 guard. Come on, man.
---
Follow Rey-Rey on Twitter at @TheNoLookPass for all tweets about the NBA and terrible pop music. Also, check out his podcast, Rey-Rey Is Fundamental.

us on FaceBook! Thank you!