This is the Hangover. This is where I get drunk on the NBA as I recap last night's action as well as a few things going on around the league. Here's your word vomit.
11/18/2016
THE GAMES
ATL 96 (9-3) @ CHA 100 (8-3)
PHX 116 (4-9) @ IND 96 (6-7)
DET 81 (6-7) @ CLE 104 (10-2)
POR 101 (7-7) @ NO 113 (3-10)
BRK 105 (4-8) @ OKC 124 (8-5)
GS 104 (10-2) @ BOS 88 (6-6)
MEM 80 (7-5) @ DAL 64 (2-9)
TOR 113 (8-4) @ DEN 111 (4-8) [OT]
SA 116 (10-3) @ LAL 107 (7-6)
LAC 121 (11-2) @ SAC 115 (4-9)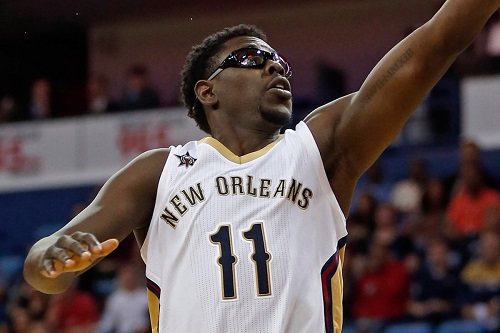 (PHOTO CREDIT: Gerald Herbert/AP.)
WELCOME BACK, JRUE HOLIDAY
In September, former U.S. Women's National soccer player Lauren Holiday was diagnosed with a benign brain tumor. She was also pregnant at the time. Because of this, husband Jrue Holiday was to miss an indefinite time with the New Orleans Pelicans. I thought he was going to miss an entire season because, after all, it's all about caring for your family. That is way more important than basketball.
The good news is that Lauren and baby daughter, Jrue Tyler, are both healthy. Jrue returned to the court last night against Portland. Holiday scored 21 points and dished out seven assists off the bench. The Pelicans boosted their record to 3-10 after they won against the Blazers. That had to feel good for Holiday and the Pelicans.
But way more importantly, Holiday's family is healthy. All the good vibes to Jrue Holiday and the Pelicans and even more positive vibes to Lauren and Jrue Tyler.
THE REST OF THE LEAGUE
So the Warriors started running away against the Celtics. Zaza Pachulia sank a jumper and did this:
Zaza Pachulia makes a 15-footer … SPANKS THE PONY 🐴🔥 https://t.co/ogVTBwvUPW

— Rob Perez (@World_Wide_Wob) November 19, 2016
I am totally doing this next time either at a club or a wedding.
Seriously, the Mavericks only scored 64 points in an NBA game. This was my reaction when I found out about it:
(VIDEO CREDIT: raw64life.)
The Clippers nearly blew a 26-point lead against the Sacramento Kings last night. I do remember that the Kings came back from 35 down and won against the Chicago Bulls back in 2009.
No Paul George for the Pacers and they lost big against the not-so-great Suns. PG-13 can't be getting any happier.
No Reggie Jackson for the Pistons and they got smashed by the Cavaliers. Remember that the Cavs were pushed by the Pistons in the postseason despite the sweep.
No Jeremy Lin for the Nets. Yeah, they're scrappy but they're really missing some NBA-level talent. They've lost three straight games.
So we really should start taking the Hornets seriously, huh?
The Spurs are always mighty but, just like every other team, they had to EARN their win against the Lakers.
LINE CROSSER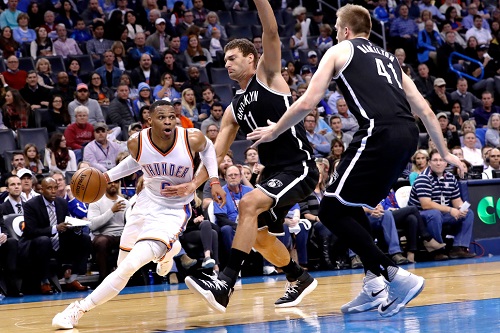 (PHOTO CREDIT: AP.)
Russell Westbrook had yet another triple-double.
30 points, 11 rebounds, 13 assists.
This is becoming routine that we might be taking these for granted.
WATCH THIS PLAY
(VIDEO CREDIT: NBA.)
The question is… how the heck did Chris Paul execute this bounce pass? Man, that is sick.
---
Follow Rey-Rey on Twitter at @TheNoLookPass for all tweets about the NBA and terrible pop music. Also, check out his podcast, Rey-Rey Is Fundamental.

us on FaceBook! Thank you!