This is the Hangover. This is where I get drunk on the NBA as I recap last night's action as well as a few things going on around the league. Here's your word vomit.
11/13/2016
THE GAMES
CHA 93 (6-3) @ CLE 100 (8-1)
LAL 99 (6-5) @ MIN 125 (3-6)
ORL 119 (4-6) @ OKC 117 (6-4)
PHX 120 (3-8) @ GS 133 (8-2)
DEN 105 (3-7) @ POR 112 (7-4)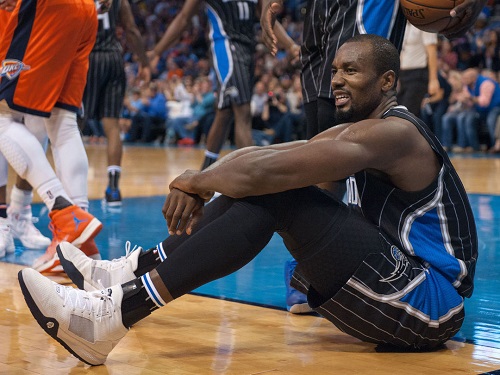 (PHOTO CREDIT: Getty Images.)
WHAT COULD HAVE BEEN FOR THE THUNDER
So we saw Serge Ibaka make the game-winning jumper against his former team, the Oklahoma City Thunder. It's a painful reminder of what it used to be for the Oklahoma City Thunder, who used to employ three current MVP candidates and a perennial candidate for Defensive Player of the Year.
A lot of people seemed OBSESSED with a break-up of the Thunder core as long as maybe five years ago. They thought Kevin Durant and Russell Westbrook didn't get along. They thought James Harden wanted more. They thought Westbrook would bolt for L.A. the first chance he got.
If you told me a few years ago that it would be Westbrook STAYING with the Thunder instead of any of the other three guys, I would've told you WRONG WRONG WRONG. The NBA can be real funny, sometimes.
The James Harden trade continues to be one of the most questionable in history. He was traded after a not-so-great 2012 NBA Finals. OKC and Harden couldn't come to terms on money so the Thunder traded him because they didn't want to take the chance of losing him to free agency for nothing. The Thunder got Kevin Martin, Jeremy Lamb, two first round picks, and one second round pick. Martin bolted after a season and Lamb didn't do so well in OKC. At least, one of the first round picks panned out, Steven Adams is now part of the Thunder's new core. While Harden probably would've left in 2013, OKC could've waited until then and see how he turned out. Harden wanted a bigger role, for sure, and he was probably designated to be the #3 option for the Thunder and a starter (he came off the bench for OKC). But you can't help but think of the what ifs with Harden.
It was almost like the Thunder had to make a choice between Harden and Ibaka. They did come to terms with Ibaka and he did stay with the Thunder for the next four years. He was a safe option for outside jumpers and became an excellent shot blocker for them. They eventually traded Serge to Orlando to acquire a shooting guard and scorer in Victor Oladipo. Oladipo was signed to an extension almost immediately.
And we know that Durant decided he wasn't going to be a Thunder lifer as he went to Golden State to form today's superteam with Stephen Curry, Klay Thompson, and Draymond Green. Durant was supposedly frustrated with the team building around him and he decided he had a better chance at a ring in NorCal. I don't blame him at all for doing that; he can do whatever he wants. But selfishly, I wanted to see the Thunder finish the job as they were so close so many times even with the injuries that beset them.
So we saw Durant obliterate the Thunder two weeks ago and last night, Serge put the nail in the coffin in his first game back in OKC. Not only that but Serge scored a career-high 31 points against his old team.
What could have been, Thunder. What could have been. At least, OKC still has Westbrook. They got the most unlikeliest of scenarios but at least, they didn't get the worst scenario. Everybody could have been gone.
THE REST OF THE LEAGUE
Like I said, the Warriors are gaining steam. There was this sequence where Durant chased Devin Booker and blocked his dunk and it was followed by a pull-up three by Curry from about 30. Ridiculous. The Warriors are now 8-2. So much for that supposed 2011 Heat start.
The Lakers finally didn't play well and it was the first game where they weren't in the game in the fourth quarter. They did get it down to single digits at some point in the fourth but the Wolves just ran over them, specifically Andrew Wiggins. Wiggins made a living on the foul line and put in 47 points against the Lakers. You can say that the Lakers have the back-to-back excuse but the T-Wolves did, too. It's just the Lakers were on the road.
The Cavs have converted 10 three-pointers or more in their first nine games. They've really embraced the three as a weapon ever since the playoffs. And no title hangover just yet; they're 8-1 and cruising along. Well, they're probably going to be cruising along, regardless, but I didn't think it would be this kind of cruising thus far. LeBron James is due for a short break at some point, though, as the Cavs want his batteries to be fully charged come springtime.
Portland is also chugging along at 7-4. Damian Lillard continues to do his thang thang (I love that term; thanks, Gronking To Remember) and, again, I never envisioned him to be this kind of scorer. He had another 32 against Denver, who has lost four straight.
LINE CROSSER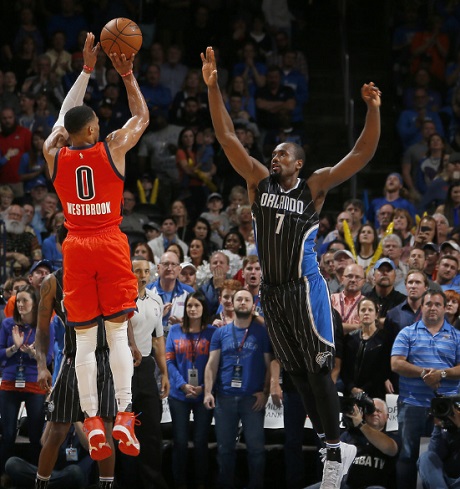 (PHOTO CREDIT: Sarah Phipps/The Oklahoman.)
Shoutout to Wiggins, who scored 47 points against the Lakers but I still gotta give ths to Russell Westbrook.
41 points, 12 rebounds, 16 assists.
Like… are you kidding me?
WATCH THIS PLAY
(VIDEO CREDIT: NBA.)
Serge Ibaka's game-winner against OKC. Yup.
Unbreak my heaaaaarrrrrt! Say you love me agaaaaaain!
---
Follow Rey-Rey on Twitter at @TheNoLookPass for all tweets about the NBA and terrible pop music. Also, check out his podcast, Rey-Rey Is Fundamental.

us on FaceBook! Thank you!