This is the Hangover. This is where I get drunk on the NBA as I recap last night's action as well as a few things going on around the league. Here's your word vomit.
11/12/2016
THE GAMES
LAL 126 (6-4) @ NO 99 (1-9)
BOS 105 (5-4) @ IND 99 (4-6)
NY 107 (3-6) @ TOR 118 (7-2)
PHI 96 (1-8) @ ATL 117 (7-2)
WAS 95 (2-7) @ CHI 106 (6-4)
SA 106 (7-3) @ HOU 100 (5-4)
LAC 119 (9-1) @ MIN 105 (2-6)
UTA 102 (7-4) @ MIA 91 (2-6)
MEM 96 (4-5) @ MIL 106 (5-4)
DET 106 (5-5) @ DEN 95 (3-6)
BRK 122 (4-5) @ PHX 104 (3-7)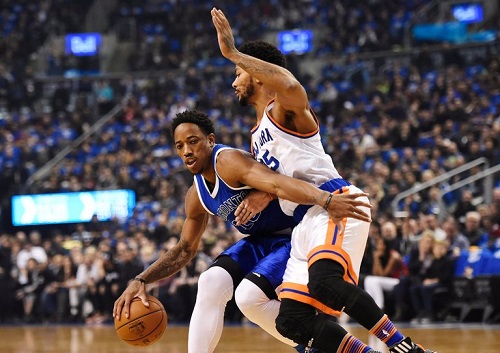 (PHOTO CREDIT: Nathan Denette/The Canadian Press/AP.)
SCORING IS FUN
That goes for anything! Basketball. Football. Soccer. Baseball. Hockey. Words With Friends. Tony Hawk Pro Skater. The bed… you get the picture.
But in general, the NBA scoring is trending upward. Last season, the league average for scoring was 102.7 points per game. This year? We're at 103.7 so far. But it's the highest since 1992-93 when the NBA averaged 105.3 points.
The reason I looked this up because, while it's early in the season, we have five players averaging 30 points or more. The last time the NBA had multiple 30-point scorers? 2005-06 (Kobe Bryant, Allen Iverson, and LeBron James all averaged above 31.4 PPG.)
Now we have DeMar DeRozan, Anthony Davis, Russell Westbrook, Damian Lillard, and James Harden above 30. For those fans that asked for more scoring, well, your prayers have been answered. I don't think all five will end up averaging over 30 but we certainly have a chance to have two or three do that by April.
It's good for the league. I know some people will clamor for more defense but with three-pointers, pace, and ball movement being more vogue, there are a lot more possessions so there are more chances to score. We still laud guys like Kawhi Leonard, Rudy Gobert, and Draymond Green on the defensive end. Besides, scoring is ALWAYS exciting.
The NBA is honestly really in a good place with all of these points being pumped in. I love it.
THE REST OF THE LEAGUE
The Pacers and the Wizards continue to be a bit disappointing. Well, the Wizards, especially. It doesn't help that Bradley Beal has been hurt a few games. Once again, they might need a REALLY strong finish just to get into the postseason. Four of their seven losses have been in double digits. They're below average on both offensive and defensive rating. They're not playing fast anymore, which got them in trouble in the first place last season. Plus their bench hasn't been giving them much help.
Come on, Scott Brooks. Fix this quickly.
The ascension of DeRozan has been stunning. He's averaging 34.0 points per game thus far but what's remarkable is that he's basically unstoppable inside AND in the midrange. He's very old-school in the fact that he doesn't use the three-pointer to generate most of his points. DeRozan is pretty much Dwyane Wade in that vain. Analytics community might hate it but he's sticking to what he's good at and I'm all about that.
Clippers, we continue to see you. 9-1 now.
Baby Lakers, we also see you. Way to take advantage of Anthony Davis going out. Speaking of which, we wonder if Davis is built for the long haul. He has never played 70 games in the season. He's obviously great when he plays but, man, it's not great when he can't stay on the floor.
We're not talking about them much but the Nets are 4-5. Gotta take a closer look at them soon.
LINE CROSSER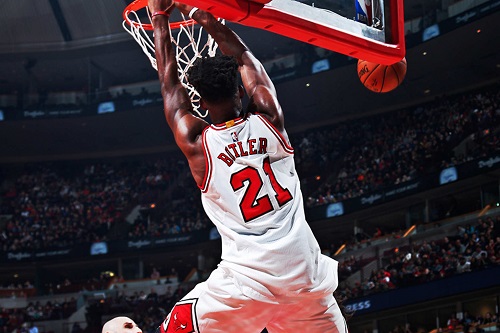 (PHOTO CREDIT: Getty Images.)
Jimmy Butler broke this out against the Wiz:
37 points, 8 rebounds, 9 assists.
Shoutout to Harden for another triple-double. But Butler's near-trip-dub was more impressive to me.
WATCH THIS PLAY
(VIDEO CREDIT: NBA.)
The Sixers would've liked it if Kent Bazemore was Bazeless. Someone punch me in the face.
Well, Bazemore did punch the rim in the face. Not literally because rims don't really have faces.
---
Follow Rey-Rey on Twitter at @TheNoLookPass for all tweets about the NBA and terrible pop music. Also, check out his podcast, Rey-Rey Is Fundamental.

us on FaceBook! Thank you!