This is the Hangover. This is where I get drunk on the NBA as I recap last night's action as well as a few things going on around the league. Here's your word vomit.
11/07/2016
THE GAMES
UTA 109 (5-3) @ PHI 84 (0-6)
HOU 114 (4-3) @ WAS 106 (1-5)
IND 100 (3-4) @ CHA 122 (5-1)
ORL 80 (3-4) @ CHI 112 (4-3)
MIA 85 (2-4) @ OKC 97 (6-1)7
DET 82 (4-3) @ LAC 114 (6-1)
NO 106 (0-7) @ GS 116 (5-2)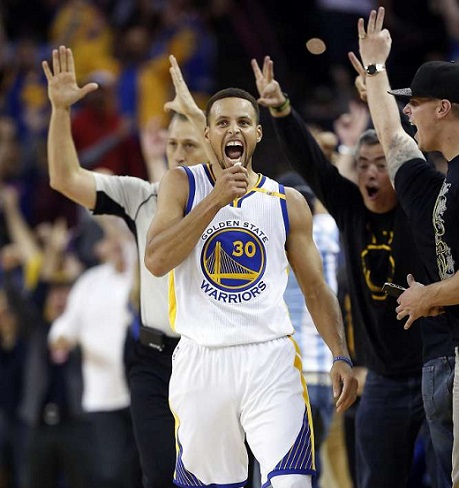 (PHOTO CREDIT: Scott Strazzante/The Chronicle.)
BREAK THEM RECORDS
Stephen Curry is ridiculous.
So in their game against the Lakers last Friday, Curry's record streak of making a three-pointer in a game was snapped at 157. It was time to start another streak, right?
He did it one better. Curry got another record against the hapless New Orleans Pelicans. He made 13 three-pointers in that game as he now holds the record for most treys in a game by himself (he was tied with immortals Kobe Bryant and Donyell Marshall with 12). It's amazing what he can do behind the three-point line. I'm convinced he can make a dime into a red cup from 23 feet away.
So what's next for Curry besides another championship or possibly another scoring title or MVP award? Well, he currently is 18th in made 3-pt FG of all-time at 1,625. He's more than halfway through to get to Ray Allen, who's at 2,973. Let's pretend he ends at 1,900 this season. Or even close to 2,000. If he continues that crazy pace of, say, 300 per year? Maybe a bit more? He can have this record by 2020. He'd only be 32. Curry would have quite a stranglehold on this record.
But who's to say there won't be anybody better than Curry at this shooting thing in about a decade? Still, let's enjoy Curry while he's in his prime.
THE REST OF THE LEAGUE
Paul George is not exactly a happy camper right now in Indiana. He said that the team is lifeless and has no chemistry. The good news is that they do have time to turn this around. They are 3-4 and we all know it's a long season. But the bad news is that we don't know how impatient PG-13 is when it comes to this. He and the Pacers were conference finalists not long ago and I'm sure he would like to be back there again sooner than later.
But Paul George isn't grumpy at everybody. He sent flowers and a note to the fan that got hit by the ball that he kicked last Saturday. So there's that, at least.
How about the Clippers and the Thunder being 6-1? The Clippers are more legit, honestly, but it's encouraging for the Thunder to get off to a 6-1 start. Soft schedule? Sure. But that's not their fault; they won the games they were supposed to win. It can only give them confidence from here on out. The Hornets also should be encouraged by that 5-1 start. I'll take a look at them very soon.
Lastly, last night was the 25th anniversary of Magic Johnson's announcement. He announced that he was retiring from the game of basketball because he had contracted the HIV virus. 25 years later, he is still here. And we are all glad he is living with us. I wrote about the announcement five years ago when it was the 20th anniversary.
LINE CROSSER
It's tough to ignore Curry's statline. Outside of the 13 treys, he had:
46 points, 5 rebounds, 5 assists.
What's also impressive on the three-pointer front? He only missed four times.
WATCH THIS PLAY
(VIDEO CREDIT: NBA.)
What else? It's the record-breaking 13th three-pointer by Dell Curry's kid.
---
Follow Rey-Rey on Twitter at @TheNoLookPass for all tweets about the NBA and terrible pop music. Also, check out his podcast, Rey-Rey Is Fundamental.

us on FaceBook! Thank you!