This is the Hangover. This is where I get drunk on the NBA as I recap last night's action as well as a few things going on around the league. Here's your word vomit.
11/04/2016
THE GAMES
ATL 92 (3-2) @ WAS 95 (1-3)
MIA 87 (2-3) @ TOR 96 (4-1)
CHA 99 (4-1) @ BRK 95 (2-4)
NY 117 (2-3) @ CHI 104 (3-2)
LAC 99 (4-1) @ MEM 88 (3-3)
PHX 112 (2-4) @ NO 111 (0-6) [OT]
POR 105 (3-3) @ DAL 95 (0-5)
SA 100 (5-1) @ UTA 86 (3-3)
GS 97 (4-2) @ LAL 117 (3-3)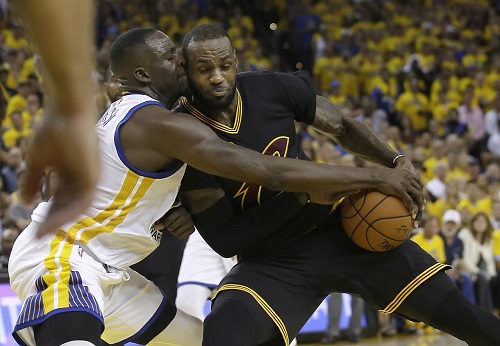 (PHOTO CREDIT: Marcio Jose Sanchez/AP.)
FATIGUE TAKES ITS TOLL
Going to the NBA Finals on consecutive years is taxing. Sometimes, I wonder how LeBron James does it year after year after year.
It's weird because that 73-win Golden State Warrior team made me forget what happened the season before. But the Warriors did win the NBA championship in 2015. Then they went the full seven against the Cavaliers in the now-infamous Finals that saw them blow a 3-1 series lead.
But while they're going to try to pace themselves, fatigue is going to be a factor for both the Warriors AND the Cavs in making a third straight trip to the NBA Finals. We remember when the Miami Heat went to four straight NBA Finals. Not only were they fatigued physically but they were worn down mentally. Losing an NBA Finals can fuel you, yes, which is why the San Antonio Spurs had so much resolve in the 2014 NBA Finals. They dominated a tired Heat team that was on their fourth consecutive NBA Finals.
I'm not taking anything from what the Lakers did to the Warriors last night but you're going to see Golden State slip up a bit more often this year. With the addition of implementing Kevin Durant into the team AND having to live up to the expectations of this season, it's going to be really taxing for the Dubs from now to late spring. It might be a little easier for the Cavs because not everyone is paying attention to them at the moment. But the physical toll will be there. Still, both teams seem so talented that they could still make the Finals (barring injuries, of course) even if they're not 100% energized.
So don't be shocked when either team lose to a lowly team on a second end of a back-to-back. This is why some teams (especially the Spurs) rest their important players on stretches that could tire them out. They're looking at the big picture. That's the way the NBA is now and that's the way it will be unless the NBA actually reduces their schedule.
I don't know how they do it. I complain about being tired after writing a piece like this.
THE REST OF THE LEAGUE
Joakim Noah and Derrick Rose played their first game in Chicago since leaving the Windy City. It would be a much bigger deal if A) Rose was still the guy that won the MVP five years ago and B) he wasn't actually TRADED by the Bulls. Those are the two obvious differences between Rose leaving and Durant leaving. Wait until Harrison Barnes goes to NorCal on Wednesday!
The Clippers are 1st in defensive rating but somehow in the bottom ten in offensive rating. They'll pick it up soon but the Clippers, loss to the Thunder aside, are quietly winning as everything is being overshadowed by the Warriors and, heck, their crosstown rivals.
Them Lakers really love playing the Warriors at Staples Center. It's the second straight blowout that they've had on the Western Conference champions. Also of note, Stephen Curry's streak of making a three-pointer in a game stopped at a record 157 games.
Some people are upset that some pundits would take Devin Booker over D'Angelo Russell. It's not that hot of a take, especially if you've seen his scoring and clutch prowess. Now all Booker needs is a good team around him.
DeMar DeRozan is still on a scoring tear as he now averages 35.8 points after five games. Again, his game is not loved by the analytics community. But he is getting to the line at 9.0 FTs per game. His style can be tiring and, I'm going to assume Toronto is going to make the postseason, I'm intrigued to see if this will keep going in the postseason.
Pelicans and Mavs, I feel for you. Come back soon, Dirk.
LINE CROSSER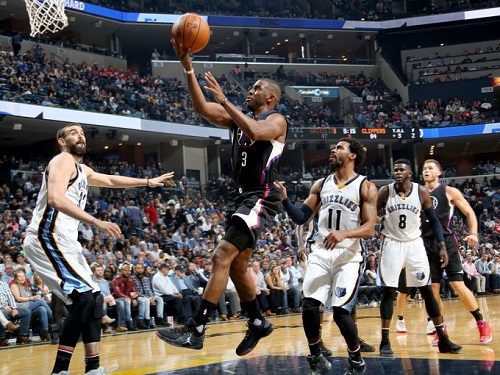 (PHOTO CREDIT: Nikki Boertman/The Commercial Appeal.)
The Clippers are winning and they should thank their point god, Chris Paul, for having this heck o a game against Memphis on Friday night.
27 points, 11 assists, 6 steals.
This might be the year, Clips? I won't jinx it. Shoutout to Devin Booker with his 38 points and Damian Lillard with his 42.
WATCH THIS PLAY
(VIDEO CREDIT: NBA.)
Like father, like son. David West, normally the intimidator, decided he wasn't about that life when Larry Nance did a little air dance in front of him.
---
Follow Rey-Rey on Twitter at @TheNoLookPass for all tweets about the NBA and terrible pop music. Also, check out his podcast, Rey-Rey Is Fundamental.

us on FaceBook! Thank you!