This is the Hangover. This is where I get drunk on the NBA as I recap last night's action as well as a few things going on around the league. Here's your word vomit.
11/03/2016
THE GAMES
SAC 94 (2-4) @ ORL 102 (2-3)
IND 107 (2-3) @ MIL 125 (3-2)
DEN 102 (2-2) @ MIN 99 (1-3)
BOS 122 (3-2) @ CLE 128 (5-0)
OKC 96 (4-1) @ GS 122 (4-1)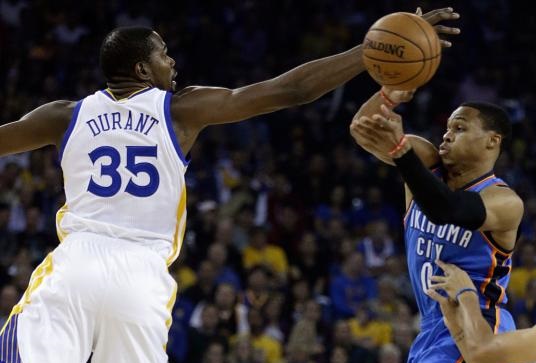 (PHOTO CREDIT: CSN Bay Area.)
BREAKING UP IS HARD TO DO
Kevin Durant has every right to go wherever he wants when he's a free agent. It's not a "weak move" by any means. Everyone has a goal. In many ways, it's a smart move if you're going after a championship. Why WOULDN'T you go to a stacked team that won 73 games the season before? But not everyone's going to agree with anybody's decision. If this were the end of his career, we're more likely to applaud him, right?
With that said, yeah, I actually believe him when he said there's no beef with Russell Westbrook. But since every move made by either is being watched closely, it's easy to misinterpret anything they do. So really, we honestly don't know what's going on. I believe what I believe but maybe Durant doesn't like that Russell reached a new level of pettiness from cupcakes to photography to selfish teammates. And maybe Westbrook is just putting on a show for the cameras just like he always puts on a show on the court. We'll really never know. Maybe at home, Russ eats a lot of ice cream with his wife and talk about the good times while Durant rants to Curry while they're watching Disney movies together about how Russ won't let it go. Who knows, right?
This thing will simmer down in a few months. In the meantime, I told you guys that the Warriors will be just fine. The Thunder came back to earth after that 4-0 start and you saw what the Four Horsemen of the Oracle can do. For crying out loud, the Warriors have the last two regular season MVP award winners; it's not like they suddenly forgot how to play basketball. But it really exposed the Thunder on what they lack compared to all the other good teams out there.
It's gotta sting for Westbrook to see his former teammate go off for 39 against them. Man, breaking up is hard.
THE REST OF THE LEAGUE
The Westbrook/Durant storyline is distracting us from the fact that Cleveland is the only remaining unbeaten team in the league (5-0). They lost a big lead against Boston and that's what they're going to be fighting for the rest of the season: complacency. And I get it. When you win, it's tough to stay motivated to win another one because you already achieved the ultimate goal. Also, LeBron James is 32 at the end of the calendar year and the Cavs want to save his batteries until the springtime.
It's also weird how the narrative shifts. Six years ago, the LeBron-led Cavs were reviled. A few years ago, the Warriors and the Thunder were seen as "good guys." Now the Cavs aren't even getting that much attention while the powered-up Warriors are the bad guys. It's like watching WWE!
Anyway, I don't got much else. Minnesota is going through growing pains. Maybe Orlando is starting to figure things out. Giannis Antetokounmpo is scary with his wild length.
This league is fun. And we're only a week into it.
LINE CROSSER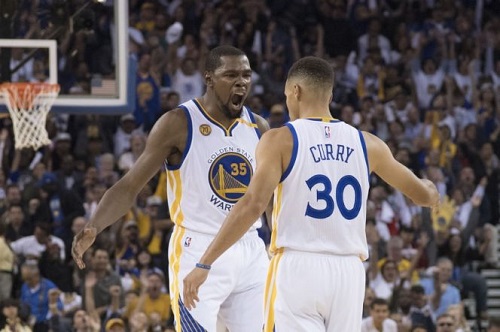 (PHOTO CREDIT: Getty Images.)
Yup. Kevin Durant. He went for 39 points and 7 rebounds. He made 7 of 11 three-pointers. Durant was on fire throughout the game and it was a fire that couldn't be extinguished because of his relationship with Russell Westbrook. Like sands through the hourglass… and so are the days of our lives.
WATCH THIS PLAY
(VIDEO CREDIT: NBA.)
Tristan Thompson takes the bounce pass from LeBron and punks Tyler Zeller, who couldn't keep up with what's going on.
---
Follow Rey-Rey on Twitter at @TheNoLookPass for all tweets about the NBA and terrible pop music. Also, check out his podcast, Rey-Rey Is Fundamental.

us on FaceBook! Thank you!