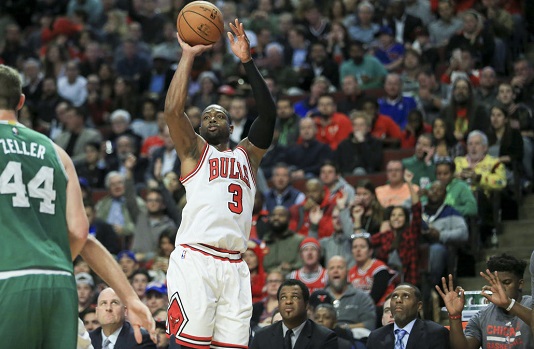 (PHOTO CREDIT: Armando L. Sanchez/Chicago Tribune.)
10/27/2016
THE GAMES
WAS 99 (0-1) @ ATL 114 (1-0)
BOS 99 (1-1) @ CHI 105 (1-0)
SA 102 (2-0) @ SAC 94 (1-1)
LAC 114 (1-0) @ POR 106 (1-1)
MAYBE IT'S NOT BULLCRAP
So I said a few days ago in my "STILL NOT PRINTED" TNLP season preview that the Chicago Bulls would only win 32 games this season.
I'm going to stick with it but I could also end up looking super stupid. We know that the Bulls don't have great shooters. Doug McDermott feels like the only one I can trust when it comes to shooting behind the arc. Yes, Nikola Mirotic shot .390 last season but he did follow that up after a not-so-good .316 3-pt shooting percentage the year before. The Bulls' featured perimeter guys in Jimmy Butler, Dwyane Wade, and Rajon Rondo aren't the greatest outside shooters.
But since it's the NBA and the league can be completely nonsensical, the Bulls beat the Celtics with three-point shooting. Sure, Mirotic fudged the percentage by going 1 for 6. But Butler, Wade, and Rondo combined went 9 for 14 from behind the arc. Including a clutch three by Wade (!!!) that put away the game for good. For one night, I looked completely idiotic.
I may look completely idiotic for the entire season. Look, Wade can still kick ass on the court. He's an all-timer and he can still be that from time to time. But can he stay healthy? Can he actually shoot the three consistently, which had been missing from his game his entire career?
Can Butler be the same? And can Rondo actually make the right play instead of padding up his assists? Also, can Rondo still defend at a high level? I know there are still other players like Taj Gibson and Mirotic but a lot of what the Bulls do is dictated by their backcourt. I feel like they are the difference between 32… and maybe even 50 wins.
I'm still leaning towards 32 but man, it would be quite the boon for the Bulls if they're able to challenge for the East crown. I know, I know. I'm full of bullsh…
THE REST OF THE LEAGUE
I love that the Sacramento Kings got to play in a NEW arena. Imagine that four years ago, Southern California was ready to add a THIRD NBA team in the mix.
But Sactown got all the necessary things done and they were able to keep the team. And man, does the arena look beautiful from what I saw on the tube. Plus the Kings have some of the most loyal fans in the league; remember when they set the indoor record for loudest noise?
All the Kings need now is a team that can consistently win.
By the way, the ascension of Kawhi Leonard is frightening. In back-to-back games, he has scored 30 points or more. But remember when scouts said he couldn't shoot? Still, I thought he was going to thrive under Coach Pop and the Spurs organization. But I don't think we saw "NEXT FRANCHISE PLAYER" on his future.
Now? He's become a perennial MVP candidate and players can't keep the basketball around him. Kawhi will take their lunch before they even know it. Especially if it's Wingstop.
Chris Paul said in an interview last night that they've embraced becoming the villains of the NBA. Sure, a lot of people have made the Warriors villains over the summer with Kevin Durant defecting to NorCal but make no mistake that the Clippers still get the most hate amongst NBA fans. People point to the Clippers' flopping, complaining, and CP3's dirty tactics. I'm amazed it took them this long to embrace villain status but I guess, for a lot of them, it's tough for them to accept being the bad guy. It is funny because Chris Paul seems to thrive when he gets booed.
Finally, Dwight Howard had a good debut with the Hawks as he went for 11 points, 19 boards, and 3 blocks. Maybe… JUST MAYBE… being away from all that noise in L.A. AND Houston will make Dwight great again.
Dammit. I'm so sorry for using that. I can't wait for that disaster to be over with.
Anyway, here's Harry the Hawk getting down.
(VIDEO CREDIT: Atlanta Hawks.)
LINE CROSSER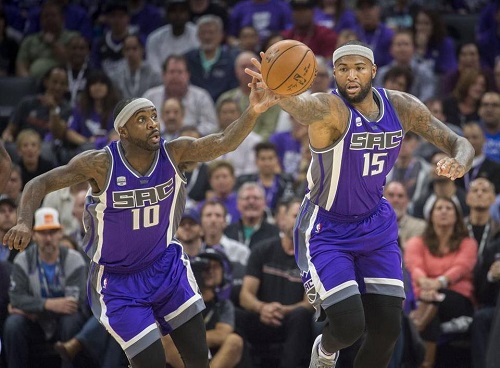 (PHOTO CREDIT: Hector Amezcua/Sacramento Bee.)
Boogie went for 37 points and 16 boards. That was the most impressive statline to me despite the loss.
Also, the app that helped the NBA, Vine, is saying goodbye. Whatever the reason is, we will miss it. Vine is the perfect length for NBA highlights (seven seconds). And since we're talking Boogie AND Vine, here's the "LeBron James kid" showing his support to Cousins.
WATCH THIS PLAY
(VIDEO CREDIT: Atlanta Hawks.)
Thabo Sefolosha got the steal… and the 360 dunk? I THINK that's a 360.
Kick it like Thabo.
---
Follow Rey-Rey on Twitter at @TheNoLookPass for all tweets about the NBA and terrible pop music. Also, check out his podcast, Rey-Rey Is Fundamental.

us on FaceBook! Thank you!