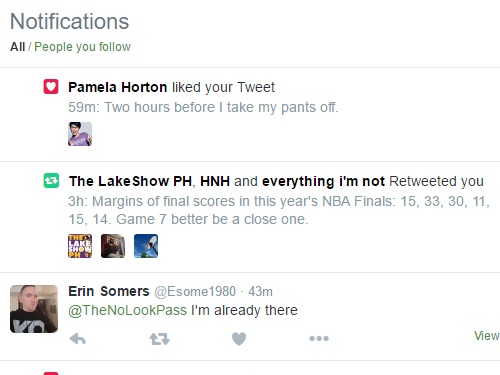 Twitter enhances the NBA experience. Fans, bloggers, mainstream media, actors, rappers, singers, even NBA players are on it just to express their reactions of the game in real time.
In this entry, I take my favorite tweets from Game 7 of the 2016 NBA Finals between the Golden State Warriors and the Cleveland Cavailers. Let's get into it.
PRE-GAME
Cavaliers win NBA Championship.

Raptors run out, cash in Money in the Bank.

Kyle Lowry finishes the night hoisting Larry O'Brien trophy.

— Chris Walder (@WalderSports) June 19, 2016
With all the storylines involved you could, COULD, make a case this is the biggest game in the history of the NBA

— Scoops Maroun (@ejmaroun) June 19, 2016
Want LeBron to win, but honestly don't care who wins as much as I care about seeing a great game. Hopefully we get a close one.

— Nate Jones (@JonesOnTheNBA) June 19, 2016
This is a legacy type of game. So much on the line for both teams. Can't wait for this to start!

— Nik Stauskas (@NStauskas11) June 20, 2016
1ST QUARTER
😳here we go

— Andre Drummond (@AndreDrummondd) June 20, 2016
Never save it under your own basket, but it worked out for Curry. Things already going his way

— Hardwood Paroxysm (@HPbasketball) June 20, 2016
Harry Barnes and Dray are cash from deep with the Splash Guys throwing up airballs. Life is weird.

— Jared Wade (@Jared_Wade) June 20, 2016
The biggest news to me is that sleeved jerseys are being used in Game 7 of the NBA Finals.

— Ty Rupee Singh (@IamHarshDave) June 20, 2016
Nah man Kyrie Irving is a cheat code

— Tucker (@TuckerClark26) June 20, 2016
I'm taking LeBron and the Cavs. He's built to make history

— Meyers Leonard (@MeyersLeonard11) June 20, 2016
No force on this planet could have stopped that LeBron dunk.

— The Sports Geeks (@thesportsgeeks) June 20, 2016
Kevin Love doing things! Things he's good at!

— Joshua Howe (@Howevolution) June 20, 2016
END OF FIRST: Cavs 23, Warriors 22.
2ND QUARTER
Only the second quarter and Mo Williams & Mo Speights are on the floor…Greatest Game 7 ever???

— Joey O (@joakie13) June 20, 2016
Lemme tell you, Draymond's not afraid of anything. Heart is so BIG!💪🏽

— Rosalyn Gold-Onwude (@ROSGO21) June 20, 2016
At this point, may as well play Delly instead of Shump

— Mike Prada (@MikePradaSBN) June 20, 2016
unlikely heroes, iman shumpert edition

— jamdraper (@jamdraper) June 20, 2016
When Lebron runs at you, you know u have to give him space

— G O L D E N. (@YesImEgocentric) June 20, 2016
LeBron. #moreblocksthanlegoland

— Darius Soriano (@forumbluegold) June 20, 2016
Draymond Green 4-of-4 from 3. Kyrie answers at the other end. As if you thought you were going to get a real chill Game 7.

— Courtney Cronin (@CourtneyRCronin) June 20, 2016
DRAYMOND 🔥🔥🔥

— Joel Embiid (@JoelEmbiid) June 20, 2016
draymond: 21 points
rest of warriors: 22 points

— alex (@steven_lebron) June 20, 2016
Draymond Green is the heart of this team. Love the way he plays. What a heck of a game so far #NBAFinals

— Ricky Rubio (@rickyrubio9) June 20, 2016
Cavs not playing hard in the paint, making mental errors, trying to imitate Warriors pass-and-3 attack, not working for em🏀

— CALVIN OLIVAS (@CalvinOlivas) June 20, 2016
AT THE HALF: Warriors lead Cavs, 49-42.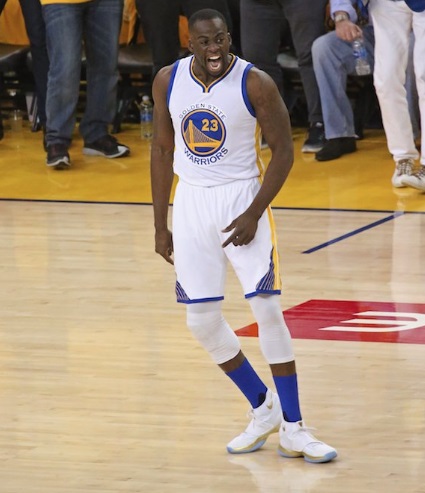 (PHOTO CREDIT: Getty Images.)
HALFTIME
The mix of NBA and Game of Thrones tweets in my timeline are increasingly hard to differentiate.

— Sarah Moon (@sarahbethmoon) June 20, 2016
The 3-pointer discrepancy is amazing: 30-3 #warriors in terms of points from distance. #Cavs only in this game because of paint dominance

— Jordan Schultz (@Schultz_Report) June 20, 2016
And if I were Tyronn lue I'd tell that whole team to make sure Steph picks up his 4th personal early in the 3rd

— 22 (@theCJold) June 20, 2016
3RD QUARTER
YOU DONT HAVE TO SHOOT FESTUS

— Volumetric God Rays (@KirkSeriousFace) June 20, 2016
That's future Finals MVP JR Smith to you

— Hamad Alhassen (@HamadZal) June 20, 2016
JR Smith is always somewhere on a scale of JR Smith to JR Smith.

— Kacy Sager (@THESagerbomb) June 20, 2016
5-0 Curry run

— Lou Bezjak (@LouatTheState) June 20, 2016
Meanwhile, Russell Westbrook sits in a dark room, the only sound the grinding of his teeth.

— RUSS BENGT$ON (@russbengtson) June 20, 2016
Time to sit Varejao as well. Andy and Festus gotta be bench buddies rest of the night

— Chris Reichert (@Chris_Reichert) June 20, 2016
This game is going to come down to Kyrie and not LeBron. #nbafinals2016

— chase mcwilliams (@chaseman91) June 20, 2016
KYRIDICULOUS

— Justin Rowan (@Cavsanada) June 20, 2016
Harrison Barnes's greatest advantage on the court is that he really, really looks like a basketball player.

— Bethlehem Shoals (@freedarko) June 20, 2016
Kyrie can taste the chip with xtra dip #NBAFinals

— Jason Terry (@jasonterry31) June 20, 2016
HAPPY FATHER'S DAY TO MY DAD SHAUN LIVINGSTON I LOVE YOU DAD

— Active Urban Tenant (@Cosmis) June 20, 2016
You better GO Harrison!!! 🙌🏽😅 #ThereYouGo #NbaFinals

— ChristyWintersScott (@ChristyWScott51) June 20, 2016
AFTER THREE: Warriors 76, Cavaliers 75.
4TH QUARTER
I feel like H Barnes is going to be the deciding factor in this 4th quarter. When he is making shots, they are more difficult to guard.

— Shane Larkin (@ShaneLarkin_3) June 20, 2016
WHY IS STEPH ON THE BENCH

— Ry (@JustRyCole) June 20, 2016
Tough follow by Kyrie…..great awareness

— Amin Elhassan (@AminESPN) June 20, 2016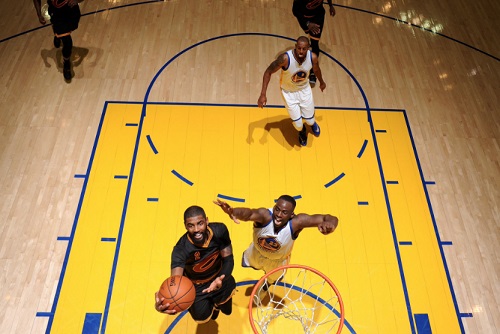 (PHOTO CREDIT: Getty Images.)
Draymond Green is having an irrational confidence game. Putting up shots from wherever he can & watching them fall in. #NBAFinals

— Craig D. Schroepfer (@CDSWCCO) June 20, 2016
Curry's 5-for-13 and he steps back from 27 and drills it. Be who you are

— Bruce Arthur (@bruce_arthur) June 20, 2016
BASKETBALL IS MY FAVORITE SPORT #NBAFinals

— Taco Trey Kerby (@treykerby) June 20, 2016
LABRAWN JAAAAMMMMEEEEESSSS

— Robby Kalland (@RKalland) June 20, 2016
Curry and LeBron crashing into each other with the deciding title game tied at 89. Beautiful.

— Demetrius (@fergoe) June 20, 2016
What a fun game. I'm hoping for a Villanova-style buzzer beater. #NBAFinals #WARRIORSvCAVS

— Jackie Mesa Pepper (@Jackie_Pepper) June 20, 2016
One of the all time greatest finishes in #NBAFinals history? Let's go!

— Corey Maggette (@Corey_Maggette) June 20, 2016
HOLY HELL LBJ

— Fraudrey Hepburn (@a_leesee_a) June 20, 2016
KYRIE OOOOHHH THIS GAME

— Steve Noah (@Steve_OS) June 20, 2016
Kyrie has been HUGE in the last minute

— Jason Jones (@mr_jasonjones) June 20, 2016
I love that LeBron went for a dunk to seal the victory. Hope he's ok though #nbafinals

— Legend of Excelda (@ShareefJackson) June 20, 2016
Happy for Lebron, congrats Cleveland

— Joey T (@theshmoes) June 20, 2016
FINAL SCORE: Cleveland wins their first NBA title ever, 93-89.
POSTGAME
The 18-1 Pats salute you Warriors.

— CelticsBlog (@celticsblog) June 20, 2016
The Warriors didn't score in the final 4:30 of the game.

— Tom Haberstroh (@tomhaberstroh) June 20, 2016
I need that feeling.

— Karl-Anthony Towns (@KarlTowns) June 20, 2016
---
Follow Rey-Rey on Twitter at @TheNoLookPass for all tweets about the NBA and terrible pop music. Also, check out his podcast, Rey-Rey Is Fundamental.

us on FaceBook! Thank you!