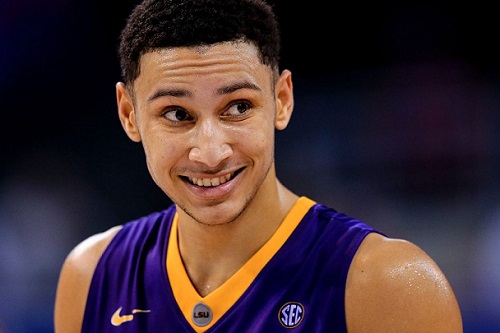 (PHOTO CREDIT: Rob Foldy/Getty Images.)
The 2016 NBA Draft Lottery was held earlier tonight to determine who selects first, second, and so forth in the NBA Draft. Teams had all their good luck charms and superstitions ready; I'm sure people had their rabbit's feet, lucky necklaces, notes from their junior high crushes and did things like listen to the Rocky soundtrack, spin around a baseball bat 20 times, or eat one end of a candy bar. Whatever works, right?
Teams are vying to select physical specimen Ben Simmons (pictured above) from Louisiana State University or very skillful forward Brandon Ingram from Duke University.
The lottery order didn't change at all. The Philadelphia 76ers' process worked for today as they drew the first pick. With the Lakers staying at #2, they get to keep their pick and can continue their rebuild in earnest. As for Boston, they got the pick from a shrewd deal with Brooklyn. They can add a potential star to their 48-win postseason squad.
Here are the rest of the results:
NBA DRAFT LOTTERY RESULTS
1) PHILADELPHIA 76ERS
2) Los Angeles Lakers
3) Boston Celtics (from Brooklyn)
4) Phoenix Suns
5) Minnesota Timberwolves
6) New Orlean Pelicans
7) Denver Nuggets
8) Sacramento Kings
9) Toronto Raptors (got less favorable pick from Denver or New York)
10) Milwaukee Bucks
11) Orlando Magic
12) Utah Jazz
13) Phoenix Suns (from Washington)
14) Chicago Bulls
Also, you can believe that the draft is rigged… or Dikembe Mutombo is a prophet:
Tweet deleted but it lives forever. pic.twitter.com/JR4xAnLJho

— Rey-Rey (@TheNoLookPass) May 17, 2016
---
Follow Rey-Rey on Twitter at @TheNoLookPass for all tweets about the NBA and terrible pop music. Also, check out his podcast, Rey-Rey Is Fundamental.

us on FaceBook! Thank you!