This is the Hangover. We get basketball-wasted all the time. Yes, we recap the NBA every night in our own way.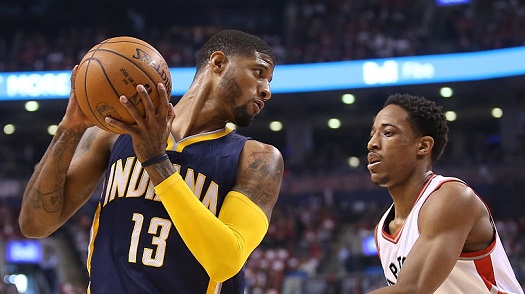 (PHOTO CREDIT: Tom Szczerbowski/Getty Images.)
INDIANA PACERS 100 @ TORONTO RAPTORS 90
EAST First Round – Game 1 – PACERS lead series, 1-0
Raptors GM Masai Ujiri didn't say anything to kick off the postseason. I was so disappointed. But, hey, I don't blame him for wanting to keep some cash.
But maybe he should've fired up the Raptors the same because, once again, Kyle Lowry and DeMar DeRozan couldn't get anything going (combined 8/32). On the other side, Paul George made us remember why he was considered a Top 5 player in the league. George provided some graphic violence that wasn't exactly PG-13, making shots from everywhere on the way to 33 points.
And like all the other times, the Raptors have lost Game 1.
BEHIND THE LINES
Paul George (IND): 33 pts, 6 assts, 4 stls.
Myles Turner (IND): 10 pts, 5 rebs, 5 blks.
Cory Joseph (TOR): 18 pts.
Jonas Valanciunas (TOR): 12 pts, 19 rebs.
HOUSTON ROCKETS 78 @ GOLDEN STATE WARRIORS 104
WEST First Round – Game 1 – WARRIORS lead series, 1-0
How do we know the playoffs have started? Not only because the Raptors lost Game 1 but because Patrick Beverley played Stephen Curry very physically which led to a bit of an altercation between the two. A bit later, Draymond Green nailed Beverley with a jarring screen to the delight of the Oracle Arena crowd.
This storyline would be so much more compelling but 1) the Warriors are just on another level (as per the usual the entire season) and 2) the Rockets feel like they would rather be ice-skating. What Would Brian Boitano Do?.
The only concern is Curry hurt his ankle, which prevented him from playing more than 20 minutes. But I don't think he's going to miss Game 2.
BEHIND THE LINES
Stephen Curry (GS): 24 pts, 7 rebs.
Draymond Green (GS): 12 pts, 10 rebs, 4 blks.
James Harden (HOU): 17 pts.
Dwight Howard (HOU): 14 pts, 11 rebs.
BOSTON CELTICS 101 @ ATLANTA HAWKS 102
EAST First Round – Game 1 – HAWKS lead series, 1-0
The Hawks got off to a fantastic start and led the team from Boston by 19 points. But just as Hawks Twitter feared, the Celtics came back. Boston went 9 for 19 from behind in the arc in the second half. After the Celtics took the lead, Kent Bazemore and Jeff Teague made a ton of plays to give the Hawks the edge for good. Isaiah's three cut the lead to one but it was too late as the clock was down to 0.4 seconds. The birds escaped.
BEHIND THE LINES
Al Horford (ATL): 24 pts, 12 rebs.
Jeff Teague (ATL): 23 pts, 12 assts.
Kent Bazemore (ATL): 23 pts, 8 rebs.
Isaiah Thomas (BOS): 27 pts, 8 assts.
Jae Crowder (BOS): 14 pts, 10 rebs.
DALLAS MAVERICKS 70 @ OKLAHOMA CITY THUNDER 108
WEST First Round – Game 1 – THUNDER lead series, 1-0
Dirk Nowitzki had a good game with 18 points. Unfortunately, he was the only Maverick in double digits (the rest of the team shot 18 for 69 (.261). OKC dropped anvils on the Mavs early and they were never in trouble throughout the game.
The score is self-explanatory.
BEHIND THE LINES
Kevin Durant (OKC): 23 pts, 5 rebs, 5 assts.
Russell Westbrook (OKC): 24 pts, 5 rebs, 11 assts.
Enes Kanter (OKC): 16 pts, 13 rebs.
Dirk Nowitzki (DAL): 18 pts.
WATCH THIS PLAY
Just glad to see the Thunder back in the playoffs. So we can see Durant and Westbrook do their thing in spring.
(VIDEO CREDIT: NBA.)
---
Follow Rey-Rey on Twitter at @TheNoLookPass for all tweets about the NBA and terrible pop music. Also, check out his podcast, Rey-Rey Is Fundamental.

us on FaceBook! Thank you!