This is the Hangover. We get basketball-wasted all the time. Yes, we recap the NBA every night in our own way.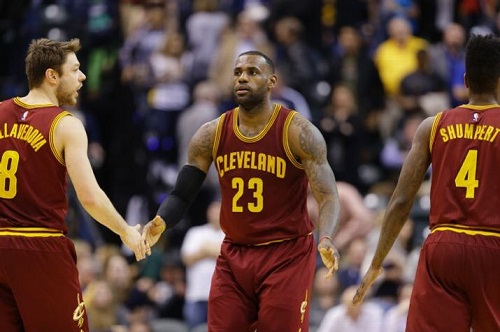 (PHOTO CREDIT: Michael Conroy/AP.)
Nine games went on at the start of February. Scratch!
02/01/2016
THE GAMES
CLEVELAND CAVALIERS 111 (35-12) @ INDIANA PACERS 106 (25-23)
The game would go to overtime tied at 96. After LeBron James made the go-ahead bucket, Kevin Love made a clutch defensive play by blocking Paul George's lay-up. Also, a pig barked and a horse meowed. Cavs put the game away with free throws and won their fourth straight under Tyronn Lue.
BEHIND THE LINES
LeBron James (CLE): 24 pts, 12 rebs, 6 assts.
Tristan Thompson (CLE): 14 pts, 12 rebs.
Kyrie Irving (CLE): 25 pts, 7 assts.
Myles Turner (IND): 14 pts, 10 rebs, 4 blks.
George Hill (IND): 23 pts, 5 rebs.
DETROIT PISTONS 105 (26-23) @ BROOKLYN NETS 100 (12-37)
The Nets seemed poised for the upset until Reggie Jackson took the game over in the last two minutes. Jackson was responsible for all the points in the late 9-2 run by the Pistons, capped off by him making back-to-back baskets to keep the Nets at bay. Andre Drummond fell two rebounds short of perfect vision but I'm sure he'll take the win.
BEHIND THE LINES
Andre Drummond (DET): 21 pts, 18 rebs.
Shane Larkin (BRK): 8 pts, 6 rebs, 14 assts.
Brook Lopez (BRK): 27 pts, 5 rebs.
DALLAS MAVERICKS 97 (28-23) @ ATLANTA HAWKS 112 (28-22)
The Hawks pretty much controlled the whole game. Amidst trade rumors, Jeff Teague put on quite a show, only missing three shots out of his 15 field goal attempts. The Mavs only shot over 36 percent as the Hawks played some outstanding defense that was pretty much reminded us of last season.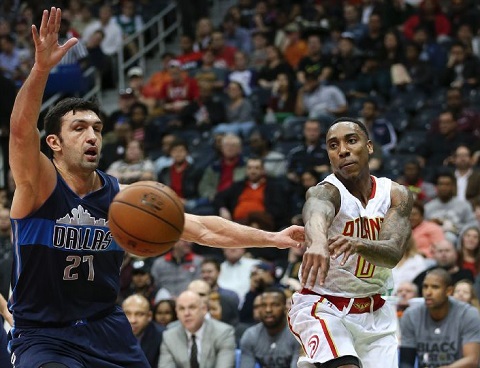 (PHOTO CREDIT: John Bazemore/AP.)
BEHIND THE LINES
Jeff Teague (ATL): 32 pts, 5 rebs, 8 assts.
Chandler Parsons (DAL): 19 pts, 11 rebs.
MEMPHIS GRIZZLIES 110 (29-20) @ NEW ORLEANS PELICANS 95 (18-29)
The Pelicans went dry at the wrong time as they only scored one field goal in a six-minute stretch in the fourth quarter. The bears took advantage as guys like Vince Carter, Mike Conley, and Jeff Green keyed a 26-6 run in that same six-minute period. Just when the Pelicans were finally finding a groove, the Grizzlies decided to eat them for dinner.
Don't think about that. That seems kind of gross.
BEHIND THE LINES
Zach Randolph (MEM): 22 pts, 12 rebs.
Mike Conley (MEM): 17 pts, 10 assts.
Jeff Green (MEM): 24 pts, 7 rebs.
Norris Cole (NO): 23 pts, 6 assts.
Anthony Davis (NO): 23 pts, 9 rebs.
WASHINGTON WIZARDS 98 (21-25) @ OKLAHOMA CITY THUNDER 114 (37-13)
This felt like the classic race between the tortoise and the hare, only that hare didn't take a nap in the race. Russell Westbrook got another triple-double, which was his seventh of the season. I'm sure Kevin Durant would be THRILLED to go to the Washington Wizards next season.
I'm sorry. I'll shut up about the free agency stuffs.
BEHIND THE LINES
Russell Westbrook (OKC): 17 pts, 13 rebs, 11 assts.
Serge Ibaka (OKC): 19 pts, 10 rebs.
Kevin Durant (OKC): 28 pts, 9 rebs.
Bradley Beal (WAS): 18 pts.
John Wall (WAS): 17 pts, 8 assts, 3 blks.
ORLANDO MAGIC 92 (21-26) @ SAN ANTONIO SPURS 107 (40-8)
The Magic gave the Spurs a bit of a scare as they led late in the third quarter. Then the Spurs closed the third with seven straight points. Then Kyle Anderson and Patty Mills continued the run in the fourth. Then the Green Ranger (Danny Green) made a three and played the flute.
(VIDEO CREDIT: thedarkkatana.)
The Magic might as well be Putties.
BEHIND THE LINES
Patty Mills (SA): 22 pts, 5 assts.
LaMarcus Aldridge (SA): 28 pts, 5 blks.
Victor Oladipo (ORL): 19 pts, 7 assts, 5 stls.
Aaron Gordon (ORL): 12 pts, 16 rebs.
Nikola Vucevic (ORL): 20 pts, 10 rebs.
TORONTO RAPTORS 93 (32-16) @ DENVER NUGGETS 112 (19-30)
This is where hot teams use randomly. It's the air in Denver.
The Nuggets shot the lights out and ran away in the second quarter as Team Canada just couldn't get it going after that. Denver led by as many as 27 points. Toronto's franchise-record 11-game win streak is done.
BEHIND THE LINES
Nikola Jokic (DEN): 27 pts, 14 rebs.
Will Barton (DEN): 20 pts, 7 rebs.
DeMar DeRozan (DEN): 24 pts.
CHICAGO BULLS 96 (26-21) @ UTAH JAZZ 105 (22-25) (OT)
Neither team really broke away in those four quarters. Derrick Rose made a three (which I'm sure made people cringe) with 18 seconds left to give Chi-town a three-point lead. Gordon Hayward was fouled afterwards. He missed the second foul shot but Chris Johnson got the board for Utah. Hayward would make a lay-up that would send the game to overtime.
And in OT, the Jazz shut out the Bulls from the field. Hayward led Utah by scoring 6 of 12 points in overtime.
BEHIND THE LINES
Rudy Gobert (UTA): 16 pts, 12 rebs.
Gordon Hayward (UTA): 27 pts, 12 rebs, 8 assts.
Derrick Favors (UTA): 13 pts, 8 rebs, 4 blks.
Jimmy Butler (CHI): 26 pts, 7 rebs, 6 assts.
MILWAUKEE BUCKS 104 (20-30) @ SACRAMENTO KINGS 111 (21-27)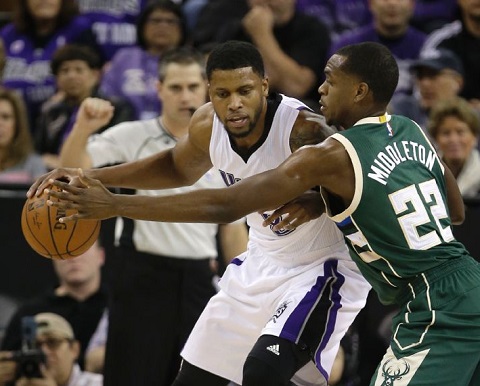 (PHOTO CREDIT: Rich Pedroncelli/AP.)
The Kings were without DeMarcus Cousins but Rudy Gay handled the load just fine. Then they broke away from the Bucks with shots from behind the arc. Marco Belinelli, Omri Casspi, and Rajon Rondo all made threes to push the lead to double digits and that was enough to turn deer into venison.
BEHIND THE LINES
Rudy Gay (SAC): 32 pts, 9 rebs, 6 assts.
Michael Carter-Williams (MIL): 18 pts, 5 rebs, 13 assts.
Greg Monroe (MIL): 24 pts, 12 rebs.
GETTING SOCIAL
For fun-counted Cavs last 10 poss. In half court-they threw 9 total passes…OT in Indy

— Brent Barry (@Barryathree) February 2, 2016
Great team win tonight. Now let's keep it Rollin

— Mario Chalmers (@mchalmers15) February 2, 2016
That's how we do it boys!!! Nice win! #GoSpursGo #spurs

— Bella711 (@Spursbella711) February 2, 2016
Tough one man…..

— Myles Turner (@Original_Turner) February 2, 2016
That's the best game of the year for the Nuggets. Impressive all around. Up 20+ on the Raptors.

— Adam Mares (@Adam_Mares) February 2, 2016
Bulls really lost to the Utah Jazz smh and only 5 games above 500 smh I thought they were going to be nice this year 😂😂😂nothing but trash

— Gerald (@geraldistheman6) February 2, 2016
WATCH THIS PLAY
Oh, we have missed these Brandon Jennings backboard passes to Andre Drummond.
(VIDEO CREDIT: NBA.)
THE TAKEAWAY
Losses to the Clippers and the Jazz is what makes us wonder about the Bulls. I still think it's the Cavs, the Raptors, and the rest in the East. Just like how it's the Warriors, the Spurs, and the rest in the West. Sorry, Thunder. Still not convinced.
So let's see how Kevin Love is doing since Tyronn Lue took over: he is averaging 20.2 points and 8.4 rebounds in his last five games. He's also shooting .493 (37/75) from the field and .424 from three (14/33). I'm so glad to see him more involved in the offense.
Guess who's third in the East? Yup. It's Miami. I definitely wouldn't have guessed that.
Paul George is on a bit of a scoring slump. Last three games, he's averaging 13.8 points and is shooting .292 (12/41). Not good. Hope he can bounce back soon. But at least, the Pacers are 2-1 in that span.
Happy Tuesday!
---
Follow Rey-Rey on Twitter at @TheNoLookPass for all tweets about the NBA and terrible pop music. Also, check out his podcast, Rey-Rey Is Fundamental.

us on FaceBook! Thank you!