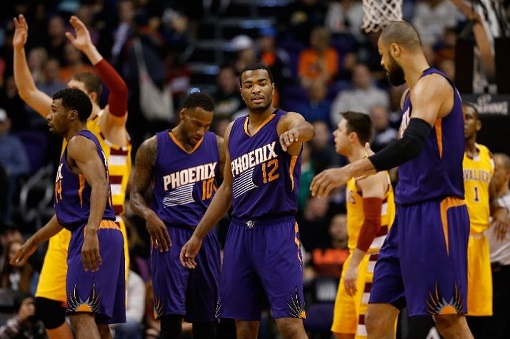 (PHOTO CREDIT: Christian Petersen/Getty Images.)
The Suns just named Earl Watson the interim head coach. They don't have Eric Bledsoe for the rest of season because of a knee injury. Markieff Morris is still not happy because his twin got traded to Detroit. And the Suns are 2-19 in their last 21 games.
It continues to pile on for the Phoenix Suns. Here's Adrian Wojnarowski of Yahoo! and the Vertical.
Phoenix Suns forward T.J. Warren will miss the rest of the season with a broken right foot, league sources told The Vertical.

It is immediately unclear if Warren will need surgery, but he's expected to make a full recovery, a league source said.

He had an MRI on Monday in Phoenix after returning from the team's trip to Dallas and a fracture was found in his foot, league sources said.
T.J. Warren has been a pretty bright spot for the Suns. He's averaging 11.0 points and 3.1 boards off the bench. Warren was picked 14th overall in the first round of the 2014 NBA Draft.
This news came out right after Watson was named interim head coach. I guess next man up for the Suns. I suppose Sonny Weems will get more PT now.
Speedy recovery, T.J.
---
Follow Rey-Rey on Twitter at @TheNoLookPass for all tweets about the NBA and terrible pop music. Also, check out his podcast, Rey-Rey Is Fundamental.

us on FaceBook! Thank you!