This is the Hangover. We get basketball-wasted all the time. Yes, we recap the NBA every night in our own way.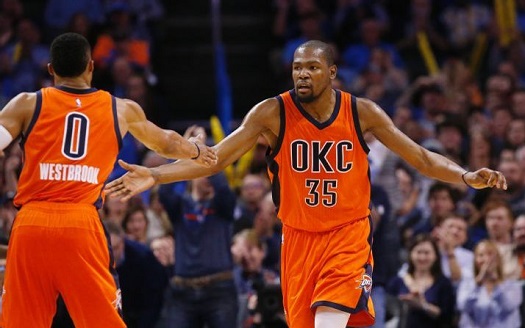 (PHOTO CREDIT: Sue Ogrocki/AP.)
Busy busy Wednesday night with 11 games!
01/06/2016
THE GAMES
NEW YORK KNICKS 98 (18-19) @ MIAMI HEAT 90 (21-14)
It was all Knicks in the second half. They shot right under 56 percent in the game. The Heat only shot 2 for 17 behind the arc (while the Knicks made one more three shooting only eight shots). Sorry. No Heat player flipping over Knicks players and no coach hanging on to a player's leg.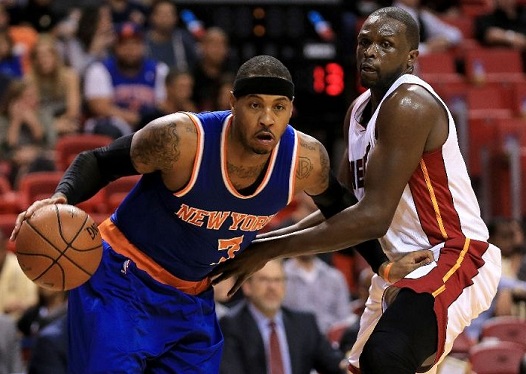 (PHOTO CREDIT: Mike Ehrmann/Getty Images.)
BEHIND THE LINES
Carmelo Anthony (NY): 25 pts, 5 rebs.
Chris Bosh (MIA): 28 pts, 5 rebs.
INDIANA PACERS 95 (20-15) @ ORLANDO MAGIC 86 (19-17)
The Pacers led for most of the second half after a not-so-aesthetic-looking first half. Indy led by 11 with about two minutes left before the Magic went for eight unanswered points. But that was as close as Orlando got as Monta Ellis have it all from the free throw line.
BEHIND THE LINES
Monta Ellis (IND): 19 pts, 7 assts, 4 stls.
Paul George (IND): 20 pts, 7 rebs.
Victor Oladipo (ORL): 20 pt, 5 rebs.
CLEVELAND CAVALIERS 121 (24-9) @ WASHINGTON WIZARDS 115 (15-18)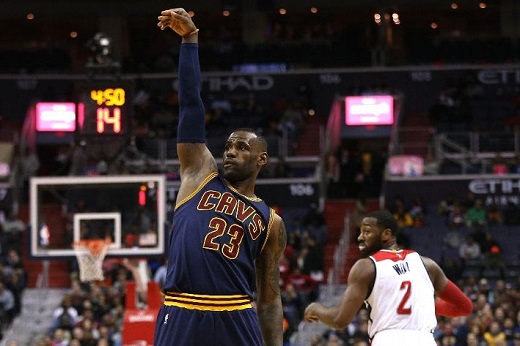 (PHOTO CREDIT: Patrick Smith/Getty Images.)
It was high-octane for the first three quarters before the Cavs went into fifth gear. Kyrie Irving went on a personal 10-0 run (adding in a Tristan Thompson made it an 11-0 run and Soulja Boy is probably writing another diss rap about Jay-Z (not really but…)
BEHIND THE LINES
J.R. Smith (CLE): 25 pts.
LeBron James (CLE): 34 pts, 10 rebs.
Kyrie Irving (CLE): 32 pts, 5 rebs.
Garrett Temple (WAS): 21 pts.
John Wall (WAS): 20 pts, 12 assts.
DETROIT PISTONS 99 (20-16) @ BOSTON CELTICS 94 (19-16)
Boston led by seven going into the fourth quarter but they didn't finish off Motor City. The Pistons took the lead halfway through the quarter and then Stanley Johnson gave Detroit a four-point lead with a late three. Celtics still had a chance down two but they couldn't get prevent the Pistons from getting offensive boards. Detroit leapfrogs over Boston in the standings.
BEHIND THE LINES
Reggie Jackson (DET): 24 pts, 6 assts.
Kentavious Caldwell-Pope (DET): 20 pts.
Stanley Johnson (DET): 11 pts, 10 rebs.
Isaiah Thomas (BOS): 22 pts, 5 rebs, 10 assts.
Amir Johnson (BOS): 16 pts, 11 rebs.
TORONTO RAPTORS 91 (22-15) @ BROOKLYN NETS 74 (10-25)
The dinosaurs went on a 16-2 run to end the first half. From there, Team Canada's defense limited to Brooklyn to under 40 percent shooting. And in an encouraging sign, Jonas Valanciunas ended with a double-double.
BEHIND THE LINES
Jonas Valanciunas (TOR): 22 pts, 11 rebs.
Kyle Lowry (TOR): 17 pts, 8 rebs, 6 assts, 5 stls.
Brook Lopez (BRK): 24 pts, 13 rebs, 3 blks.
DENVER NUGGETS 78 (13-23) @ MINNESOTA TIMBERWOLVES 74 (12-24)
The game ended in an ugly affair. There were long scoring droughts but none were as bad as the last four minutes. The game was stuck at 76-74, Denver, for the last four minutes. The Nuggets had several chances to extend the lead and the Wolves had several chances to tie or take the lead. But none of that happened and Denver stopped three shots in Minnesota's final possession. Will Barton finally ended the game and the misery with two foul shots.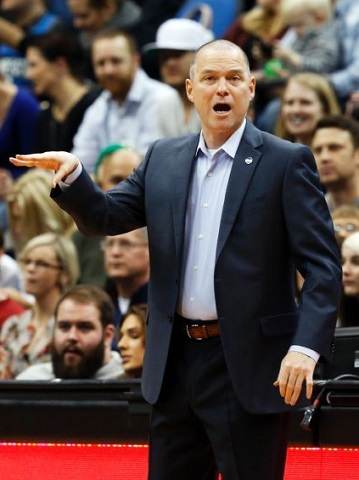 (PHOTO CREDIT: Jim Mone/AP.)
BEHIND THE LINES
Jusuf Nurkic (DEN): 15 pts, 10 rebs, 5 blks.
Danilo Gallinari (DEN): 20 pts, 7 rebs.
Karl-Anthony Towns (MIN): 14 pts, 14 rebs.
DALLAS MAVERICKS 100 (21-15) @ NEW ORLEANS PELICANS 91 (11-23)
The Mavericks were missing three-fifths of their starting line-up but they were able to keep it close with the birds in the first three quarters. The 2011 NBA champs (was this really five years ago?!) pulled away in the fourth and Raymond Felton made sure by hitting two clutch jumpers in the last minute.
BEHIND THE LINES
Raymond Felton (DAL): 22 pts, 6 assts.
Chandler Parsons (DAL): 21 pts, 8 rebs, 6 assts.
Dwight Powell (DAL): 13 pts, 10 rebs.
Anthony Davis (NO): 26 pts, 12 rebs, 7 assts, 3 blks.
UTAH JAZZ 98 (15-19) @ SAN ANTONIO SPURS 123 (31-6)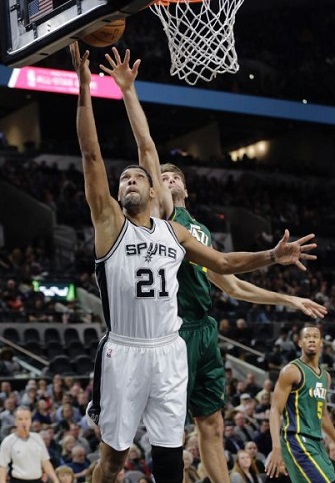 (PHOTO CREDIT: Eric Gay/AP.)
Games like these are why the Warriors would think twice of sitting Stephen Curry for an extended period of time. The San Antonio Spurs: Silent But Violent.
BEHIND THE LINES
Tim Duncan (SA): 18 pts, 8 rebs, 6 assts.
David West (SA): 14 pts, 13 rebs.
Trey Burke (UTA): 21 pts.
CHARLOTTE HORNETS 102 (17-18) @ PHOENIX SUNS 111 (13-25)
The Suns started out hot in the fourth quarter, scoring the first seven points. The bees tried to keep close, cutting the deficit to four in the last minute but P.J. Tucker made a three that finally stopped a losing streak that seemed to be going on forever (nine games). The Hornets continue on their own tail spin as they now have lost five straight.
BEHIND THE LINES
Mirza Teletovic (PHX): 19 pts, 8 rebs.
Devin Booker (PHX): 17 pts, 10 rebs.
Kemba Walker (CHA): 25 pts, 6 assts.
Cody Zeller (CHA): 13 pts, 11 rebs, 3 stls.
MEMPHIS GRIZZLIES 94 (19-18) @ OKLAHOMA CITY THUNDER 112 (25-11)
Kevin Durant returned and that was bad news for the bears. OKC dominated the game from the end of the first quarter on and they easily shelved their playoff rivals. On one random note, Mario Chalmers was more like Nintendo GameCube Chalmers than Super Nintendo Chalmers with his near-trip-dub.
BEHIND THE LINES
Kevin Durant (OKC): 26 pts, 17 rebs.
Russell Westbrook (OKC): 20 pts, 7 rebs, 7 assts.
Mario Chalmers (MEM): 23 pts, 8 rebs, 9 assts.
LOS ANGELES CLIPPERS 109 (23-13) @ PORTLAND TRAILBLAZERS 98 (15-23)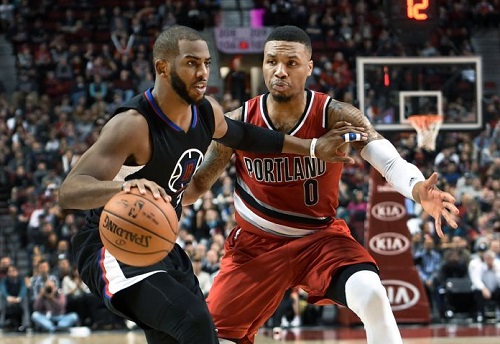 (PHOTO CREDIT: Steve Dykes/AP.)
In what was called a "clerical error", C.J. McCollum was not active in the game because his name was not part of the active list. The Clippers took advantage and took a double digit lead into the second quarter. The Blazers got no closer than six points as the Clippers won their seventh game in a row behind Chris Paul's big game that was one dime short of the 20/20 Experience.
BEHIND THE LINES
Chris Paul (LAC): 19 pts, 19 assts.
DeAndre Jordan (LAC): 14 pts, 14 rebs, 4 blks.
J.J. Redick (LAC): 20 pts.
Ed Davis (POR): 12 pts, 12 rebs.
Damian Lillard (POR): 20 pts, 7 rebs, 9 assts.
GETTING SOCIAL
The Spurs did that to the "not bad Jazz" without Tony Parker or LA. 😳

— Cole J. Miltenberger (@Colemanzilla) January 7, 2016
Get buckets, @KyrieIrving. #NBAVote

— Cleveland Cavaliers (@cavs) January 7, 2016
#NYKvsMIA the knicks won in miami. And nobody in florida saw it happen … 😒

— Freddie Prinze Jr (@RealFPJr) January 7, 2016
Hearing Doc Rivers tried to say something to CJ McCollum after the game, but McCollum just shook his head and walked away.

— Casey Holdahl (@CHold) January 7, 2016
All Rick Carlisle needed to do was put JaVale and the sorting hat together and make him realize he's a Gryffindor and we're all good

— Kirk (@KirkSeriousFace) January 7, 2016
@Bowen12 thanks a lot man, it's an honor to even be mentioned with your name, means the world to me to have your support!

— Danny Green (@DGreen_14) January 7, 2016
WATCH THIS PLAY
Jonas Valanciunas with the pump fake and then the "foreign facial." Ha ha ha. Foreign facial. I'm so mature.
(VIDEO CREDIT: NBA.)
THE TAKEAWAY
I've heard many things about this whole C.J. McCollum thing. I've heard that Doc Rivers wouldn't let McCollum play. I've also heard that many opposing coaches would let this go and this happens more than we think. And I've also heard that it's not really up to the coaches on who can or can't play.
Bottom line, this is pretty embarrassing for Portland. You can say that "rules are dumb" or whatever but this seems to be pretty routine for everybody. And mistakes happen.
If Doc really had any power to let McCollum play, I would say no, too. Yeah, honor or whatever but you do anything you can to get a competitive advantage. It's not Doc Rivers' fault that Portland coach Terry Stotts forgot to double-check his active list.
Charlotte had something going but now their defense is going down again (they are down to 13th in defensive rating). That definitely has something to do with missing Nicolas Batum, who has not played the last three games. They did have a pretty rough schedule in their first four losses of their five-game losing streak but losing to a slumping Suns team is pretty bad. Hopefully, they get Batum back as well as Al Jefferson.
Lastly, I'm still amazed at how Dallas is hanging in there. Currently fifth in the West, they've taken advantage of the Rockets and the Grizzlies going on extended swoons. That's a testament to Rick Carlisle, who I deem as one of the few untouchable coaches in the league today (along with Gregg Popovich, Erik Spoelstra, and possibly Doc Rivers and Steve Kerr). They're a long shot from winning the title, obviously, but at least, Dirk Nowitzki, can end his career in Dallas with some competitive teams.
---
Follow Rey-Rey on Twitter at @TheNoLookPass for all tweets about the NBA and terrible pop music. Also, check out his podcast, Rey-Rey Is Fundamental.

us on FaceBook! Thank you!