This is the Hangover. We get basketball-wasted all the time. Yes, we recap the NBA every night in our own way.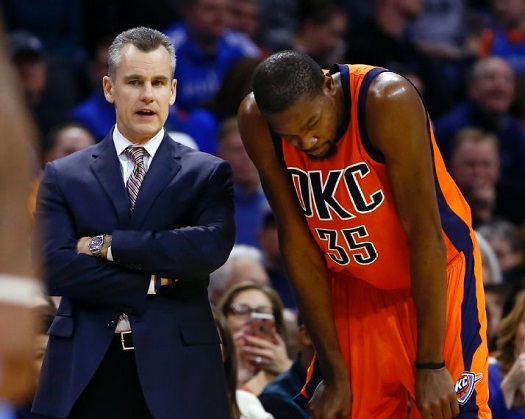 (PHOTO CREDIT: Alonzo Adams/AP.)
Four games happened on a Sunday. Go check the recap.
12/27/2015
THE GAMES
LOS ANGELES LAKERS 96 (5-26) @ MEMPHIS GRIZZLIES 112 (17-16)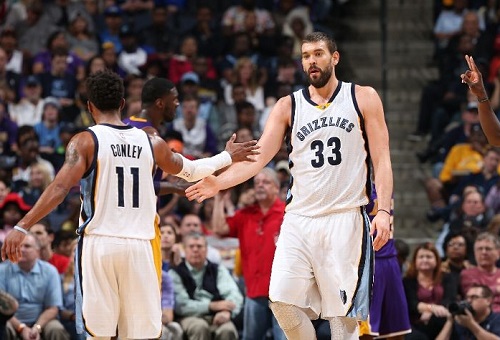 (PHOTO CREDIT: Joe Murphy/Getty Images.)
The Lakers played down the entire time, which isn't any different than most nights for this team this season. The Grizzlies shot over 56 percent for the game. If the Lakers hold any team around 40 percent or below shooting, that's news.
BEHIND THE LINES
Mike Conley (MEM): 19 pts, 5 assts, 4 stls.
Larry Nance, Jr. (LAL): 17 pts, 11 rebs.
Kobe Bryant (LAL): 19 pts.
NEW YORK KNICKS 91 (14-18) @ BOSTON CELTICS 100 (17-13)
The Knicks were down by double digits for most of the game before getting the deficit down to five with three and a half minutes left. But Isaiah Thomas, who is barely taller than I am, made back-to-back baskets to keep the Celtics ahead. The Celtics would eventually hold on for the win.
BEHIND THE LINES
Isaiah Thomas (BOS): 21 pts, 8 rebs, 6 assts.
Kristaps Porzingis (NY): 16 pts, 12 rebs, 3 blks.
Carmelo Anthony (NY): 29 pts, 10 rebs.
DENVER NUGGETS 112 (12-19) @ OKLAHOMA CITY THUNDER 122 (21-10)
Denver led by 11 early in the second half but you're never out of the game when you have Kevin Durant and Russell Westbrook on your team. Eventually, guys like Cameron Payne and Enes Kanter helped pull the Thunder away in the fourth quarter. Westbrook nearly got a triple-double while Durant made a buck passing the ball.
BEHIND THE LINES
Enes Kanter (OKC): 21 pts, 8 rebs.
Russell Westbrook (OKC): 30 pts, 9 rebs, 12 assts.
Kevin Durant (OKC): 26 pts, 5 rebs, 10 assts.
Kenneth Faried (DEN): 25 pts, 11 rebs.
PORTLAND TRAILBLAZERS 98 (13-20) @ SACRAMENTO KINGS 94 (12-18)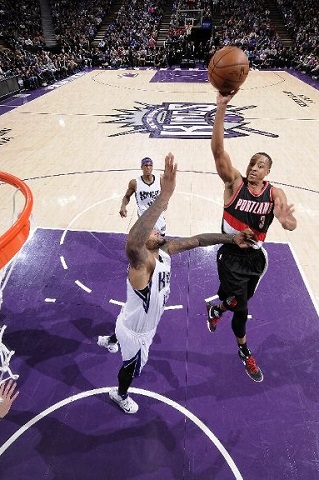 (PHOTO CREDIT: Rocky Widner/Getty Images.)
It was a duel between DeMarcus Cousins and C.J. McCollum the whole game. In the end, it was McCollum who made two straight baskets that gave Portland enough of a cushion for the win. C.J. nearly got a triple-double as the Blazers have won two straight. Both wins were without Damian Lillard.
BEHIND THE LINES
Meyers Leonard (POR): 16 pts, 11 rebs.
C.J. McCollum (POR): 35 pts, 11 rebs, 9 assts, 4 stls.
DeMarcus Cousins (SAC): 36 pts, 6 rebs.
Omri Casspi (SAC): 14 pts, 10 rebs.
Rajon Rondo (SAC): 9 pts, 5 rebs, 15 assts, 3 stls.
GETTING SOCIAL
S/o to the homie @CJMcCollum big time game tonight!!! I 👀👀👀👀 you. 2 in a rrrrroooooowwwwww

— Tim Frazier (@psufraz23) December 28, 2015
Westbrook and Durant are the first duo to have at least 25 points and 10 assists in regulation since John Stockton and Karl Malone in 1996.

— Royce Young (@royceyoung) December 28, 2015
Hibbert's body language is hysterical after every Grizz basket. He just looks up in the sky, wondering how many more days he has to suffer.

— Buffoon Scott (@P_MATIC) December 28, 2015
When you see Evan Turner being good tonight, just keep in mind he's being guarded by Sasha Vujacic

— DonaldTower (@heisencelts) December 28, 2015
It's a #SunsetSunday win! Good job tonight. #ThunderUp pic.twitter.com/ZjuEVCpLDc

— Enes Kanter (@Enes_Kanter) December 28, 2015
WATCH THIS PLAY
Russell Westbrook with the touch pass. Enes Kanter with the flush on the face.
(VIDEO CREDIT: XimoPierto2.)
More of a takeaway after Monday night's game. Just that… OKC, you need better defense. For 48 minutes.
---
Follow Rey-Rey on Twitter at @TheNoLookPass for all tweets about the NBA and terrible pop music. Also, check out his podcast, Rey-Rey Is Fundamental.

us on FaceBook! Thank you!