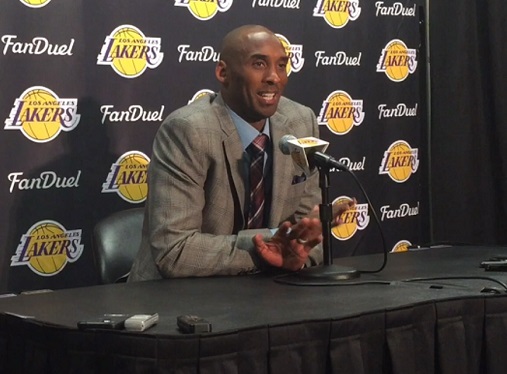 (PHOTO CREDIT: NBC Los Angeles.)
Well, we knew this day would come. Even still, we never want to think it's real. In fact, part of me still thinks that if he turns this around, he'll take back his announcement and play for one more season.
That announcement? Kobe Bryant announced that he was going to retire after the 2015-16 campaign. Maybe he should have retired earlier after all those multitude of injuries. But this was probably the right time.
We never want to see our sports heroes look out of place in the field they are so good at. We never want to see them "hang on for too long." But why should we condemn them for staying well past their prime?
Kobe Bryant gave everything he had. Yes, he played his way even to the detriment of his own team. Yeah, he had a few incidents on the court where he chose to "send a message" his own way. But the man kept going until his body could no longer take it. There's something admirable about that stubbornness and mindset Bryant had.
His work ethic was legendary. It was like he had a chip on his shoulder even after winning scoring titles, NBA championships, and all those other accolades. He somehow found motivation in nearly every conceivable NBA situation there was. This was why, even with his faults, fans and his peers respected him so much.
Kobe loves the game so much that he tried to come back from THREE season-ending injuries. He injured his Achilles. He hurt his knee. He damaged his shoulder. But he kept getting back up because of his maniacal desire to prove people wrong. Do you know how insane that is to come back from those injuries? Maybe we shouldn't be surprised because this was a man that played through every injury. Again, that chip on his shoulder. Some critics thought he wouldn't play on the same high level he's been playing throughout his career but he came back only to hurt himself again. People went at him and he kept coming back at them. How can you not respect that?
If anything, Kobe Bryant on the basketball court is a walking adage. Even in the final years of his career. Try and try until you succeed? When you fall down, get back up? How many times has he proven people wrong? He's done it on the court over and over. He hasn't had to prove himself for years now but yet he keeps doing it, anyway. Even if this season has looked incredibly sad, he's still firing back at everybody just to show, even for one fleeting moment, that he's still got it. Isn't that what you want from your favorite athlete? Isn't that what you want from your hero?
I have said before that Kobe Bryant was the firestarter. To this day, he's the center of an NBA argument whether it's greatest player, greatest scorer, more skilled, or if he's a true detriment to the team. He's probably the most polarizing NBA player in history. He elicits emotions. He sparks debates. But he does this because of all he's done on the basketball court. Sometimes, they're underrated because people refuse to look for the good in his play.
Third all-time leading scorer in NBA history. Five NBA championships. He probably should have won more than one MVP award. The awards and praise go on and on. It's why his fans defend him to the death. It's why opposing fan bases fear him. It's why fellow players, past or present, respect him.
Kobe Bryant went from brash high school player to dominant NBA superstar in one of the greatest NBA careers you'll ever see. We watched him grow in leaps and bounds in the league. He's spent more than half of his life in the NBA. We may see other players try to be like him but we'll be hard-pressed to see another decorated champion and player like Kobe Bryant.
Kobe thanked his fans for his career. But really, we should be thanking him for 20 years of providing us some excellent basketball, endless entertainment, and emotions that he made us all feel. No matter how you feel about him, he REALLY gave us everything. And that's all we ever ask from our favorite athletes.
You're welcome, Kobe. And thank you.
---
Follow Rey-Rey on Twitter at @TheNoLookPass for all tweets about the NBA and terrible pop music. Also, check out his podcast, Rey-Rey Is Fundamental.

us on FaceBook! Thank you!