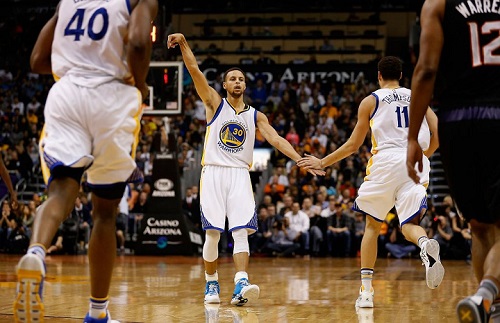 (PHOTO CREDIT: Christian Petersen/Getty Images.)
After a day off, the NBA has resumed playing games. What went on in this Black Friday? Let's see what's up.
11/27/2015
THE GAMES
CLEVELAND CAVALIERS 95 (12-4) @ CHARLOTTE HORNETS 90 (9-7)
J.R. Smith came up big with three minutes left with a three-pointer to put the Cavs up four. The Hornets, though, had a chance to take the lead late but Nicolas Batum missed a three with 19 seconds left. J.R. makes his foul shots and the super-serious Cavs bounced back from their loss in Canada against the very game Charlotte Hornets.
BEHIND THE LINES
LeBron James (CLE): 25 pts, 13 rebs, 5 assts.
Kevin Love (CLE): 18 pts, 16 rebs.
Kemba Walker (CHA): 18 pts.
MILWAUKEE BUCKS 90 (6-10) @ ORLANDO MAGIC 114 (8-8)
The Magic and Bucks had a close first half before DisneyWorld launched a barrage of three-pointers early in the third.
I'm just sad that the Bucks' vaunted defense from last season has turned into this: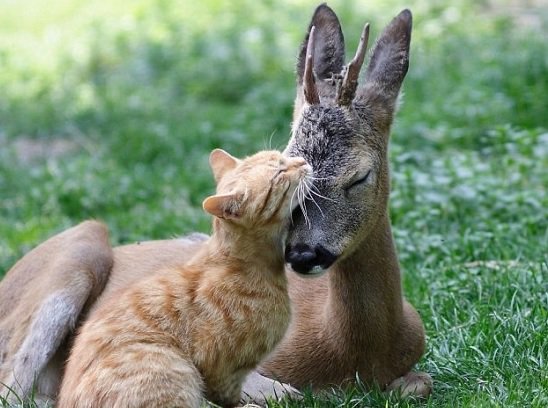 BEHIND THE LINES
Elfrid Payton (ORL): 22 pts, 10 assts.
Giannis Antetokounmpo (MIL): 17 pts.
Jerryd Bayless (MIL): 17 pts.
WASHINGTON WIZARDS 78 (6-7) @ BOSTON CELTICS 111 (9-7)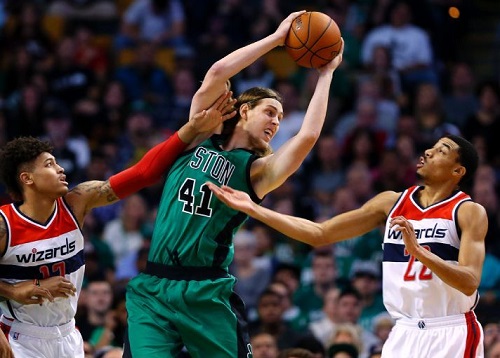 (PHOTO CREDIT: Winslow Townson/AP.)
From the Wizards' end of the court, all I heard was glass shattering and metal clanging. On the other side, Boston dominated the game like it was 1986. Meanwhile, the Wizards have lost three in a row and they appear to be in the Danger Zone.
BEHIND THE LINES
Jared Sullinger (BOS): 18 pts, 15 rebs.
Isaiah Thomas (BOS): 21 pts.
Jared Dudley (WAS): 19 pts.
MIAMI HEAT 97 (10-5) @ NEW YORK KNICKS 78 (8-9)
The Heat owned the Knicks in the second half as they held New York to 29 points. Gerald Green started for the Heat and led them with 25 points. The Knicks, on the other hand, had two guys lead them (Kristaps Porzingis and Carmelo Anthony) with 11 points each. That's really low.
BEHIND THE LINES
Gerald Green (MIA): 25 pts.
Chris Bosh (MIA): 20 pts.
Hassan Whiteside (MIA): 6 pts, 14 rebs, 6 blks.
Kristaps Porzingis (NY): 11 pts, 8 rebs, 3 blks.
Carmelo Anthony (NY): 11 pts.
CHICAGO BULLS 92 (9-5) @ INDIANA PACERS 104 (10-5)
The Bulls were down from the start, trailing by double digits early. They did wittle down the deficit to four points in the third. But late three-pointers by Paul George stopped the rally and Indiana has risen to a a second-place tie in the East with the Heat. The ascension of Paul George has resumed.
BEHIND THE LINES
Paul George (IND): 33 pts, 8 rebs.
Nikola Mirotic (CHI): 25 pts, 7 rebs.
PHILADELPHIA 76ERS 114 (0-17) @ HOUSTON ROCKETS 116 (6-10)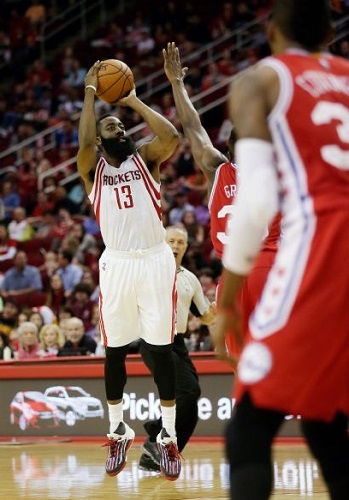 (PHOTO CREDIT: Bob Levey/AP.)
As expected, even if it is the Rockets, the Sixers were down big early. Philly was actually down 16 in the third before they came back early in the fourth with an 18-2 run. A T.J. McConnell shot would actually give Philly the lead. Later on, however, a late James Harden three gave the Rockets a six-point lead. It didn't put the game out of reach, though, as the Sixers played the foul game and nearly succeeded. It was like the Rockets and the Sixers were trying so hard to lose.
In the meantime, James Harden got 50 points and a near triple-double. I don't know what to think of his performance. It seemed like it had little impact but, at the same time, the Rockets only won by two while he did all of that? Yikes.
BEHIND THE LINES
James Harden (HOU): 50 pts, 9 rebs, 8 assts, 9 TOs.
Clint Capela (HOU): 13 pts, 10 rebs.
Dwight Howard (HOU): 14 pts, 13 rebs.
Robert Covington (PHI): 28 pts, 7 rebs, 5 assts, 8 stls.
Isaiah Canaan (PHI): 23 pts.
ATLANTA HAWKS 116 (11-7) @ MEMPHIS GRIZZLIES 101 (9-8)
The Grizzlies dusted off Vince Carter, and he made his presence felt by making a shot from the opposite free throw line to beat the first quarter buzzer. Carter would go on to make a total of four three-pointers in the first half.
Unfortunately, the Hawks were more proficient behind the arc in the fourth quarter. Al Horford and Jeff Teague made late bombs to put the Hawks up double digits and the Vince Carter Comeback Tour only lasted a half. Sad.
BEHIND THE LINES
Jeff Teague (ATL): 20 pts, 7 assts.
Paul Millsap (ATL): 23 pts, 14 rebs.
Mike Conley (MEM): 16 pts, 9 assts.
DETROIT PISTONS 87 (8-8) @ OKLAHOMA CITY THUNDER 103 (11-6)
The Thunder were trailing by double digits before the 2014 MVP Kevin Durant scored 14 points in the third quarter to give THEM a double-digit lead. Late three-pointers by Durant and his partner-in-crime, Russell Westbrook, put away the Stones. So much for that Reggie Jackson revenge game, right? The only hurt that Jackson brought was an ant bite.
Ant bites do suck, by the way.
BEHIND THE LINES
Kevin Durant (OKC): 34 pts, 13 rebs, 5 assts, 3 blks.
Serge Ibaka (OKC): 14 pts, 4 blks.
Russell Westbrook (OKC): 14 pts, 11 TOs.
Marcus Morris (DET): 17 pts.
Reggie Jackson (DET): 15 pts (4/16 FG).
SAN ANTONIO SPURS 91 (13-3) @ DENVER NUGGETS 80 (6-10)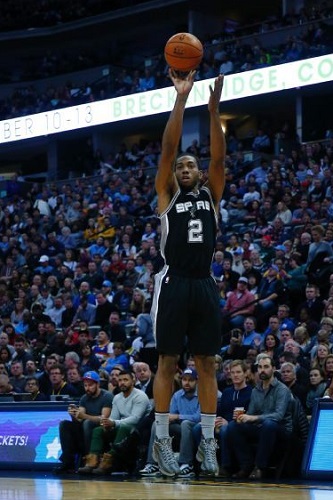 (PHOTO CREDIT: Jack Dempsey/AP.)
The Spurs went on a monster 25-5 run to squash the Nuggets. Kawhi Leonard was one steal (funny enough, since he led the league in steals last year) away from a 5×5 after the third quarter! He never did get that steal and was denied that 5×5 but I'm sure he'll take the win.
Also, did you know you can't get a 5×5 in In-N-Out Burger anymore? You can't get more than a 4×4, apparently. That's never a win.
BEHIND THE LINES
Kawhi Leonard (SA): 25 pts, 7 rebs, 6 assts, 5 blks, 4 stls.
Danilo Gallinari (DEN): 16 pts, 10 rebs.
GOLDEN STATE WARRIORS 135 (17-0) @ PHOENIX SUNS 116 (7-9)
I'm going to get real nitpicky here. The Suns scored 57 points in the first half. They scored 116 overall. They shot 49 percent from the field. The Warriors did not play good defense.
Of course, the Warriors scored 75 points in the first half and 135 overall. They shot 57 percent. And they made 22 three-pointers. Stephen Curry scored 41 after three quarters and Draymond Green had a triple-double. Again, the Warriors are in another galaxy somewhere with their sexy basketball skills.
BEHIND THE LINES
Stephen Curry (GS): 41 pts (9/16 3FG), 6 rebs, 8 assts.
Draymond Green (GS): 14 pts, 10 rebs, 10 assts.
Leandro Barbosa (GS): 21 pts.
T.J. Warren (PHX): 28 pts, 6 rebs.
Eric Bledsoe (PHX): 21 pts, 7 assts, 3 stls.
Brandon Knight (PHX): 21 pts, 5 assts.
MINNESOTA TIMBERWOLVES 101 (8-8) @ SACRAMENTO KINGS 91 (6-11)
The Kings had no Boogie Cousins once again. While Rajon Rondo did his best to distribute (16 assists!), Rudy Gay missed all but one of his 13 shots. Sactown couldn't get over the hump while the Wolves seem super comfortable playing basketball outside of Minnesota. Minnie is now 6-2 on the road.
BEHIND THE LINES
Andrew Wiggins (MIN): 22 pts, 6 rebs.
Marco Belinelli (SAC): 17 pts.
Rajon Rondo (SAC): 16 pts, 16 assts.
Kosta Koufos (SAC): 16 pts, 13 rebs.
NEW ORLEANS PELICANS 90 (4-12) @ LOS ANGELES CLIPPERS 111 (8-8)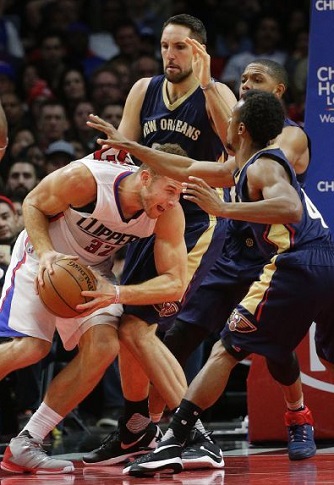 (PHOTO CREDIT: Jae C. Hong/AP.)
The Pelicans came in with a three-game win streak but were blown out of water by the Clippers. New Orleans seemingly had a comeback going but Anthony Davis got hurt after a collision with Chris Paul. The Clippers kept the big lead and went on to .500.
BEHIND THE LINES
Blake Griffin (LAC): 20 pts, 6 rebs, 6 assts.
J.J. Redick (LAC): 20 pts.
Anthony Davis (NO): 17 pts, 6 rebs.
Ish Smith (NO): 15 pts, 10 assts.
GETTING SOCIAL
This John Wall lull is depressing #Wizards

— Adam McGinnis (@adammcginnis) November 28, 2015
The Pacers have multiple guards and forwards who can do more than one thing. What an unbelievable luxury.

— Brian Schroeder (@Cosmis) November 28, 2015
Harden had to score 50 just for the rockets to barely beat the sixers. That's not good

— Kyle (@Kylillinois) November 28, 2015
Man that number 30 is really good lol….

— Kyle Lowry (@Klow7) November 28, 2015
Chris Paul is maybe the dirtiest player in whole league. His lean in for a foul caused Anthony Davis' injury. Wake up @NBA

— Nathan Navarro (@Navaroo52) November 28, 2015
Can't watch @Sixers play again. They need some Vets around Okafor so he grow and learn. Too many little mistakes

— Baron Davis (@Baron_Davis) November 28, 2015
17! Can't wait to get back on the court 🙏🏾 #DubNation #TGBTG

— Harrison Barnes (@hbarnes) November 28, 2015
The greats are all kind of dirty, anyway. Go watch John Stockton or Kevin Garnett set a screen with their bony ass elbows and knees out.

— D.J. Foster (@FOXSportsFoster) November 28, 2015
WATCH THIS PLAY
Let Dwyane Wade remind you that he's still got it and he will shock you so much that you'll fall on the seat of your pants. Like Langston Galloway.
(VIDEO CREDIT: NBA.)
THE TAKEAWAY
This is the play that hurt Anthony Davis.
This is a common play by point guards during transition. I get it. It's also unnecessary. Everyone jumped on CP3 because of his reputation. He couldn't just outrun Davis on the break? Paul went out of his way to get the foul, which I actually don't like for the most part in basketball. But that's another story for another time.
The only way for this to go away is if the league cracks down on this. It's also rare that someone gets hurt on that play; you're going to get hurt more taking a charge. So unless we see a rise of injuries from that sort of play, nothing is probably going to happen. It's kind of like the Chase Utley slide in last month's MLB Playoffs. Runners are apparently taught to slide like that as I've learned. And I just referenced baseball so I should move on.
In this post-game interview, Russell Westbrook refuses to acknowledge ex-teammate Reggie Jackson. It's hilarious.
Here's the exchange between @ErikHorneOK and Russell Westbrook on Reggie Jackson: "Who?" pic.twitter.com/PrDnk5b7Qq

— Anthony Slater (@anthonyVslater) November 28, 2015
You ever did this? Kyle Anderson messed up someone's ankles and he didn't even know it.
Kyle Anderson with the slowest, most inadvertent ankle-breaker ever. https://t.co/v63qpuz1Bs

— Jesus Gomez (@JejeGomez_PtR) November 28, 2015
So offenses that were supposed to get overhauls aren't doing so well right now. Both Washington and Chicago are in the bottom five of offensive rating. John Wall seems to have regressed this season with more turnovers and less aggression. I don't know if it's the new wide-open, fast-paced offensive style this season that's affecting him but he just doesn't seem the same at the moment. Chicago's adopted the same offensive style and it hasn't done them any favors. But at least, the Bulls' defense is keeping them winning while the Wizards' defense hasn't been great.
The Bulls are still in the Top 4 in the East while the Wizards are currently 12th. They'd both better get it going, though, because the Eastern Conference has suddenly become competitive.
Ever seen more empty stats than James Harden? That's what it feels like to me. Rockets are 2-3 since Kevin McHale was fired. One win involved a miracle shot against Portland and one was a victory against the Sixers. Yikes.
STREAK WATCH
Philadelphia is 0-17 for the second straight season. Amazing. Their next game is against the Grizzlies at Memphis on Sunday.
Golden State will be on a second game of a dreaded back-to-back for tonight. They will be against Sacramento (also on a back-to-back). We'll see if they go 18-0.
---
Follow Rey-Rey on Twitter at @TheNoLookPass for all tweets about the NBA and terrible pop music. Also, check out his podcast, Rey-Rey Is Fundamental.

us on FaceBook! Thank you!