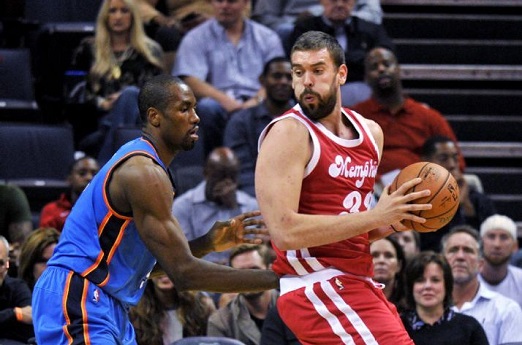 (PHOTO CREDIT: Brandon Dill/AP.)
Six games on Monday. Let's see how this all went down. Scratch!
11/16/2015
THE GAMES
DALLAS MAVERICKS 92 (7-4) @ PHILADELPHIA 76ERS 86 (0-11)
The Mavericks led by 19 on the Sixers before Philly made a courageous comeback to take the lead in the fourth. But Dallas came back with a mini-run that was polished off by old Dirk Nowitzki's three-pointer. So you know how this book ended.
The Sixers are 0 for 11 on basketball games. 0 for 11 is me on a 45-second Tinder session.
BEHIND THE LINES
Dirk Nowitzki (DAL): 21 pts.
Chandler Parsons (DAL): 20 pts.
Nerlens Noel (PHI): 12 pts, 12 rebs.
Jahlil Okafor (PHI): 19 pts, 11 rebs.
INDIANA PACERS 95 (6-5) @ CHICAGO BULLS 96 (7-3)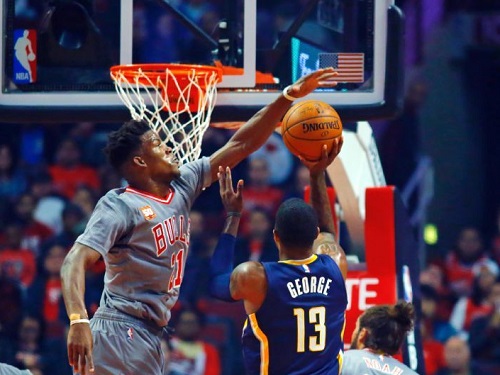 (PHOTO CREDIT: Jeff Haynes/AP.)
The Bulls led the entire game before the Pacers tied the game with two and a half minutes left. After a Monta Ellis lay-up, Jimmy Butler missed in the ensuing possession. With five seconds left, the Pacers had a chance to win but Butler made up for the previous miss by blocking Paul George's jumper that would have won it. The Bulls snapped the Pacers' three-game winning streak.
BEHIND THE LINES
Derrick Rose (CHI): 23 pts, 6 assts.
Taj Gibson (CHI): 9 pts, 11 rebs, 5 assts, 4 blks.
Monta Ellis (IND): 20 pts, 6 assts.
Paul George (IND): 26 pts, 7 rebs, 5 assts.
BOSTON CELTICS 111 (6-4) @ HOUSTON ROCKETS 95 (4-7)
The Celtics continue to be road warriors as they used a 32-13 third quarter to springboard themselves to another double-digit victory against a Western Conference power. The Rockets even went down as many as 29 points as questions continue to arise on what's wrong with them.
People have all these different "curses" on James Harden. Do those things actually work? Are the Rockets living in a movie? A video game? Regardless, they're 2-5 at home thus far.
BEHIND THE LINES
Avery Bradley (BOS): 21 pts.
Isaiah Thomas (BOS): 23 pts, 6 assts.
Marcus Smart (BOS): 4 pts (1/11 FG), 9 rebs, 6 assts, 5 stls.
Trevor Ariza (HOU): 19 pts, 9 rebs, 3 stls.
OKLAHOMA CITY THUNDER 114 (6-5) @ MEMPHIS GRIZZLIES 122 (6-6)
The Thunder and Grizzlies had a FRANTIC fourth quarter. But OKC couldn't stop the fireballs that were thrown by Super Mario Chalmers. Wait, what?
Mario scored 12 points in a three-minute span of the fourth quarter that stunned the Thunder. Russell Westbrook tried to get the Thunder back with three-pointers of his own but each one was countered by the bears. Memphis came out on top and have now won three games in a row. See?! I told you they would come back from that slow start!
Super Nintendo had 29 points. I don't think anybody is going to yell at him for that.
BEHIND THE LINES
Mike Conley (MEM): 22 pts, 9 assts.
Jeff Green (MEM): 20 pts.
Mario Chalmers (MEM): 29 pts (13/15 FT).
Zach Randolph (MEM): 12 pts (4/16 FG), 10 rebs.
Russell Westbrook (OKC): 40 pts, 14 assts, 3 stls, 8 TOs.
Serge Ibaka (OKC): 18 pts, 9 rebs, 3 blks.
PORTLAND TRAILBLAZERS 80 (4-8) @ SAN ANTONIO SPURS 93 (8-2)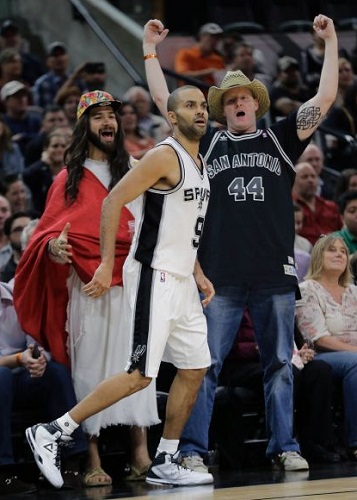 (PHOTO CREDIT: Eric Gay/AP.)
The game started out like this New Year's Eve party; it was a trainwreck. The half ended with a 36-28 Spurs lead.
The second half was played better. The Blazers cut the deficit to three with three minutes to go but Manu Ginobili, who was scorching all fourth quarter, finished off Rip City with a personal 7-0 run. Manu scored 15 of his 17 points in the final 12 minutes.
If you're wondering, LaMarcus Aldridge only scored six points against his old mates. But I'm sure he'll take the win.
BEHIND THE LINES
Kawhi Leonard (SA): 19 pts, 9 rebs.
Damian Lillard (POR): 27 pts, 7 rebs, 6 assts.
LOS ANGELES LAKERS 101 (2-9) @ PHOENIX SUNS 120 (6-4)
The fourth quarter was all Suns as they scored 40. Brandon Knight ran circles around the Lakers (I mean, literally. Another night, another Lakers loss.
More on our favorite coach, Byron Scott, in a bit!
BEHIND THE LINES
Brandon Knight (PHX): 30 pts, 10 rebs, 15 assts, 4 stls.
Eric Bledsoe (PHX): 21 pts.
Jordan Clarkson (LAL): 20 pts.
GETTING SOCIAL
@Sixers This has to be a joke to you guys? Im Upset That We have to Watch Our Team Play to lose😒! #CmonSamhinkie #Sixers

— Arm&Hammer (@ARrozay) November 17, 2015
good win tonight to finish the roadtrip 2-0. now back to the garden! #GreenRunsDeep @celtics

— Jonas Jerebko (@JonasJerebko) November 17, 2015
I keep hearing about Integrity and code of Ethics in sports when dealing with trash talking and dancing.Can players not be robots please lol

— Jared Dudley (@JaredDudley619) November 17, 2015
10-0 run for the Spurs with the Mills/Ginobili/Butler/Diaw/West lineup. Another year, another productive Spurs bench.

— Quixem Ramirez (@quixem) November 17, 2015
Rockets lose, 111-95, and it wasn't even that close. This one was a true kick-in-the-nuts loss.

— The Dream Shake (@DreamShakeSBN) November 17, 2015
Brandon Knight is balling out! 30pts 15asts 10rebs tonight … earning that contract! 👏🏾

— Lone Wolf (@ill_B_Shoor) November 17, 2015
So @mchalmers15 has gone from the most hated athlete in Memphis history to Memphis' favorite athlete in the span of a week. 🐸☕️

— Tomas Ornelas (@txestsince83) November 17, 2015
Proud big bro iam. @mchalmers15 way to take that champion swagger to Memphis lil bro..

— DWade (@DwyaneWade) November 17, 2015
WATCH THIS PLAY
I'm always for the clutch. Butler gets his fingers on Paul George's potential game-winning shot.
https://youtu.be/SdQgO-Kr3Ac
(VIDEO CREDIT: NBAHighlightsDaily.)
THE TAKEAWAY
Despite the loss, I'm still happy to see Paul George play this way. And I keep writing about this because I keep thinking he's going to drop off at some point. But right now, I'm enjoying this. Seven games straight where he's scored 26 points or more. Delicious.
Manu Ginobili can still defy father time once in a while. He's not as good as Tim Duncan when it comes to doing that but that was a magical fourth by Ginobili against the Blazers. It's just really rough to go against the Spurs when these ageless wonders keep coming in with these performances. We really thought Manu was done after he had a rough 2013 Finals. Then he came back to have an excellent 2014 season, capped off by that championship.
I said this about Duncan as well but… play forever, Manu Ginobili.
What is up with Mario Chalmers going to the line a lot? 23 for 25 from the stripe in the last two games!
So let me take these tweets from our friend, Serena Winters from Lakers Nation. Byron Scott, insert foot in mouth.
Byron on players being tired: "I keep hearing about this back-to-back, that's a bunch of crap…it's basketball you come ready to play."

— Serena Winters (@SerenaWinters) November 17, 2015
Byron Scott once again called for players to "man up," said he thought the Suns effort was "10 times better" than the Lakers

— Serena Winters (@SerenaWinters) November 17, 2015
This is the kind of stuff that boggles the mind. I don't want to keep picking on Byron but when he says nonsensical things like these, he makes it a little easy.
It's been WELL-DOCUMENTED that teams need to pace themselves to rest. I like how he says that back-to-backs are a bunch of crap and that players shouldn't be getting tired… as KOBE BRYANT SITS OUT THE SUNS GAME because it was a second game of a back-to-back. There's kind of a reason the top teams in the game today sit out their top players in a second game of a back-to-back. So they can stay fresh by the end of the season, especially in the playoffs.
Except the Lakers aren't going to make the playoffs, right?
And what do you mean by "man up"? That doesn't even make any sense. You can question their effort, I suppose, which is already toeing the line because the worst thing you can accuse a player of is lack of effort. But aren't these young guys STILL trying to figure it out? Maybe the line-ups don't make sense? Maybe the Lakers are just outclassed in every way possible? What is there to "man up" about? Are they supposed to start tackling the opposing players? Throw elbows and punches? Is that "manning up"? I don't understand.
Byron Scott keeps deflecting the blame off himself. Yes, I know the players play the game and all of that but Byron isn't exactly putting anybody in a position to succeed. And he refuses to say, "I coached badly. I have to do better." Even the great coaches like Gregg Popovich would say that he coached badly once in a while.
The players are obviously not absolved of all of this. But I also understand that most of them are young. They're gonna make mistakes. And it's Byron's job to guide them and help them succeed, even in a loss, if that makes sense.
Everyone knows me as a Laker guy but I would be frustrated even if I wasn't. The game has passed Byron by and that would frustrate just about everybody watching them. I've said before that he has to go but unless the Lakers lose 27 in a row or something disastrous happens, he's not going to go anywhere.
Let's end this on a positive note. Um… uhhhh… those Grizzlies jerseys look outstanding.
---
Follow Rey-Rey on Twitter at @TheNoLookPass for all tweets about the NBA and terrible pop music. Also, check out his podcast, Rey-Rey Is Fundamental.

us on FaceBook! Thank you!