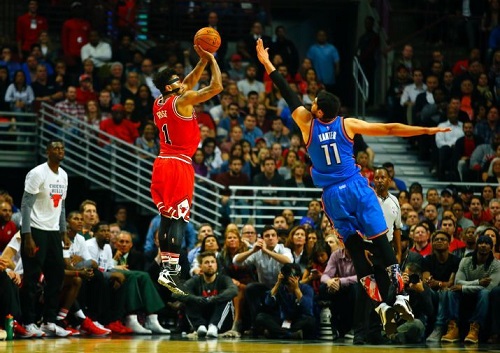 (PHOTO CREDIT: Jeff Haynes/AP.)
Five games happened in the Association on Thursday night. Let's run them down.
11/05/2015
THE GAMES
OKLAHOMA CITY THUNDER 98 (3-3) @ CHICAGO BULLS 104 (4-2)
The Thunder came back from 10 down to tie the game late. Then Derrick Rose, double vision and all, went on a personal 10-4 run. Pau Gasol finished it off in the post and OKC was handed their third straight loss after starting out 3-0.
Rose had a huge game after scoring single digits in his last three games.
BEHIND THE LINES
Pau Gasol (CHI): 11 pts, 10 rebs.
Jimmy Butler (CHI): 26 pts.
Derrick Rose (CHI): 29 pts, 5 rebs, 7 assts.
Russell Westbrook (OKC): 20 pts, 8 rebs, 10 assts.
Kevin Durant (OKC): 33 pts, 6 rebs, 5 assts.
MIAMI HEAT 96 (3-2) @ MINNESOTA TIMBERWOLVES 84 (2-2)
Dwyane Wade sank a shot beyond halfcourt before the halftime buzzer. Other than a mini-run in the third quarter, the Timberwolves couldn't get anything going against the Heat defense. Minnesota shot 35 percent against Miami. That won't get the job done against any team.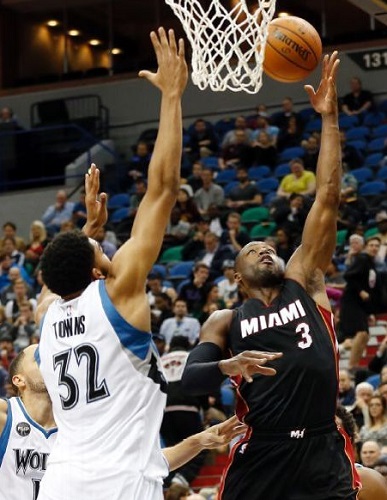 (PHOTO CREDIT: Jim Mone/AP.)
BEHIND THE LINES
Dwyane Wade (MIA): 25 pts.
Chris Bosh (MIA): 16 pts, 12 rebs.
Shabazz Muhammad (MIN): 14 pts, 6 rebs.
Kevin Martin (MIN): 14 pts.
CHARLOTTE HORNETS 108 (2-3) @ DALLAS MAVERICKS 94 (2-3)
The Hornets broke away in the second half as Al Jefferson made almost anything he threw up. Al went 15 for 18 from the field and I can't even do that in a video game. Charlotte has won two straight after losing their first three. And Dallas doesn't look so good now after beating a team like the Lakers, right?
BEHIND THE LINES
Marvin Williams (CHA): 17 pts, 12 rebs.
Al Jefferson (CHA): 31 pts (15/18 FG), 9 rebs.
Deron Williams (DAL): 15 pts.
Zaza Pachulia (DAL): 14 pts, 10 rebs.
UTAH JAZZ 96 (3-2) @ DENVER NUGGETS 84 (2-3)
Denver led for most of the first three quarters before Utah decided they've had enough in the fourth. Jazz went on a 16-2 run to flush the Nuggets.
Somehow, this game ended up having the same score as the Heat/Wolves game. Copycats.
Heat/Wolves and Jazz/Nuggets ended with identical 96-84 games. pic.twitter.com/4CSsqKDsxT

— Rey-Rey (@TheNoLookPass) November 6, 2015
BEHIND THE LINES
Gordon Hayward (UTA): 20 pts.
Rudy Gobert (UTA): 8 pts, 16 rebs, 3 blks.
Danilo Gallinari (DEN): 18 pts.
MEMPHIS GRIZZLIES 96 (3-3) @ PORTLAND TRAILBLAZERS 115 (4-2)
This young and suddenly exciting team of the Portland TrailBlazers exploded against the Memphis Grizzlies as they went on a three-point berserker barrage.
https://youtu.be/bzspc2wAcIs
(VIDEO CREDIT: Gaaracapo111.)
And if you're making your three-pointers against a non-perimeter shooting team like Memphis, that's an easy victory. Like Brock Lesnar against me in an MMA fight.
BEHIND THE LINES
Damian Lillard (POR): 27 pts (7/11 3-FG).
Al-Farouq Aminu (POR): 11 pts, 10 rebs.
C.J. McCollum (POR): 20 pts.
Zach Randolph (MEM): 16 pts, 10 rebs.
Courtney Lee (MEM): 18 pts.
GETTING SOCIAL
Charles Barkley keeps ranting about Russell Westbrook never passing the ball. Westbrook leads the league in assists per game.

— Bryan Frantz (@BFrantz202) November 6, 2015
The Rondo throw-in part was crappy, but yeah. https://t.co/OmUXpHvUgb

— Dallas Mavericks (@dallasmavs) November 6, 2015
The hornets have blown out the Bulls and mavs this week. Are they good or are those teams just ehhh?

— Mr. Loren (@Dosnueve) November 6, 2015
Just watched the film of all seven of Hassan Whiteside's turnovers. Really lacked focus tonight.

— Joseph Goodman (@JoeGoodmanJr) November 6, 2015
Shaq says he doesn't know where CJ McCollum came from. …why don't you show him, CJ.

— Blazer's Edge (@Blazersedge) November 6, 2015
Derrick Rose is still Derrick Rose. 29-7-5

— Kristine Leahy (@KristineLeahy) November 6, 2015
WATCH THIS PLAY
Swipe. Spin. Shot. From beyond halfcourt!
(VIDEO CREDIT: NBA.)
THE TAKEAWAY
The Thunder will be fine. Kevin Durant is still trying to get back into form as you can see his hesitation, sometimes. But this is a team that made three out of four West Finals before missing the playoffs entirely last season. They've had bad luck with injuries in the last three seasons. If the Thunder are, say, 15-15 down the line, then you have reason to worry.
I'm not ready to be down on the Grizzlies just yet. Even though the Grizz have been blown out twice, Marc Gasol is not 100 percent, which has definitely affected his play and the overall team. This start is in contrast to last year's, when they went 15-2 in their first 17 games.
In the meantime, it's either you blow the Grizzlies out or you lose. They have lost by 30, 50, and 19 thus far this season.
Derrick Rose, until we see him put up these MVP-like games night in and out, will always be a huge question mark. Obviously, I'd like to see him back in that form but, at the same time, do the Bulls need him to be that guy at this point? I think so. At this point, I still don't see any team dethroning the Cavs in the East. And, right now, the Bulls are in the middle of the pack in defensive rating, which needs to be topnotch if they want to succeed in the postseason.
I, for one, am happy to see Dwyane Wade prosper a little bit. 22.2 points per game and shooting nearly 50 percent so far this season. I can dig that.
Hopefully, C.J. McCollum can keep his production up. A lot of people (including me) picked him to win Most Improved Player. Sometimes, all you need is a chance.
---
Follow Rey-Rey on Twitter at @TheNoLookPass for all tweets about the NBA and terrible pop music. Also, check out his podcast, Rey-Rey Is Fundamental.

us on FaceBook! Thank you!