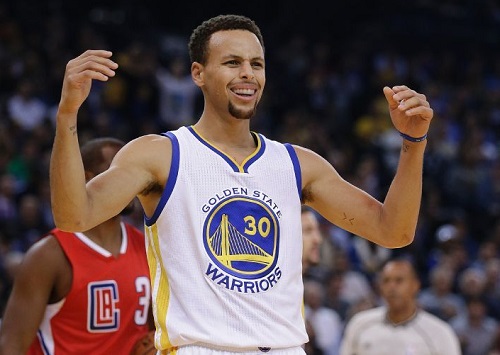 (PHOTO CREDIT: Ben Margot/AP.)
10 games full of NBA fun on Wednesday night. Did you get basketball-wasted? I certainly did. How many undefeated teams will be left afterwards? Let's check out what happened then.
11/04/2015
THE GAMES
BOSTON CELTICS 98 (1-3) @ INDIANA PACERS 100 (2-3)
It was a close game between these 90s rivals but, in the end, Monta Ellis was able to draw a foul with 13 seconds left on Avery Bradley. Ellis makes both foul shots to give Pacers a two-point lead. Bradley was able to get a three-pointer off before the buzzer but it was to no avail. Indy now has won two straight after a discouraging 0-3 start.
Also, easily Paul George's best offensive game thus far. We're waiting for you to claim your spot back.
BEHIND THE LINES
Paul George (IND): 26 pts, 10 rebs.
Jordan Hill (IND): 16 pts, 10 rebs.
Avery Bradley (BOS): 21 pts.
Isaiah Thomas (BOS): 27 pts, 7 assts.
SAN ANTONIO SPURS 99 (3-2) @ WASHINGTON WIZARDS 102 (3-1)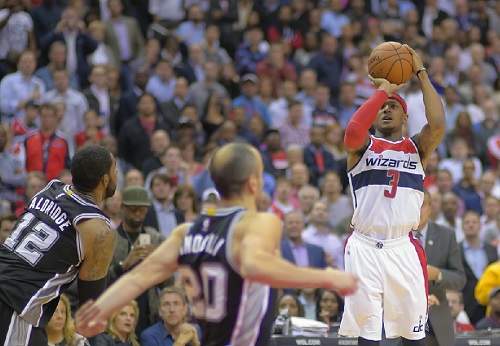 (PHOTO CREDIT: John McDonnell/AP.)
It was a game of runs early as the Wizards started out with a 19-2 run. San Antonio returned the favor with a huge 26-3 stampede. The Wizards and Spurs kept it close throughout the contest. Tony Parker dropped a three with seven seconds left. But then Bradley Beal made LaMarcus Aldridge disappear from his sights as he made a great jabstep into a three-pointer that sank into the hole with 0.3 seconds left.
Sexual… Bealing!
BEHIND THE LINES
Bradley Beal (WAS): 25 pts, 5 rebs, 3 stls.
John Wall (WAS): 17 pts, 13 assts, 4 stls.
Kawhi Leonard (SA): 23 pts, 9 rebs.
LaMarcus Aldridge (SA): 10 pts, 14 rebs.
BROOKLYN NETS 87 (0-5) @ ATLANTA HAWKS 101 (5-1)
The Nets made it interesting and seemed like they were ready to steal a win at Atlanta. But the Hawks finished off Brooklyn with a 17-5 run at the end, punctuated by back-to-back jumpers from Kent Bazemore. The Hawks have now won five straight while the Nets are going the opposite direction with five straight losses.
BEHIND THE LINES
Al Horford (ATL): 21 pts, 8 rebs.
Dennis Schroder (ATL): 20 pts.
Paul Millsap (ATL): 12 pts, 9 rebs, 5 stls.
Brook Lopez (BRK): 27 pts, 11 rebs.
Thaddeus Young (BRK): 14 pts, 10 rebs.
NEW YORK KNICKS 86 (2-3) @ CLEVELAND CAVALIERS 96 (4-1)
This wasn't a pretty game by any means. And the game was tied at 75 in the fourth quarter. But the game was won by the Cavs with a blink of an eye as ThunderCats Mo Williams and LeBron James made consecutive threes. Kevin Love then made his own three to put the Cavs up 14.
In a way, encouraging for the Knicks. They aren't beating good teams but are beating the ones that are not. For the fans' expectations, average is better than the 17-65 disaster of last season.
BEHIND THE LINES
Tristan Thompson (CLE): 10 pts, 13 rebs.
LeBron James (CLE): 23 pts, 4 stls.
Mo Williams (CLE): 22 pts, 6 rebs.
Carmelo Anthony (NY): 17 pts, 12 rebs.
PHILADELPHIA 76ERS 87 (0-4) @ MILWAUKEE BUCKS 91 (2-3)
Jabari Parker returned to the line-up. Welcome back.
The Sixers led by three late in the game before they wilted down like Kate Hudson's love fern in How To Lose A Guy In 10 Days. The Deer scored seven straight to put the Sixers away. Milwaukee has now won two straight after an 0-3 start.
As for the Sixers, what did you expect?
BEHIND THE LINES
Khris Middleton (MIL): 21 pts.
Jahlil Okafor (PHI): 21 pts, 6 rebs.
Nerlens Noe (PHI): 17 pts, 12 rebs.
T.J. McConnell (PHI): 7 pts, 9 rebs, 12 assts.
TORONTO RAPTORS 103 (5-0) @ OKLAHOMA CITY THUNDER 98 (3-2)
OKC led for the most part but they couldn't buy a bucket late. The Raptors took advantage of the drought and went on a 10-0 run that were mostly filled by foul shots. The Thunder couldn't come back and Team Canada is still the only undefeated team in the East.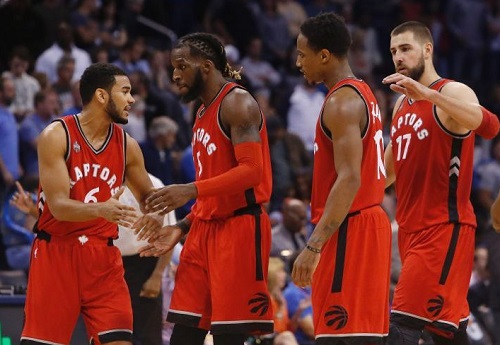 (PHOTO CREDIT: Sue Ogrocki/AP.)
One big stat here? The Raptors were at the foul line 39 times compared to the Thunder's 14. With a team that has Kevin Durant and Russell Westbrook, 14 foul shots is strange.
BEHIND THE LINES
DeMar DeRozan (TOR): 28 pts.
Jonas Valanciunas (TOR): 17 pts, 11 rebs.
Russell Westbrook (OKC): 22 pts, 5 rebs, 16 assts.
Kevin Durant (OKC): 27 pts, 7 rebs, 3 blks.
ORLANDO MAGIC 114 (1-4) @ HOUSTON ROCKETS 119 (2-3) (OT)
NIkola Vucevic injured his knee in the third quarter so the Magic had to go without him the rest of the game. Orlando admirably battled Houston and was able to send the game to OT after Evan Fournier (if you don't know him, search him on Google) made clutch free throws to tie with 1.1 seconds left.
Orlando was down by three with 2:30 left. The Rockets didn't score for a while but, unfortunately, neither did the Magic. James Harden put the pesky magic away with a couple of free throws and the Rockets win their second straight. By the way, Dwight Howard had a Perfect 10… for 10.
Don't get too excited there, fella.
BEHIND THE LINES
Dwight Howard (HOU): 23 pts (10/10 FG), 14 rebs.
James Harden (HOU): 28 pts (6/22 FG, 14/17 FT), 7 rebs.
Evan Fournier (ORL): 29 pts, 6 rebs.
SACRAMENTO KINGS 97 (1-4) @ PHOENIX SUNS 118 (3-2)
The Kings were without DeMarcus Cousins again. In the meantime, the Suns sank 14 of 23 from three. So you figure out what happened.
BEHIND THE LINES
Eric Bledsoe (PHX): 19 pts, 6 rebs, 8 assts, 4 stls.
Kosta Koufos (SAC): 16 pts.
PORTLAND TRAILBLAZERS (3-2) 108 @ UTAH JAZZ 92 (2-2)
We all know about the Jazz's now-excellent defense but they certainly couldn't stop the starting Blazer backcourt. It didn't help that Utah didn't shoot very well. Damian Lillard went for 35 points while backcourt mate C.J. McCollum went for 27 as PDX is now off to a somewhat-surprising 3-2 start. Keeping it weird, I see.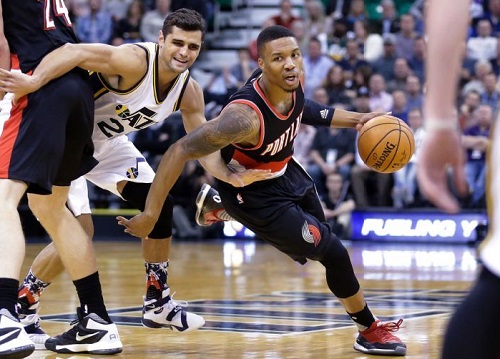 (PHOTO CREDIT: Rick Bowmer/AP.)
BEHIND THE LINES
Mason Plumlee (POR): 12 pts, 16 rebs.
Maurice Harkless (POR): 15 pts, 10 rebs.
C.J. McCollum (POR): 27 pts.
Damian Lillard (POR): 35 pts.
Alec Burks (UTA): 21 pts.
LOS ANGELES CLIPPERS 108 (4-1) @ GOLDEN STATE WARRIORS 112 (5-0)
This game did not disappoint as both teams played excellent ball.
Harrison Barnes had a personal 10-1 run after the Clippers took a 9-point lead. The Clippers continued to fight as they took the lead after a DeAndre Jordan free throw. Then Stephen Curry pulled up from Alameda and made a long three to give the Warriors the lead. Chris Paul missed a three after he couldn't get the ball inside to Blake Griffin and the Warriors held on and stayed undefeated.
Solid, solid game in early November. This is why I love the NBA.
BEHIND THE LINES
Stephen Curry (GS): 31 pts (7/11 3-FG).
Chris Paul (LAC): 24 pts, 9 assts, 3 stls.
Blake Griffin (LAC): 23 pts, 10 rebs, 6 assts.
DeAndre Jordan (LAC): 11 pts, 13 rebs.
GETTING SOCIAL
News headlines should say "Pacers win because of last second flop by Monta Ellis"

— Celtics Everything (@notwilmer) November 5, 2015
Playing for the guy next to you it's special! Great win. Let's keep it moving #WeTheNorth #Biznation #Thankful

— Bismack Biyombo (@bismackbiyombo0) November 5, 2015
Evan Fournier might have back-to-back 30 point games. And to think, all because of one surgery (can't quite remember what it was, google it)

— Jordan White (@JordanSWhite) November 5, 2015
Last second shots, miss-communication on Defense, Late game Execution…..All are Champion building moments, Stay the course, Long Season

— Bruce Bowen (@Bowen12) November 5, 2015
Big win for the Rockets. Especially good to see Dwight go 20-10 for the first time all year

— Ethan Rothstein (@ethanrothstein) November 5, 2015
Indiana, Boston, Milwaukee, Dallas, and Oklahoma City. The Raptors aren't beating scrubs. Go ahead and believe.

— Chris Walder (@WalderSports) November 5, 2015
The Wizards just beat the Spurs !!!! And the Spurs were healthy . No excuses z yeaaaaaaaaaa

— udo (@vibewittme) November 5, 2015
One week into the @NBA season and this @LAClippers @warriors game feels like the conference finals. Must see tv in November? Yup. #LoveIt

— Sage Steele (@sagesteele) November 5, 2015
WATCH THIS PLAY
Anytime you beat the Spurs, it's a huge win. Especially if you do it on a buzzer-beater. Like Bradley Beal.
(VIDEO CREDIT: NBA.)
THE TAKEAWAY
Best shot of the season so far. Too bad, it didn't count. Although it should be worth 10 points.
(VIDEO CREDIT: NBA.)
So the Hawks and the Raptors have both won five straight. They're both doing it defensively as they are 8th and 9th, respectively, on points per possession allowed. The Raptors are also 5th on points per possession. The Hawks are missing Kyle Korver at the moment but Dennis Schroder has been able to fill in thus far, backing up his claims of wanting to be a starter.
Atlanta's schedule isn't exactly the strongest in the next few games. But Toronto has 8 of their next 10 on the road. They will certainly be tested. Still, BIG win by the Raptors over the Thunder.
We know what Damian Lillard can do but can Portland potentially have the highest-scoring backcourt in the league this year? C.J. McCollum is obviously getting run this season and, thus far, he's averaging 23 points per contest. They may need every single point if Portland hopes to compete. But is that the real plan? You never know with these teams. Some squads deny tanking (we know Philly is trusting the process).
I was high on the Kings before the season started. But a 1-4 start can easily doom them. There is little to no margin of error in the West and for a young team like the Kings, every loss can wane their confidence.
I say this for just about every top team in the West. But I won't lie that Clippers/Warriors in the playoffs is probably my most wanted match-up. The intensity, the rivalry, and the beautiful basketball are all topnotch. Let's hope all the stars align for this one.
---
Follow Rey-Rey on Twitter at @TheNoLookPass for all tweets about the NBA and terrible pop music. Also, check out his podcast, Rey-Rey Is Fundamental.

us on FaceBook! Thank you!