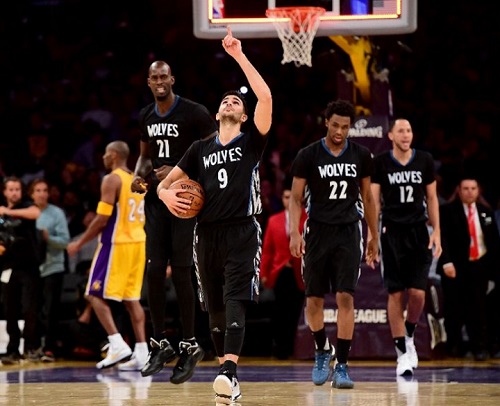 (PHOTO CREDIT: Harry How/Getty Images.)
Yo, yo. The Hangover is here. Nearly every team played last night. Let's get basketball-wasted.
10/28/2015
THE GAMES
WASHINGTON WIZARDS 88 (1-0) @ ORLANDO MAGIC 87 (0-1)
The game started out fast and furious. While the Wizards were making their jumpers, the Magic were able to keep up. I'm sure new Magic coach Scott Skiles loved the abundance of scoring going on.
It all slowed down after the first. But when the Magic needed stops on defense, the Wizards ignored the red lights. Washington scored six unanswered points to take the lead, capped off by John Wall's lay-up with 12.7 seconds left. Tobias Harris and Nikola Vucevic both missed shots at the end of the game and the Wiz come out with their first win.
Wall was two steals short of a 5×5.
BEHIND THE LINES
Bradley Beal (WAS): 24 pts, 6 rebs.
John Wall (WAS): 22 pts, 7 rebs, 6 assts, 5 blks, 3 stls.
Elfrid Payton (ORL): 11 pts, 10 rebs, 8 assts.
Victor Oladipo (ORL): 17 pts, 11 rebs.
PHILADELPHIA 76ERS 95 (0-1) @ BOSTON CELTICS 112 (1-0)
The Sixers got off to a good start, leading the Celtics by seven in the first. But then the team remembered they were the Sixers. Boston took the lead in the second quarter and cut off their rear view mirror.
At least, Jahlil Okafor is nice?
BEHIND THE LINES
Isaiah Thomas (BOS): 27 pts, 7 assts, 3 stls.
Nerlens Noel (PHI): 14 pts, 12 rebs, 3 stls.
Jahlil Okafor (PHI): 26 pts, 7 rebs, 8 tos.
CHICAGO BULLS 115 (1-0) @ BROOKLYN NETS 100 (0-1)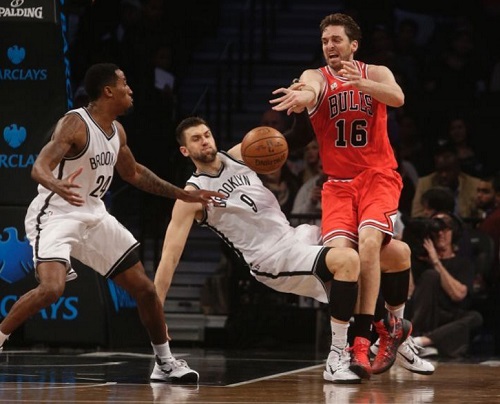 (PHOTO CREDIT: Frank Franklin II/AP.)
After a successful outing against Cleveland, the Bulls went to Brooklyn and shot the lights out (54 percent). Apparently, the Nets decided that shooting three-pointers are a sin in this game; they went 0 for 9. The Bulls made 14, which gave them a 42-point advantage from behind the arc. I KNOW MY MATH.
BEHIND THE LINES
Jimmy Butler (CHI): 24 pts, 6 assts.
Joe Johnson (BRK): 10 pts (4/15 FG), 10 rebs.
Brook Lopez (BRK): 26 pts, 7 rebs.
UTAH JAZZ 87 (0-1) @ DETROIT PISTONS 92 (2-0)
Also successful on a back-to-back? The Detroit Pistons.
The Pistons were clinging to a three-point lead as Utah had the ball with nine seconds left. They set up a play for a Rodney Hood three-pointer but Kentavious Caldwell-Pope rejected Hood like I got rejected at Prom. *SADFACE*
In one of the more surprising statlines in this game, Andre Drummond (who had 18 and 10) went 8 for 11 from the free throw line. Sink those shots, Dre.
BEHIND THE LINES
Andre Drummond (DET): 18 pts, 10 rebs.
Rudy Gobert (UTA): 6 pts, 12 rebs, 3 blks.
Derrick Favors (UTA): 26 pts, 6 rebs.
CHARLOTTE HORNETS 94 (0-1) @ MIAMI HEAT 104 (1-0)
If there were any questions about the Heat's shooting, they were answered (at least) in the first game of the season. You probably won't see Miami shoot 60 percent from behind the arc but that's what they did against the bugs (12 for 20). The Heat definitely showed a lot of promise.
Oh, and welcome back, Chris Bosh. We missed you.
BEHIND THE LINES
Chris Bosh (MIA): 21 pts, 10 rebs.
Dwyane Wade (MIA): 20 pts, 5 assts.
Gerald Green (MIA): 19 pts (5/8 3-FG).
Kemba Walker (CHA): 19 pts.
Marvin Williams (CHA): 10 pts, 10 rebs.
INDIANA PACERS 99 (0-1) @ TORONTO RAPTORS 106 (1-0)
The Pacers were able to come back from 12 down in the fourth quarter to take the lead. But the Raptors took advantage of Indiana going cold as they went on a spectacular surge… from the free throw line. They went 7 for 9 from the stripe in the final minute and a half. EXCITEMENT.
The lesson? Practice your free throws, kids.
BEHIND THE LINES
Kyle Lowry (TOR): 23 pts, 6 assts.
Jonas Valanciuanas (TOR): 21 pts, 15 rebs.
DeMar DeRozan (TOR): 25 pts, 5 rebs, 6 assts.
Paul George (IND): 17 pts (4/17 FG), 12 rebs, 8 assts, 3 stls.
George Hill (IND): 19 pts (5/7 3-FG).
DENVER NUGGETS 105 (1-0) @ HOUSTON ROCKETS 85 (0-1)
Sometimes, you don't have it going. And that's what happened to the Rockets in their home opener. Houston shot under 35 percent and only sank 8 out of 35 attempts from behind the arc.
In the meantime, the Nuggets shot 51 percent and went 13 for 27 from three. Denver led the entire game in an impressive contest. Things that make you go hmmmmm.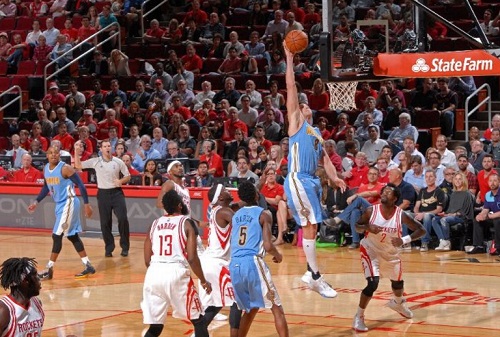 (PHOTO CREDIT: Bill Baptist/Getty Images.)
BEHIND THE LINES
Danilo Gallinari (DEN): 23 pts, 8 rebs.
Emmanuel Mudiay (DEN): 17 pts, 5 rebs, 9 assts, 11 tos.
James Harden (HOU): 22 pts (6/21 FG, 2/12 3-FG), 6 rebs, 6 assts.
CLEVELAND CAVALIERS 106 (1-0) @ MEMPHIS GRIZZLIES 76 (0-1)
Let's take a look at what the Cavs did to the Grizzlies.
BEHIND THE LINES
Kevin Love (CLE): 17 pts, 13 rebs.
Zach Randolph (MEM): 12 pts.
Marc Gasol (MEM): 12 pts.
NEW YORK KNICKS 122 (1-0) @ MILWAUKEE BUCKS 97 (0-1)
In another surprise, the Knicks barbecued the Bucks in Milwaukee. In a bigger surprise, it was Derrick Williams that led everyone in scoring with 24 points. I'm proud of the local homeboy (Southern California, in case you don't remember).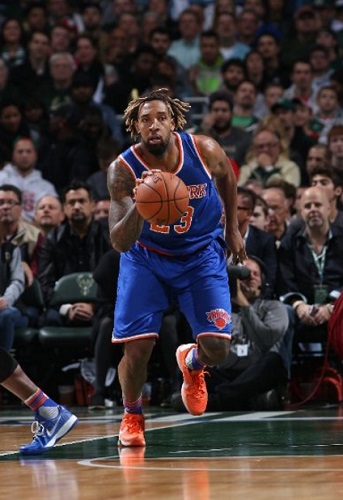 (PHOTO CREDIT: Gary Dineen/Getty Images.)
The Deer shot under 35 percent. Those hardly win you games.
BEHIND THE LINES
Derrick Williams (NY): 24 pts, 7 rebs.
Greg Monroe (MIL): 22 pts, 14 rebs.
Michael Carter-Williams (MIL): 20 pts.
SAN ANTONIO SPURS 106 @ OKLAHOMA CITY THUNDER 112 (1-0)
The Thunder went on a 9-0 run in a crucial stretch in the fourth. When the Spurs countered to take back the lead, OKC scored eight straight in response. San Antonio had a chance to deadlock or take the lead but Steven Adams blocked Danny Green (GREEN RANGER), who went for the three, with 12 seconds left. A full-strength OKC team won their home opener. Good to see you back, Kevin Durant.
LaMarcus Aldridge put in 11 points in his Spurs debut.
BEHIND THE LINES
Russell Westbrook (OKC): 33 pts, 10 assts.
Enes Kanter (OKC): 15 pts, 16 rebs.
Kevin Durant (OKC): 22 pts (6/19 FG), 6 rebs.
Kawhi Leonard (SA): 32 pts, 8 rebs, 3 stls.
DALLAS MAVERICKS 111 (1-0) @ PHOENIX SUNS 95 (0-1)
In a balanced attack, the Mavericks surprised the Suns in Phoenix. Mavs had nine guys score double figures while the Suns had trouble keeping the ball against them (18 turnovers).
Maybe the Bella Twins need the Suns to sing them more songs.
(VIDEO CREDIT: Wormwood424.)
BEHIND THE LINES
Raymond Felton (DAL): 18 pts, 6 assts.
Brandon Knight (PHX): 15 pts, 6 rebs.
NEW ORLEANS PELICANS 94 (0-2) @ PORTLAND TRAILBLAZERS 112 (1-0)
I'm going to say that you're going to have a hard time winning an NBA game if you have your team down, 43-18, after one period.
C.J. McCollum, who is an avid fan of Gossip Girl, scored a career-high 37 points. For one game, Portland fans didn't miss their starting line-up from last year.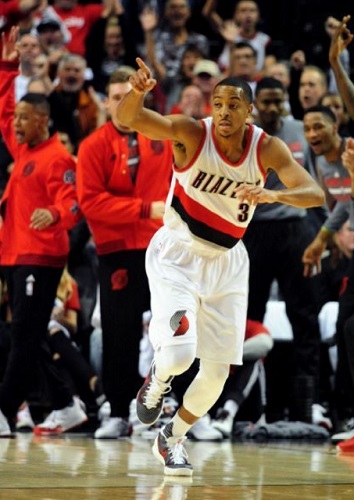 (PHOTO CREDIT: Steve Dykes/AP.)
BEHIND THE LINES
C.J. McCollum (POR): 37 pts (6/9 3-FG), 6 rebs.
Damian Lillard (POR): 21 pts, 5 rebs, 11 assts.
Ed Davis (POR): 12 pts, 11 rebs.
Ryan Anderson (NO): 21 pts.
Eric Gordon (NO): 20 pts.
Anthony Davis (NO): 25 pts, 10 rebs.
LOS ANGELES CLIPPERS 111 (1-0) @ SACRAMENTO KINGS 104 (0-1)
The Kings certainly made it interesting but Chris Paul's 15-ft jumper put the Clippers up four with 33 seconds left. DeMarcus Cousins missed a jumper that could've cut it to two then L.A. put it away with foul shots.
Rajon Rondo's debut as a King didn't exactly stand out. A 4-7-4 line is probably not what everyone in Sactown had in mind.
BEHIND THE LINES
Chris Paul (LAC): 18 pts, 5 rebs, 11 assts.
Blake Griffin (LAC): 33 pts, 8 rebs.
DeAndre Jordan (LAC): 8 pts, 12 rebs, 4 blks.
DeMarcus Cousins (SAC): 32 pts, 13 rebs, 8 tos.
MINNESOTA TIMBERWOLVES 112 (1-0) @ LOS ANGELES LAKERS 111 (0-1)
The Lakers looked like they had everything going, including a 40-ft buzzer-beater in the first by Nick Young. L.A. led by as much as 15 points late in the third quarter.
But the T-Wolves persevered and kept chipping in as they took the lead halfway through the fourth. The Lakers had one last gasp, cutting the deficit to one after a Lou Williams three. In the end, though, Sweet Lou missed a driving floater before time expired. The Wolves escaped with an emotional win.
Cheers, Flip Saunders. We all miss you.
BEHIND THE LINES
Karl-Anthony Towns (MIN): 14 pts, 12 rebs.
Ricky Rubio (MIN): 28 pts, 14 assts.
Kevin Martin (MIN): 23 pts.
Kobe Bryant (LAL): 24 pts.
Lou Williams (LAL): 21 pts.
Julius Randle (LAL): 15 pts, 11 rebs.
Roy Hibbert (LAL): 12 pts, 10 rebs.
GETTING SOCIAL
"I hate them, honestly, I do. I hate them." -Cousins on the Clippers

— James Ham (@James_Ham) October 29, 2015
Told yall, don't stress over the Wiz this early. We good.

— @boneystarks (@BoneyStarks) October 29, 2015
Not a great first game but it felt good to be out there beginning another season. On Friday, season opener at home! ✌ #GoSpursGo

— Manu Ginobili (@manuginobili) October 29, 2015
— Zach Bennett (@ZacharyBD) October 29, 2015
Rubio straight Sam Cassell right now.

— Kim English (@Englishscope24) October 29, 2015
Good team win tonight, the fans had the garden rockin! #CsUP

— Isaiah Thomas (@Isaiah_Thomas) October 29, 2015
WATCH THIS PLAY
Aaron Gordon embarrasses the heck out of Bradley Beal.
(VIDEO CREDIT: NBA.)
THE TAKEAWAY
It's only two games in but it's okay to be worried about the Pelicans. This kind of thing sets the tone for the next few weeks and New Orleans has been manhandled both games. So, yes, better get that first win very soon. The problem is that they have Golden State on Saturday.
The Wizards looked really good in their more open offense in the first quarter. Now you hope they can do that more consistently throughout the season.
The Bulls looked so much more comfortable on the offensive end. Maybe this really is a new identity for Chicago. But, really, we can take about offensive styles all we want for the postseason but, in the end, it's all about the defense.
The rookies had some excellent games (Porzingis, Towns, Okafor, Hezonja) but what the hell is Byron Scott doing with D'Angelo Williams? Last I knew, Williams is a point guard. But yet he makes him play off the ball and he's not even that great of a shooter. Russell looked totally lost out there. And even worse? After all that PT in the first three quarters, he doesn't see action in the fourth. I don't get it. In a transitional period for a team, you gotta give the playing time to the young guys with potential.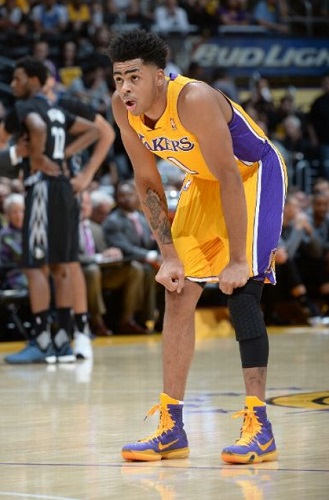 (PHOTO CREDIT: Andrew D. Bernstein/Getty Images.)
DeMarre Carroll had a good debut for the Raptors. And they came through defensively at the end. That's what they need to do to break into the upper tier of the East.
OKC with a fully healthy Durant (and all healthy stars) are a threat to the title. They are definitely the wild card in the West.
Exhausting second day of the NBA. But hard to make impressions on all of them in only one game. Let's see some more action, guysh!
---
Follow Rey-Rey on Twitter at @TheNoLookPass for all tweets about the NBA and terrible pop music. Also, check out his podcast, Rey-Rey Is Fundamental.

us on FaceBook! Thank you!