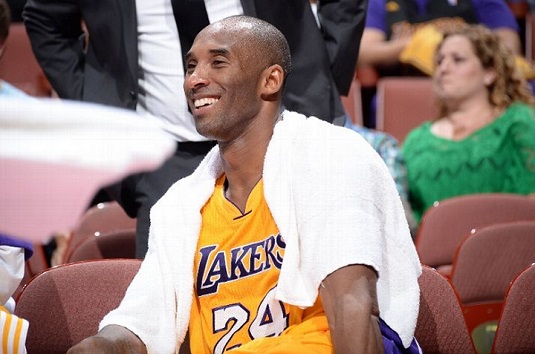 (PHOTO CREDIT: Andrew D. Bernstein/Getty Images.)
I have this visceral reaction when it comes to Kobe Bryant debates. I had said a while back that he was the firestarter.
It's like Kobe Bryant is overrated because all he does is score, score, score. Never mind that Kobe is 33rd all-time in career assists to go with being 4th all-time in career points. But sometimes, you want to agree that he's overrated because a lot of Lakers fans put him on such a pedestal that it's unbelievable. We can't say anything "bad" about him because we would get fried on social media.
But there are a lot of frustrating things about Kobe Bryant. He's turned Dwight Howard off about his lectures of "teaching him how to win" even though Howard himself has gotten to the NBA Finals (ironically, against Kobe). Even if it didn't result in a title, that's still plenty of winning for the now-Rockets center. Kobe has got an absolutely brilliant basketball mind but there are a lot of times when he would ignore his teammates, put up a horrifyingly high 37 shots and lose the game for them.
And while some pundits are putting him down (such as being 40th in the ESPN Player Rankings and a very curious article by Henry Abbott), we really shouldn't ignore his accomplishments. The detractors make it seem like he's never won a game in his life; the man has won five championship rings. Some of us have said that he should have more than one Most Valuable Player award. He's also won the scoring title twice, one of them being that unstoppable 2005-06 season.
And maybe some players don't wanna play with the Lakers now because the roster isn't very attractive plus going to another team would lose them big money. We ever thought about that? Sure, Kobe's had feuds with teammates but there are some players who absolutely loved playing with him. Heck, Kobe wanted Pau Gasol to retire together with him but we all know Pau Gasol needed a fresh start because management, coaches, and fans didn't exactly treat him well in his last few years in L.A.
I see Kobe Bryant for what he is: an all-time great who will likely finish in the Top 3 all-time in career scoring and finish with five championship rings. He is definitely a very divisive figure; he came into the league with much hoopla and his comparisons to Michael Jordan, who is the greatest of all-time to most, angered a lot of people. And right now, I think he is still a very good player. At this point, I just don't think he's good enough (at age 36 and coming back from devastating Achilles and knee injuries) to be a game-changer like he was in 2006, when he pushed a horrid Laker team to 45 wins. I'd be very surprised if he did that this season (I am totally going to get fried for saying this).
But if he somehow does, it'll remind us of how great Kobe Bryant has been throughout his career. And we should never ever ignore his greatness like some people want to do so badly.
---
Follow Rey-Rey on Twitter at @TheNoLookPass for all the cheesy pop music tweets. And I guess, NBA stuff.

us on FaceBook! Thank you!