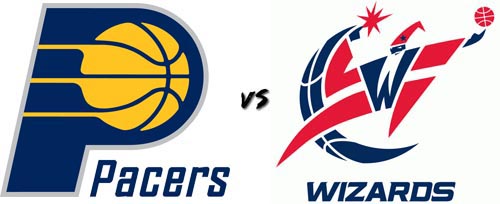 Match-Up: #1 Indiana Pacers (56-26) vs #5 Washington Wizards (44-38)
Season Series: Indiana won, 2-1
Stat Leaders:
INDIANA- Paul George (21.7 ppg, 1.9 spg), Lance Stephenson (7.2 rpg, 4.6 apg), Roy Hibbert (2.2 bpg).
WASHINGTON- John Wall (19.3 ppg, 8.8 apg, 1.8 spg), Marcin Gortat (9.5 rpg, 1.5 bpg).
Writer Representatives:
Tim Donahue (@TimDonahue8p9s) of Eight Points, Nine Seconds.
Derek Barrows (@Bullet_Nation) of Bullets Forever.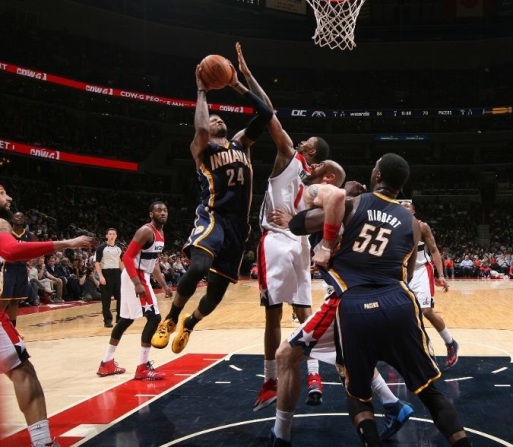 (PHOTO CREDIT: Ned Dishman/Getty Images.)
The Pacers, after all of this, are still alive. They were able to get through a determined (yet inferior team) Atlanta Hawk team, who gave Indiana headaches for seven games. Even still, it doesn't matter how long it took them but they're now in the second round.
In the meantime, the Wizards ignored all this talk about inexperience and went through the Chicago Bulls in five games. They actually got plenty of rest compared to everyone else as we know how many Game 7s there were. Can they eliminate the shaky #1 Pacers?
Tim and Derek return to help me preview this Conference Semis match-up. Here's the word vomit!
That was a struggle. How close were you to writing off the Pacers? They looked REALLY bad out there at times.
TIM: It was difficult to have any faith in the Pacers, but… it was the Hawks. Atlanta hit enough threes to make it dangerous for Indiana, but they weren't good enough in any other aspect of the game to run away. That allowed the Pacers to hang around long enough to figure out how to stop shooting themselves in the foot.
Some good came from the series, as Paul George found a big portion of what he'd lost in the series, and David West reasserted some leadership. The bench had some very, very rough spots, but C.J. Watson and Ian Mahinmi were solid all series long, and Luis Scola gave key contributions at times.
The Wizards finished the Bulls off in 5. Surprised?
DEREK: EVERYTHING HAD BEEN BUILDING TO THAT PERFORMANCE ALL SEAS-okay, fine. Yes. Everyone is surprised. Fans rarely witnessed complete efforts over the course of two or three quarters during the regular season and watching the team sustain it over a best-of-seven was marvelous.
We know the plight of Roy Hibbert. He did finish with a strong Game 7. Is it a match-up problem against the Hawks?
T: The match-ups were certainly an issue, but they should have been the type of issue that would result in series averages of 9 & 6, not 5 & 3. The problem with Roy runs much deeper than match ups. His shortcomings are obvious and exploitable. His strengths are more narrowly defined and very reliant on the system the Pacers have built working properly to be maximized. As such, he is equal parts anchor and canary in the coalmine. As the Pacer system has frayed, Hibbert has become less effective. As Hibbert gets less and less effective, he becomes more and more insecure.
Washington will offer match ups with which Roy will be more comfortable, but he's been playing poorly for months, now.. Facing traditional bigs will not guarantee an end to that.
John Wall didn't shoot well in this series. Are you worried about that or you think he's just fine and he'll get it together in the next series?
D: One of the funny things about John Wall is that his shot doesn't need to fall in order to control the flow of the game. As long as he makes his free throws and his teammates take advantage of the shots he creates when he tilts the defense, fans won't be especially concerned.
That said, the Bulls defense laid off Wall's drive, daring him to shoot when Wall was looking to take it into paint and/or pass. John hesitated to shoot and tended to break his rhythm before launching a long, uncontested two. I hope he works for a better shot before he pulls the trigger (I'd rather see shots from the elbow where he's more effective rather than nineteen feet out).
Do you think the Pacers have turned the corner yet?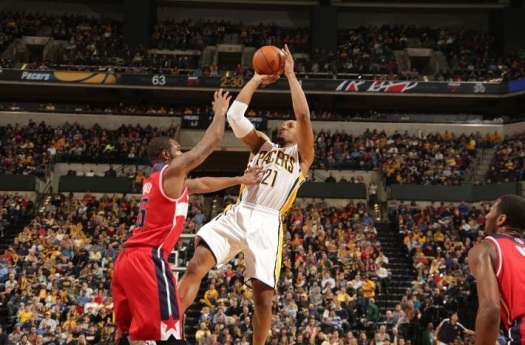 (PHOTO CREDIT: Ron Hoskins/Getty Images.)
T: I don't think it's really that simple. There is no one event that has caused these problems, and there is no "switch" for the Pacers to flip. I believe the worst is behind them, but I don't think they have reached – or will reach – get back to the level of the December Pacers. Their goals really are much different, now. They have to get back to a level where they can win four games against the Wizards. They're heading in that direction, but we really won't have a feel until we see the first two games.
Did the bigs play better than you expected and can they carry this momentum throughout the postseason?
D: Well, Nene hitting midrange jumpers in Noah's face all series while suffocating him in the high post was high up on my wishlist and Marcin Gortat's stout defense, rebounding and ability to get away with shoving off was nice, too…but the best of Trevor Booker showed up for the Wizards. Overall, the bigs played as well as could be expected…which to a Wizards fan feels like suspiciously more than could be expected.
Will the momentum carry? The Pacers have managed a modicum of momentum themselves, but I trust the Wizards to come out swinging. The jumpers will have to keep falling while the team grinds ugly when they don't. After facing the Bulls, the Wizards are used to getting punched in the mouth. I'm not worried, but the Pacers are too good to let another frontcourt run over them roughshod.
Keys to win the series.
T: There are going to be tons of moving parts, but the two things I'm going to watch most is Points off Turnovers and Fast Break points. Indiana will make a lot of turnovers, but whether it hurts them or not depends on the type. In Game 7 vs. the Hawks, the Pacers had 11 turnovers, but only allowed 4 points off ot them – and those came in the first three minutes of the game. In a Game 3 loss in Atlanta, the Pacers allowed the Hawks 20 points off 13 turnovers. Indiana's offense is too anemic to give away easy points like that.
D: The Wizards have a tendency to get into a run-and-gun mindset when the shots start falling both ways. When that happens, the defense tends to be more haphazard and a disconcerting number of possessions can pass before they get reset in good order. That can't happen. WAS must maintain focus once defensive transition is triggered.
Whoever draws Paul George as a defender must wear him down over the course of the game and beat him when it counts. The Pacers don't have any perimeter options that scare Trevor Ariza…but that said, the Wizards were able to switch any guard/small forward on the perimeter against Chicago and that won't always be an option against Indiana. As good as their defense was against CHI's backcourt, WAS must be better against IND while wearing them down on offense to take scoring pressure off the frontcourt.
The Wizards like to gamble for steals which makes Lance Stephenson's cutting ability is a major candidate to kill the Wiz when they take risks. You'll sense the theme, but Stephenson is more dangerous than Jimmy Butler both with and without the ball. Letting Lance Stephenson make effective cuts to the basket opens up the three point line which will unpack the paint for Paul George and George Hill. WAS must remain disciplined on defense and allow steals and deflections to come within the flow of the defense without the risk of losing their assignments.
David West is always a major annoyance if not an outright problem when these two teams play. Shutting him down is easier said than done when his pick-and-pop game is ideal for combating Nene's defense and the quicker player in Booker simply doesn't have the height to contest West's midrange game. WAS must chase West and prevent clean looks from midrange without getting pulled out of rebounding position.
Gortat was huge against Chicago, playing relentless, physical defense in the low post and patient, intelligent defense in the high post. Hibbert will be pounding in the low post all series long and Washington's centers have to be ready for a battering. Taking bets on the first Kevin Seraphin appearance now, folks. I also fully expect Ian Mahinmi to make me pull out my hair when Washington's bigs get taken off guard by his energy. WAS must grind down low and keep IND off the offensive glass while getting second-chance points and tapouts as they did against CHI.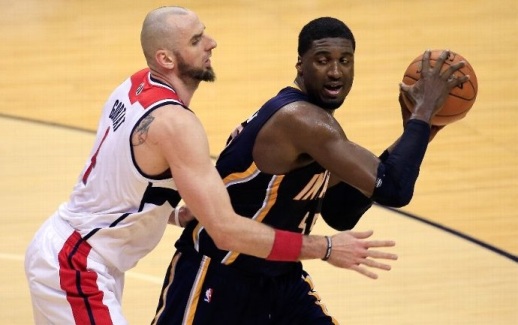 (PHOTO CREDIT: Rob Carr/Getty Images.)
WAS must maintain momentum. They're peaking at the right time, and while the Pacers still-excellent defense will put the brakes on them they can't compromise the absolutely fabulous effort that has become the new Wizard playoff standard. With the kind of effort the team has been putting forth, it looks impossible to blow this team out. KNOCK. ON. WOOD.
Prediction in this series?
T: Indiana will win a long series (6 or 7), or Washington will win a short series (5 or less). I think there's an equal chance for it to go either way. It just feels like the more time you give the Pacers to keep getting more comfortable, the harder it will be to beat them.
D: Wizards could win this in four or lose it in five because I have no idea which Pacers team is coming to play. That said? Give me the Wizards in seven with an option for six. John Wall's shooting struggles continue while Indiana regains a measure of its offensive competency which isn't enough to compensate for the Wizards' balanced, relentless attack on both ends of the floor.
Say something about your team's opponent.
T: Washington's bigs will be a "more comfortable" match up for Roy Hibbert and the Pacers, but that doesn't mean easier. Marcin Gortat has had success against Hibbert in the past, and Nene is playing excellent basketball. My view of this being a 50/50 series is probably optimistic, as Washington has been playing better and more consistent basketball than the Pacers recently.
D: If Roy Hibbert is rounding into playoff form it isn't a moment too soon and watch the hell out. I'm banking on him not being back to his old self, and the series may very well hinge on it.
It may also be telling that Hibbert is putting in work despite the ugly rumors surrounding him and Lance Stephenson. If they can keep a lid on things in the lockerroom and focus on basketball, they'll be that much more focused and the Wizards intensity edge lessens.
Tim, besides the win, were Larry Bird's facial expressions the best thing in that series against the Hawks?
T: Before Games 1 & 7, I had the privilege of sitting with Dominque Wilkins and Mike Glenn, listening to them share stories of Kevin Willis, Lonnie Shelton, Ricky Sobers & Super John Williamson. We even spent some time talking about McFilthy & McNasty, the Bullets' old combo of Rick Mahorn and Jeff Ruland – though we couldn't quite remember whether they were called the "Bash Brothers" or the "Beef Brothers."
Also, it was fascinating to listen to them talk about how they thought the series was going, and their views on what might be happening with the Pacers. Beyond that, they were just incredibly nice human beings. A true pleasure.
Derek, what did the Jimmy Butler/Nene confrontation remind you of? It reminded me of Hulk Hogan and Ultimate Warrior (my new Twitter banner).
D: To be honest? It reminds of me of an unholy amalgation of Denzel Washington in Man on Fire talking about "If anybody opens their eyes at me, I'm gonna kill 'em" and my temper when someone touches my face. Lesson: don't kidnap Lupita Ramos or touch my face and DEFINITELY don't do both.
REY-REY'S PREDICTION: INDIANA WINS, 4-2. I'm a wimp. I still feel the Pacers can get it done. And this is a better match-up for them than the Hawks.
---
Follow Rey-Rey on Twitter at @TheNoLookPass for NBA nonsense.

us on FaceBook! Thank you!