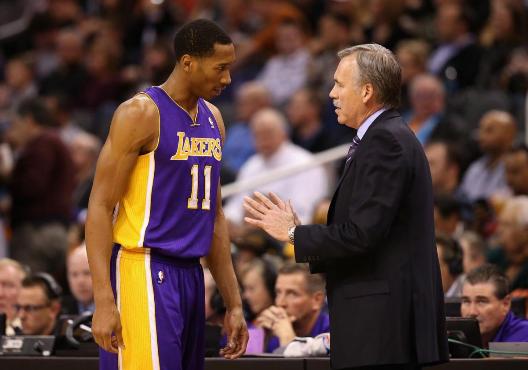 (PHOTO CREDIT: Christian Petersen/Getty Images.)
Ramona Shelburne from ESPN L.A. has some more big news coming from L.A.
Mike D'Antoni has resigned as Lakers coach, source tells ESPN

— Ramona Shelburne (@ramonashelburne) May 1, 2014
Many many Laker fans get their wish.
For the last few days, D'Antoni and the Lakers were wrestling over his option year. The Lakers refused to budge and I guess D'Antoni had enough. He didn't want to be a lame duck coach going into next season so he bolted out the door.
D'Antoni was chosen as head coach over Phil Jackson after Mike Brown was fired early in the 2012-13 season. From then on, he clashed with many players including Dwight Howard and Pau Gasol. Even then, he was dealt a bad hand as he had tons of players go down to injury. As we all know, Kobe Bryant barely played this season and Steve Nash has seldom been healthy ever since he became a Laker. Still, I felt he didn't maximize the guys that he DID have. Guys like Jordan Hill got inconsistent playing time; he would play big minutes in one game and not play at all in the next.
D'Antoni has been known to also revive/discover NBA players' careers. He played Xavier Henry and Wesley Johnson extended minutes. Before that, he gave Earl Clark a chance. In New York, he gave Jeremy Lin an opportunity. While he's not known for his defensive chops, he does know offense and he can turn previously benchwarmers into gems.
Mike D'Antoni was 67-87 (.435) in his two years with the Lakers. But he still figures to be a candidate for other team vacancies should he continue to coach.
---
Follow Rey-Rey on Twitter at @TheNoLookPass for NBA nonsense.

us on FaceBook! Thank you!