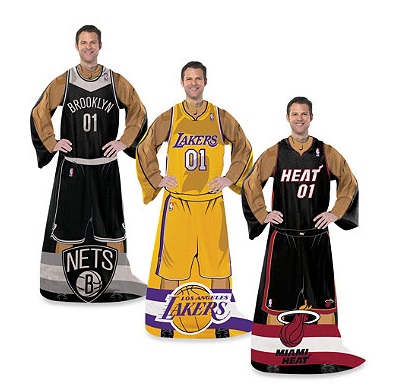 (PHOTO CREDIT: Bed Bath & Beyond.)
Man, the picture is hilarious.
So check this out: Bed Bath & Beyond are selling these "NBA Uniform Comfy Throws." Basically, these are sleeved blankets with NBA teams on there. And you know, sleeved blankets were quite the thing a few years ago; remember the Snuggie?
Here's the official product info from BB&B:
* Feel even more a part of your favorite NBA team with the Uniform Comfy Throw with printed basketball uniform graphic
* Oversized throw features open sleeves, but keeps your upper and lower body protected from the cold
It seems like Bed Bath & Beyond only has them for 7 teams (both L.A. teams, Thunder, Heat, Celtics, Nets, and Knicks). But how would you like to walk around representing your favorite team wearing this awesome sleeved blanket? How come there aren't fans walking around in sleeved blankets wearing their favorite teams? I mean, Cleveland did it when they wore these special Cavaliers Snuggies. It apparently set a world record for most sleeved blanket-wearers in one place before it was broken in an L.A. Angels game.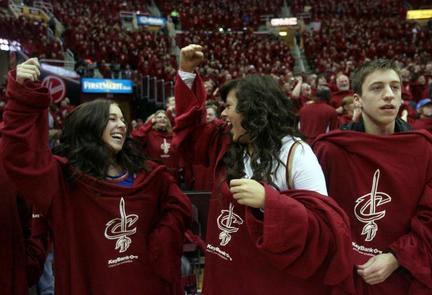 (PHOTO CREDIT: Tracy Boulian/Cleveland Plain-Dealer.)
So, yes, you can rep your favorite team in your own way by looking like you're part of a cult by buying this thing for $24.99.
I mean, I'd buy one. Maybe. Probably.
HAT TIP TO PrettyKittyPrincess.Com.
---
Follow Rey-Rey on Twitter at @TheNoLookPass for NBA nonsense.

us on FaceBook! Thank you!