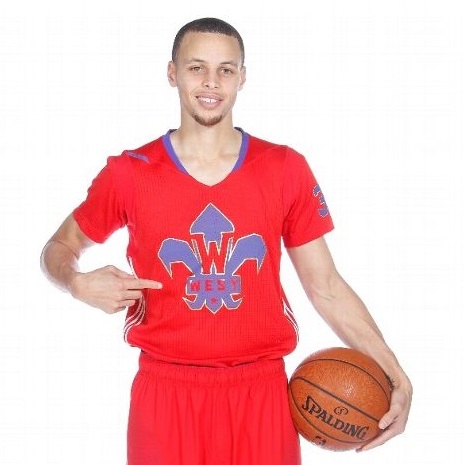 (PHOTO CREDIT: Rocky Widner/Getty Images.)
I took a closer look at the Western Conference All-Star team. Who should be in and who should be out? I did the same for the East earlier. Let's go have a look-see.
WESTERN CONFERENCE
(F) Blake Griffin (Clippers): (23.0 points, 9.7 rebounds) Career-high in scoring. A much deeper offensive game. He is much better than the fools that say, "But all he does is dunk!" While he still has a ways to go defensively, he's becoming more and more unstoppable on the offensive end. No-brainer here.
(F) Kevin Durant (Thunder): (31.3 points, 7.8 rebounds, 5.2 assists, 1.5 steals) The leading candidate to win his first Most Valuable Player award. Durant has carried the Thunder to the best record in the league today (37-10) and he did it with Russell Westbrook sidelined for nearly half the season. I don't know what else I need to say about this guy.
(F) Kevin Love (Wolves): (25.0 points, 12.9 rebounds, 4.1 assists) The ultimate stretch four in the league. Can work inside and has a three-pointer. Gobbles up all the rebounds you need. He could be better defensively but everywhere else? He earns his cash.
(G) Stephen Curry (Warriors): (24.0 points, 4.5 rebounds, 9.1 assists) He can shoot everywhere. He's also become quite the playmaker. 6th in scoring and 2nd in assists. And it's because of him that Warriors are talking championship, even if they are 7th in the West right now. Curry deserves his spot.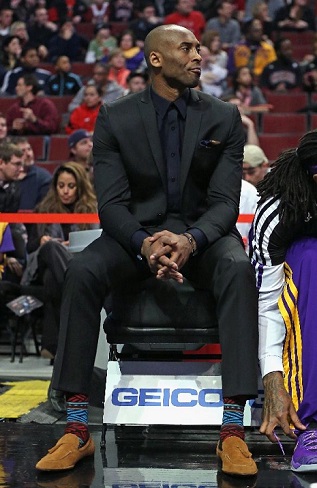 (PHOTO CREDIT: Jonathan Daniel/Getty Images.)
(G) Kobe Bryant (Lakers): (13.8 points, 4.3 rebounds, 6.3 assists) Kobe is a living legend. I totally get that. He's also only played six games this season. And in the six games he's played, he didn't exactly set the world on fire. The small amount of games he's played should be an automatic DQ as it is. Kobe was right; fans should've voted for someone else.
(G) Tony Parker (Spurs): (18.1 points, 6.2 assists) He's had a quiet year but I mean, that's the way the Spurs operate: quietly. This silent year means we've ignored his individual stats; he's still one of the best point guards around. 18.1 points and 6.2 assists should be an easy shoo-in. Also? He's shooting .435 from three this season. What?
(G) Chris Paul (Clippers): (19.6 points, 4.6 rebounds, 11.2 assists, 2.4 steals) Surprised he's not starting but he should be on the team with the way he's led the Clippers. He's missed the last few weeks due to a shoulder injury but that doesn't mean we should ignore his body of work he's done throughout the season. He's 1st in assists and 2nd in steals. Easy pick.
(G) Damian Lillard (Blazers): (20.6 points, 5.6 assists) I was wrong about Lillard. I honestly thought he wouldn't get much better than his rookie year. But he's become more of an assassin behind the arc and is cold-blooded in the clutch. He's also made better decisions, too, as the Blazers moved to the next level. He deserves this spot.
(G) James Harden (Rockets): (23.7 points, 4.9 rebounds, 5.5 assists) He has gaudy stats, no doubt about it. And he's helping the Rockets become a contender. I just dislike his game right now because his shot selection is terrible and a lot of his shots are predicated on drawing the foul. You'd probably have more fun watching 2 Broke Girls. At least, they're pretty.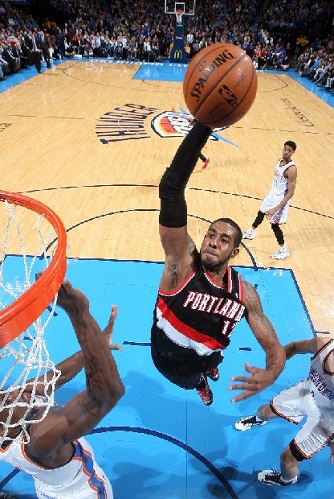 (PHOTO CREDIT: Layne Murdoch/Getty Images.)
(F) LaMarcus Aldridge (Blazers): (24.3 points, 11.6 rebounds) I can't believe he's taken his game to yet another level. He's had four games where he's had 25 points and 20 boards in the same game. And he's in the Top 5 in both scoring and rebounding. If it weren't for LeBron and Durant, he's definitely an MVP candidate.
(F) Dirk Nowitzki (Mavericks): (21.6 points, 6.2 rebounds) This was the West's pleasant surprise. He's still a deadly player at 35 and Dallas is hanging around for a playoff spot (8th at 26-21). I have no argument with this one.
(C) Dwight Howard (Rockets): (18.1 points, 12.5 rebounds, 1.7 blocks) I don't have a problem with this one, either. He may never be the player that he once was but we still see flashes of brilliance on both sides from him. Howard is still a game-changer defensively.
So who did I think had good cases? A lot of players.
(G) Monta Ellis (Mavericks): (19.4 points, 5.9 assists) As much as we've made fun of Monta in the last few years, he's found new life in Dallas as Dirk's pick-and-roll partner. He still can't guard anybody but his shot selection has been better and has been one of the reasons why the Mavs are fighting for a playoff spot.
(G) Goran Dragic (Suns): (19.9 points, 6.1 assists) Somehow, the Suns keep winning and it's thanks to Dragic, who has stepped up his game even more when Eric Bledsoe went on. He slices through the defense with ease and has set the tone for each game.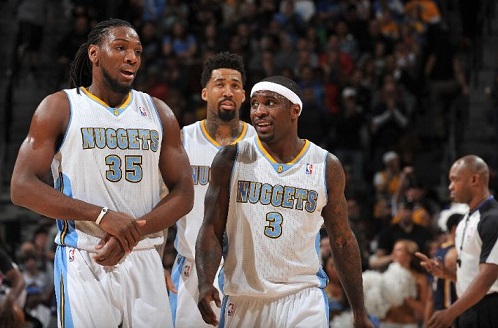 (PHOTO CREDIT: Garrett W. Ellwood/Getty Images.)
(G) Ty Lawson (Nuggets): (17.9 points, 8.9 assists) Lawson is third in assists and is trying to keep the Nuggets in the playoff picture (11th at 22-22 but only 2 1/2 games behind the 8th spot).
(G) Mike Conley (Grizzlies): (18.2 points, 6.3 rebounds) He kept the Grizzlies afloat when Randolph struggled. We know that Memphis was mostly without Marc Gasol but Conley has been excellent on both sides of the ball. This is rough.
(G) Gordon Hayward (Jazz): (17.2 points, 5.4 rebounds, 4.9 assists) Hayward has played admirably for Utah and, sometimes, was the only one producing for them. He's actually had a very up and down season but the whole body of work has been pretty impressive this season. Of course, Utah's record doesn't help.
(F) Chandler Parsons (Rockets): (17.3 points, 5.7 rebounds) Another bright spot for the Rockets. I wouldn't have been surprised if he was selected as a third all-star from Houston. But his looks are definitely all-star material.
(F) David Lee (Warriors): (19.1 points, 9.8 rebounds) We all know about how Lee is terrible defensively but the Warriors' offensive attack doesn't go without him. He's a low-post presence and can make people pay from the perimeter. But goodness, the power forward spot is so loaded in the West.
(F) Zach Randolph (Grizzlies): (17.1 points, 10.6 rebounds) He's been mostly a rock for the Grizz and it's tough to ignore his double-double average. And with the Grizzlies gaining momentum, I thought Randolph should've gotten a look along with Conley.
(F) Serge Ibaka (Thunder): (14.7 points, 8.8 rebounds, 2.5 blocks) I'm not as big as the others that have mentioned that Sergeballu LaMu Sayonga Loom Walahas Jonas Hugo Ibaka has a case. But Ibaka has become the #2 option for the Thunder with Russ out and he is one of the best shot-rejectors in the league. I can see why people would consider him.
(F) Tim Duncan (Spurs): (14.8 points, 9.9 rebounds, 2.0 blocks) I'm not too hurt that Duncan didn't make the team but those are impressive numbers for someone who is 95 years old and is playing under 30 minutes per game. And once in a while, you'll still see the occasional 24 and 17 game from him. Like I said, please play forever, Timmy.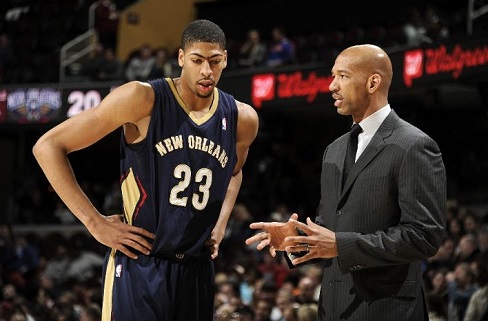 (PHOTO CREDIT: David Liam Kyle/Getty Images.)
(F) Anthony Davis (Pelicans): (20.4 points, 10.4 rebounds, 3.3 blocks, 1.5 steals) Look at those numbers. Why isn't he in? It's because the Pelicans are 19-26 but if we can justify Kyrie Irving (with his Cavs at 16-30) on an All-Star team, why not Davis, who is playing way better than Irving right now? It's a travesty he's not in… but Kobe does need a replacement. Plus the game is in New Orleans. Please the hometown fans, NBA.
(C) Nikola Pekovic (Wolves): (18.0 points, 9.1 rebounds) A bull on offense and immovable on post defense. When Love isn't getting the boards, he is. He's become a great #2 option for Minnesota but of course, the Wolves are barely above .500.
(C) DeAndre Jordan (Clippers): (9.6 points, 14.0 rebounds, 2.3 blocks) It's tough to ignore that Jordan is leading the league in rebounding. He's also leading the league in field goal percentage at .649 and is fourth in blocks. But he's still not a very good rim protector and can still fall out of position on defense. Numbers do look great, though.
(C) DeMarcus Cousins (Kings): (22.6 points, 11.6 rebounds, 1.8 steals) It definitely doesn't help that the Kings have the worst record in the West. But it's so tough to ignore Cousins' production and you can make a case that Cousins is the best center in the league.
So reworking everything, including the starting line-up and putting in a traditional center, here's what I came up with.
STARTERS
(F) Blake Griffin (Clippers)
(F) Kevin Durant (Thunder)
(C) Anthony Davis (Pelicans)
(G) Chris Paul (Clippers)
(G) Stephen Curry (Warriors)
RESERVES
(F) Kevin Love (Wolves)
(F) LaMarcus Aldridge (Blazers)
(F) Dirk Nowitzki (Mavericks)
(C) Dwight Howard (Rockets)
(C) DeMarcus Cousins (Kings)*
(G) Damian Lillard (Blazers)
(G) Goran Dragic (Suns)
(G) James Harden (Rockets)
*replaces Chris Paul if he decides not to play
I took Parker out because I believe Dragic is having a better season. I replaced Kobe with Davis and put him in the starting line-up because I think he's having a hell of a season and deserves to start in front of his hometown. And we are aware that Chris Paul may not play in the All-Star game so I picked Cousins to add another big man to the mix.
"But, Rey, the Spurs don't have a representative!"
I guess that's why San Antonio is the ultimate franchise.
But picking this West all-star team was incredibly tough.
---
Follow Rey-Rey on Twitter at @TheNoLookPass for NBA nonsense.

us on FaceBook! Thank you!