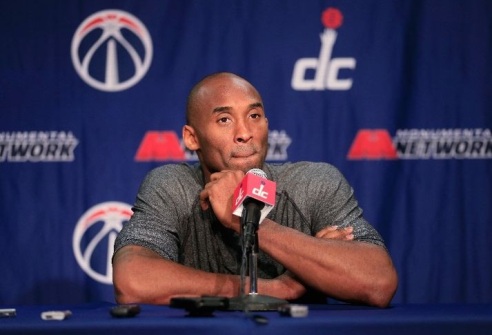 (PHOTO CREDIT: Rob Carr/Getty Images)
Kobe Bryant will be back tonight where he rightly belongs. The basketball court. And at Staples Center.
You can love him. You can hate him. You can worship him. You can loathe him. The fact of the matter is that Kobe Bryant gets us riled up, no matter what side you're on. (And, honestly, I wasn't even his biggest fan to start with.)
You admire him because he makes impossible shots. You despise him because he doesn't need to make his shots impossible. We marvel at his basketball IQ. But then we get frustrated with his basketball IQ because he doesn't use that to his advantage and decides to challenge himself individually at the wrong time.
Kobe is a firestarter. He begins present-day NBA debates and starts historical NBA debates. Is he the best player right now? Is Kobe the 25th best player in the league? Does he even deserve to make the Top 10? Or do we surrender that he's still a Top 5 player in the NBA? Is Kobe the greatest Laker of all-time? Is it sacrilege when people say he's better than Michael Jordan? Could he have won more than five rings if he was a "better teammate"? Even debates like, "Are the Lakers better without Kobe?" come up.
He's so polarizing that everything he does gets talked about. Does he deserve that new contract extension? Should he have taken less? Why doesn't he "get along" with Pau Gasol? Why didn't he get along with Shaq? How dare he "break that team up with Shaq"?
And underneath all of this… ALL OF THIS… sometimes, we forget that we are truly watching one of the greatest of all-time. Put aside Jordan, Dr. J, LeBron James, Magic Johnson, etc. Kobe has five championships. He's the fourth all-time leading scorer in LEAGUE HISTORY. He's 11th all-time in scoring average. He should have more than one Most Valuable Player award. He has two Finals MVPs. He has 15 All-Star selections. He won the All-Star Game MVP four times. His number of all-defensive teams are obviously debatable. And we know Kobe has provided tons of great moments (and his share of frustrating moments) in the NBA. WHAT MORE DO WE WANT FROM HIM?
As his video said (however corny it may be), he's going to add to the legend. There's a chance he'll climb in the all-time scoring ranks. He can add a few more All-Star selections. And even if he doesn't return to the player that he used to be (and I highly doubt that; this is the maniacal Kobe we're talking about), look at all the accomplishments he has done in his illustrious NBA career.
Sometimes, like what some (most) people are doing with LeBron right now, I feel like, to this day, we're still taking Kobe Bryant for granted. When he's finally done with his NBA career, we're going to look back and say, "Well, I hated that son of a bitch. But dammit, he was so good as a player." Just like how some Lakers fans look back at Larry Bird and like how some Celtics fans look back at Magic Johnson.
But I guess, until then, he's going to continue to spark debates on whatever context. Because Kobe's a firestarter. And Kobe's passion for the game still burns.
Welcome back, Kobe Bryant. The game is better with you around, especially since you get everybody talking, for better or for worse. May time go much slower so we can continue to watch you play until 2016.
---
Follow Rey-Rey on Twitter at @TheNoLookPass for NBA nonsense.

us on FaceBook! Thank you!