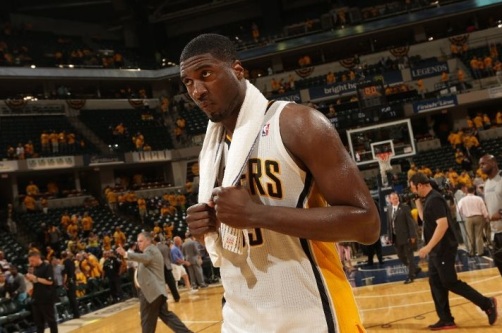 This is an NBA site. But I felt really strongly about this that I just HAD to talk about it. Especially after seeing people's different reactions over this.
Once upon a time, I was that guy, too. I used to say stuff like, "Wow. That was just gay." Or "that was pretty homo right there." Or "That one was really weak, you stupid faggot."
But like some people that use these terms, they really weren't meant to be "harmful." It's just the way society has shaped us over time. And I've learned over the years; I've learned not to use these phrases anymore (and I'm sure you guys will accuse me of lying but maybe you should try to get to know me first).
As time has gone by, I've slowly championed people who are gay. Part of that is I know a lot of people who are gay. Part of that is because people have tried to offend me by saying I like (apparently, for a lack of a better term) gay stuff. I am, after all, the guy that watches teen dramas and listens to pop music, which is apparently only reserved for teenage girls and gay guys. I just let it slide off because I'm very secure of what I like. Not that there's anything wrong with guys liking other guys but that is simply not my thing. Women attract me, not men. That's simply how I am. But enough about my preferences.
It disappoints me that Roy Hibbert, center for the Indiana Pacers, went to that route in his postgame presser. "No homo," he says after being stretched out by the Heat players. And I can't even see the context of this one. 
Regardless, it's bad judgment. I don't care if it's said in the postgame presser or in the locker room but why is saying "no homo" (or for that matter, "pause" after saying an implied homosexual joke/statement) so cool? Is it because they're manly? Is it because they're above the homosexuals? I mean, it's not even funny. And Hibbert sounds like an intelligent guy; his interviews are some of the best in the game with his apparently now-unfiltered candor. It's just that "no homo" hardly accomplishes what message he's trying to convey. Sure, it gets people talking, for better or for worse. But really, what of that phrase?
Hibbert has a lot to learn. But tell me what "no homo" accomplishes (I used that phrase for a joke once in a podcast and it came out completely uncomfortable)? "But they're just words!" Yeah, like a big "F U" are just words, right? Basically, when you say "no homo", you're saying that you're better than being gay. Being gay is terrible; it's awful. You know what? It wasn't a choice. What if I say something stereotypical and say something like, "No (race of people)"? Yeah, it may not be the "same thing" but, on the surface, I'm still "hurting"/"discriminating" a type of people even if I'm "joking."
We're advancing in a society and I'm glad that we're starting to accept gay people as part of our world. Yeah, we have a long way to go considering Jason Collins coming out was still a news item. But stuff like "no homo" and "pause" are not clever, are not funny, and goes to show that the perception towards gay people is still bad. Was it Roy's intent to hurt somebody? Very likely not; he'll learn (Hibbert did say he had no problem with gay people like Collins). But we gotta do better with our choice of words. I mean, seriously, what did people who are gay ever do to hurt you? 
Bottom line, we have to get better as people. And if you think we're being "too sensitive", well, you have to think of how we've progressed as people and think how gays are being treated right now. Put yourselves in their shoes. 
These phrases have to go.
(EDIT at 06/02/2013, 1:02 A.M.: Yes, I am aware that Hibbert has reached out to Collins about this on Twitter. I think Hibbert is a great kid and will continue to do wonderful things in this league. I hope that this becomes a learning experience for him and that we all learn from this. Thanks for reading.)
(EDIT at 06/02/2013, 8:34 A.M.: Hibbert has since apologized for his comments.)
PHOTO CREDIT: Ron Hoskins/Getty Images.
Follow Rey-Rey on Twitter: @TheNoLookPass. And "LIKE" us on FaceBook. Thank you!
We're always up late. How about buying us a coffee? Or an energy drink!?