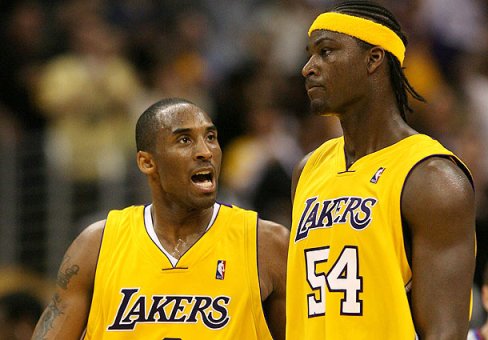 Most people want their YouTube mixes to have music filled with adrenaline. They want to see highlights from their favorite stars to get hyped up for either an upcoming big game or playing some pick-up on their own. We've seen some good ones from Reggie Miller to Allen Iverson.
But this is the internet. You can find basically anything. Including a YouTube mix to one of my heroes, former Wizard/Laker/Grizzly/Piston/Bobcat/Warrior/Buck and current Sixer Kwame Brown.
What makes this even more outstanding? The individual behind this Kwame Brown YouTube mix decided to get a song from (of all the artists) Liz Phair, 90s indie-turned-pop singer who was known for her sexually charged lyrics.
The song used was Why Can't I?, Phair's most mainstream song. It's about two people falling for each other while being in relationships of their own. In the second verse, Liz mentioned that her head was already spinning even though her and the dude hadn't slept together yet (she actually uses the F-word in the song, which had to be muted for radio). Also, Why Can't I? was used in movies like 13 Going On 30 and Win A Date With Tad Hamilton! It was also used in teenage drama, The O.C.
Did you read what I wrote? You're here on an NBA site and we are talking about a Liz Phair song. You're probably wondering, "There are so many things wrong about this."
Like I said, it's the internet. You can find basically anything. And anything includes a Kwame Brown YouTube mix done to a Liz Phair song that talks about leaving a relationship to go to a new one. Yup.
So what's in this highlight mix? This may be the only YouTube video of Kwame where he mostly does good things on the basketball court. Curiously enough, there are a few "lowlights" in this video where he would miss a hook shot and, um, miss a foul shot (how weird is it to see a free throw in a YouTube mix?). But Kwame Brown shooting jumpers? Kwame Brown down the lane for a stuff? Kwame Brown throwing down a one-handed alley-oop jam? This whole thing is so weird.
And... and... it's to a Liz Phair song. I suppose the editing is good but I mean, does a Liz Phair song prepare you for the big game? Does it get you amped up to play ball? Man, oh, man. This YouTube mix is rich.
I suppose Jeremy can give this mix a rating when he comes back here. But you know I would give this an 11 out of 10. Then again, you know better than to take me seriously.
This Kwame Brown YouTube mix, though? I somehow don't believe the individual took this editing job seriously, either. I'd like to think he (she?) has a fantastic sense of humor.
VIDEO CREDIT: kobejay.
PHOTO CREDIT: Jeff Lewis/AP.
Follow Rey-Rey on Twitter: @TheNoLookPass. And "LIKE" us on FaceBook. Thank you!
We're always up late. How about buying us a coffee? Or an energy drink!?