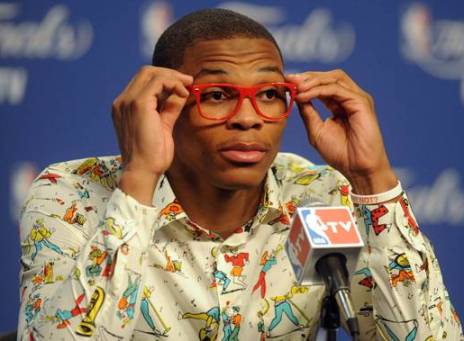 Remember when you were a kid and you had a problem with someone? You didn't run to Mom, you didn't tell the teacher and you definitely didn't just cry until you caught someone's attention to save yourself. You waited until after class, you found an old dirt road or discreet alley and went shot for shot with each other. Or if you really didn't care, you settled it right then and there and depending on what time period you were in and what school you went to, the teachers would turn a blind eye to it.
It's sad to say, but we live in a day in age where "tough guys" just aren't the majority anymore. Kids are being told to tell an adult as soon as something bad happens. Don't handle it yourself and if by any means you get hurt, go see mommy right away. Being kids meant having fun and getting injured while doing it and that injury would only make you tougher. While professional athletes are much tougher than the average Joe, the golden age of iron men in sports is done, whether we like it or not. We're seeing the last of that scene play out their final years of their contracts and are replaced with precautious players who will miss practice with the stomach flu then grub at a Chinese restaurant that afternoon. Sorry, Kwame, but we all saw you.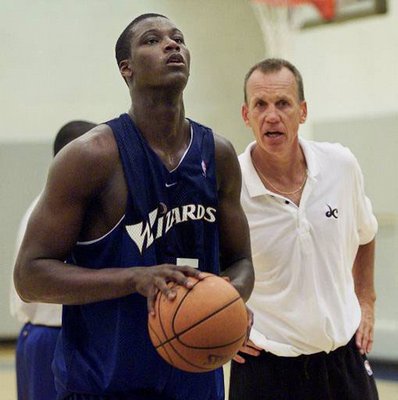 Toughness has been on the decline in every sport for a while now, but there are certainly spots of brilliance in the vast field and when it shines, it's the brightest thing we see. Reminisce to MJ's flu game in the 1997 NBA Finals. I was four years old when that masterpiece happened and I still manage to have a vague, but present, memory of moments in that game. Or when I wasn't around, Isiah Thomas' Game Six performance in the 1988 NBA Finals. Isiah came down on Michael Cooper's foot, sprained his ankle severely and had to be helped off the floor. Then he returned a mere 35 seconds later and proceeded to go for 25 points in a single quarter, an NBA Finals record for most points in a quarter that holds to this day. Now I'm not expecting a performance like that to be duplicated; it hasn't been touched in 25 years with guys like Kobe, MJ and LeBron playing on two healthy ankles but the point is the toughness level is remarkable.
Anyway, on to the main reason I even opened Microsoft Word today: Russell Westbrook is out indefinitely, meaning, for certain, Game Three of the Thunder's series against the Rockets. He will have surgery to repair cartilage in the right knee. Big deal, right? Guys get injured, have surgery and miss games all the time. Well, the last time Westbrook missed a game in his career, Jordan was still in the league and that's assuming Westbrook missed one in junior high. For all we know, Jordan could have been on his first tour of retirement between '98 and '01. Westbrook has played in every game since high school at every level.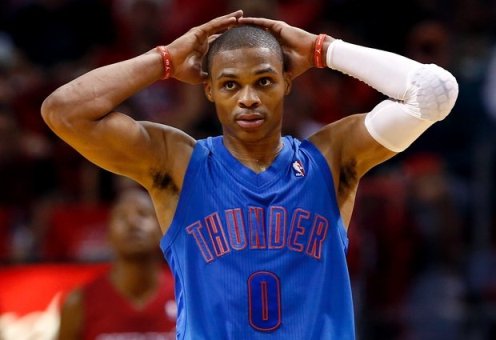 Just for kicks, let's say he missed his last game when he was in eighth grade. The year was 2001 (maybe 2002) and George Bush was still somewhat fresh in office. We have not yet invaded Afghanistan. Barry Bonds breaks the single season home run record, with his 72nd and 73rd home runs of the year. The first Harry Potter movie was in theaters and no one had any idea what Twitter was for at least four more years (scary, I know).
What's more impressive about Westbrook's streak is his style of play and the amount of minutes he gets. Westbrook has averaged roughly 34 minutes a game through the course of his NBA career so far on a playing style of making intense cuts and moves to the basket where he draws contact. He's an aggressive player with no reservations when it comes to throwing his body into traffic. The fact that the man lasted this long without a severe injury to keep him out at least a game or two speaks volumes to his toughness. After colliding with Houston's Patrick Beverley in Game Two on Wednesday, Westbrook remained down for a second before getting up and pounding his hand on the scorer's table in pain and in anger. However, he remained in the game, despite his obvious hobbling.
Guys like Westbrook are a dime a dozen. From his freakish athleticism and competitiveness to his podium game we all look forward to after the game, you just don't see players like that anymore. Kobe making two free throws after tearing his Achilles is a sight to behold. Paul Pierce coming back into Game One of the 2008 NBA Finals off of a knee injury and nailing two big three pointers is nothing short of inspirational. But Westbrook playing in 394 consecutive games as a guard in the league is something that should never be overlooked. It's an incredible feat that I doubt will be done again anytime soon and the fact that it dates back much farther than that is something I'm sure we never will see again. What if he hasn't missed a game since, oh, I don't know, ever? You can even count elementary school but the man may have not missed a game in the new millennium. That's unheard of, folks, and I will be deeply saddened when he doesn't step out on the court tonight for the Thunder.
Jeremy Rincon writes for The No-Look Pass as well as BallIsLife.Com. Follow him on Twitter at @jermcon.